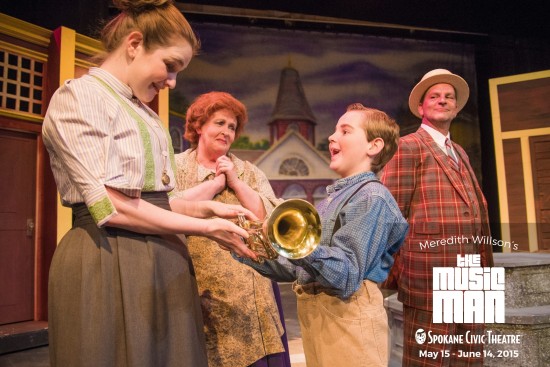 "If you're going to make the material work [for The Music Man], it has to be effervescent and full of energy, and Spokane Civic Theatre's new production is both.
…
"As for [Mark] Pleasant and [Alyssa] Day, they have a lot of chemistry together, and they're both effortless in tricky roles. Pleasant lends his performance just enough of a smarmy edge to be a convincing Hill, and his rendition of "(Ya Got) Trouble," Hill's introductory song, is a showstopper. Day projects as much naïveté as intelligence as Marian, and her performance of "Will I Ever Tell You?" with the local barbershop quartet is one of the best musical moments in the show."
– Preview by Nathan Weinbender, The Spokesman-Review (Read the rest of the review online).
Photo Credit: Chris Wooley, Heads & Tails Photo