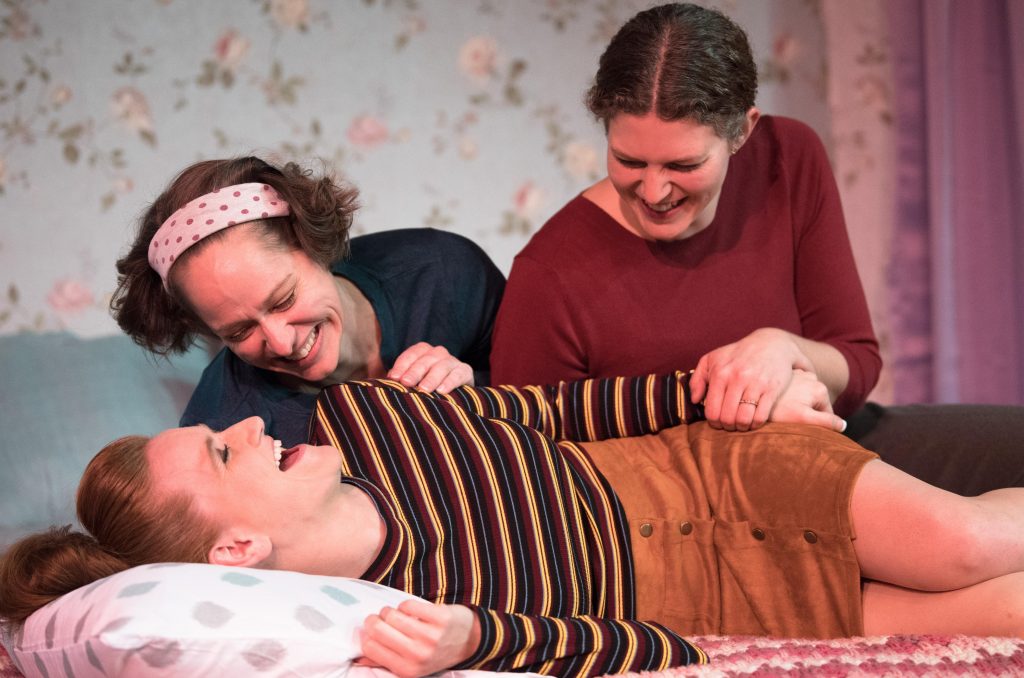 There's something about endings that make us pause for reflection.
Perhaps it's because of a want for closure or a chance to think of the things we should have said if there was still time.
Or perhaps it's to illustrate to ourselves just how far we've come.
On the eve of their mother's funeral, the three sisters in "The Memory of Water" – Teresa, Mary and Catherine – argue about whose recollection of particular events is accurate, all the while dealing with the skeletons that have begun to come out of the closet.
Spokane Civic Theatre's production of "The Memory of Water," written by Shelagh Stephenson and directed by Dawn Taylor Reinhardt, opens Friday and runs through Feb. 10.
Reinhardt wasn't familiar with the play when she was approached about directing it, but after reading the script, she was taken with the relationship among the well-defined sisters.
"It was very important that we have somebody who's a little bit paranoid, we've got a neurotic person and we have someone who is absolutely off her rocker, an emotional trainwreck," Reinhardt said about casting the play.
The oldest of the three, Teresa (Rebecca Bolster), is an unhappy housewife who runs a health food supplement store with her husband Frank (Ben Dyck).
She took the lead on caring for her mother, Vi (Rebecca Early Craven), as her Alzheimer's worsened, and she is tackling much of the funeral arrangements as well.
She is both protective and resentful of her sisters and feels like she has held the family together over the years.
Then there's Mary (Nancy Gasper), a doctor who has been having an affair with Mike (Dave Rideout), a married doctor, for five years.
Mary was a teenage mother but gave up her son, and she is now trying to create a memory of him through a patient suffering from amnesia.
The youngest of the three, Catherine (Molly Tage), constantly reminds her sisters that she didn't get as much attention at they did growing up. As a result, she is always trying to get her sisters' attention and is a bit self-centered.
Gasper and Tage were friends before beginning work on "The Memory of Water," but Bolster was new to the mix.
Only you wouldn't know that if you saw them, Reinhardt said.
"The time between scenes and on breaks, I could hear them in the bathroom giggling and talking, so I know that they have definitely bonded," Reinhardt said.
During rehearsals, she and the trio of actors worked on nailing the physicality of sisters, things like comforting each other through touch, and laughing or crying uncontrollably together.
"I think the biggest thing is you can tell that they absolutely love each other, not always like each other, but absolutely love each other," Reinhardt said. "Because I can tell you I have three brothers, and I don't always like them, but I love every single one of them."
The dry English humor found in the script was also relatable to the English-born Reinhardt.
Throughout the rehearsal process, Reinhardt found herself interpreting certain words or phrases in the script for the cast.
In one scene, for instance, the sisters are wearing their mother's clothes when one tells another "You look dead like mum."
"What that means in England is 'You look just the same as mum…,' " Reinhardt said. "They each look at each other and roll laughing because of the irony. But I don't know how many Americans are going to get that."
Although she is more familiar than anyone with English dialects, Reinhardt decided to hire a dialect coach to help the actors perfect the northern England accent so she could focus on "the heart and the soul of the piece."
Throughout the play, Mary interacts with her mother, though it's implied that Vi visits all three of her daughters.
It's up to the audience, Reinhardt said, to decide if it's Vi's ghost coming to her daughters or if Mary has manifested this image of her mother.
"Is she really showing up as a ghost or is this the conversations that this woman is having with her mother?" Reinhardt said. "Is she really coming to her in her dreams or is this the daughter being tortured by the unresolved?"
We all have demons with our parents, Reinhardt said, but when all is said and done, it's more important to learn to forgive and forget.
"Let things go that you no longer have control of," she said.
Article by Azaria Podplesky of The Spokesman-Review
Photo by Tyler Tjomsland of The Spokesman-Review