Agatha Christie's The Mousetrap Reigns Supreme
with This Whodunnit
Chris Wooley of Heads & Tails sent us these images of The Mousetrap cast in action at Spokane Civic Theatre. So, who looks like the guilty one to you?
Was it Major Metcalf?
Did Det. Sergeant Trotter have a menacing part to play?
 Could Miss Casewell or Mrs. Boyle have done it?
Do Christopher Wren or Giles Ralston have something to hide?
Will Det. Sergeant Trotter get to the bottom of it?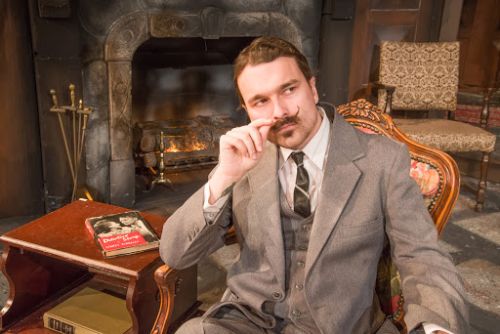 Mr. Paravicini looks a little worried here…
If you know the answer, be sure to keep it to yourself!
To find out whodunnit, come see the show! Tickets are selling quickly, so get them before they're gone!
The longest running play of any genre!
See it while you can!
Main Stage
February 28 – March 16, 2014
By Agatha Christie
Directed by Wes Deitrick
Agatha Christie has been a household name in murder mysteries throughout the decades. This is the world's longest running play of any genre – over 61 years! Be prepared to experience the secret twist ending and shhh… don't tell anyone after you leave!