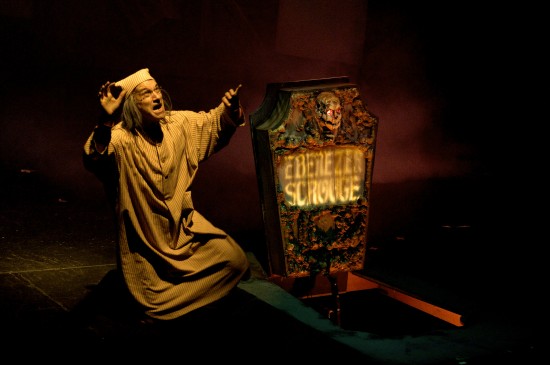 The Spokane Civic Theatre's new version of "A Christmas Carol" reaffirms my conviction that all of us, every year, should reacquaint ourselves with
Ebenezer Scrooge.
He's a man who doesn't believe in charity, generosity, or sharing his good fortune. Sound like a familiar type in today's America? Yet Scrooge learns, with the help of three not-so-friendly ghosts, that good fortune is good only when spread around.
So the best way to judge any production of "A Christmas Carol" is: Does it deliver that message effectively? With drama, with humor and with a warm heart?
Check, check and check. And this version has the added advantage of serenading us with a number of fine old Christmas carols, sung by a quartet and accompanied by a lone fiddler.
The key to this production's success lands squarely on the stooped shoulders and stringy gray locks of Thomas Heppler as Scrooge. Heppler has proved again and again that he is one of the finest actors in Spokane, but here I think director Troy Nickerson has cast him in a role that perfectly suits his talents. Heppler is a master of creating a querulous, quarrelsome voice – a nasal wheeze that becomes the distilled essence of the Scrooge personality.
Heppler's body language is also right on the money – old and cranky, without being a geezer caricature. One of my two favorite Heppler moments came when Scrooge wakes up Christmas morning and is so overjoyed that he capers – positively capers – around his bedroom in a "Hee-Haw" kind of dance, and then plants a big wet kiss on his housekeeper.
My other favorite moment came earlier, when he uses his great vocal control to deliver the line, "I'm awake, I'm alive, and I'm ready for anything," punching up the "ready for anything" phrase like a boxing announcer.
Nickerson's production has many other things to love. The entire show has a fantastical feel, thanks to the use of giant puppets as the three Ghosts (Past, Present, Future). The most effective was the 14-foot-tall Christmas Present, a green-robed Father Christmas figure with a sparkling cup of wassail, operated by three black-clad actors. Patrick Treadway designed and made the puppets.
The sets, by Peter Hardie and David Baker, had a marvelous, storybook Dickensian feel, and I mean "storybook" in more ways than one. The ends of the main set open out storybook-style to reveal, for instance, Scrooge's bedroom and the Cratchit family's warm hearth.
The production is loaded with special effects – fog, trap doors and 200 sound cues encompassing everything from ominous thunder to the Westminster chimes.
The costumes by Jan Wanless, Jen Birkey and Dee Finan are a key part of this show's visual appeal – classic early Victorian, sometimes sumptuous, sometimes artfully ragged.
A vocal quartet – Dan McKeever, David McCarthy, Janelle Frisque and Kristin Wilkinson – roams the streets of London and Camden Town, singing pure and unadorned versions of ancient carols such as "What Child Is This?" and "I Saw Three Ships." A fine and spirited fiddler, Angelique VanDorpe, provides the only accompaniment needed.
Don't think of this as a true musical. The carols largely serve as evocative background music, setting the mood for the place and the season.
Nickerson effectively manages a 37-person volunteer cast, encompassing a wide range of talent and experience. The cast includes a lot of kids, most notably Grayson Paine as Tiny Tim, who delivers his famous line – you know what it is – in a way that warms
the heart.
After Scrooge, the most important role is that of the Narrator, a Dickens-like character played with verve and great timing by Mark Pleasant. Of all of the new wrinkles introduced by Barbara Field in this 2008 Guthrie Theater adaptation, the Narrator is the one I like best. It's a way for the true, undiluted voice of Charles Dickens to come through on stage.
Who better to deliver his message? And what better message?