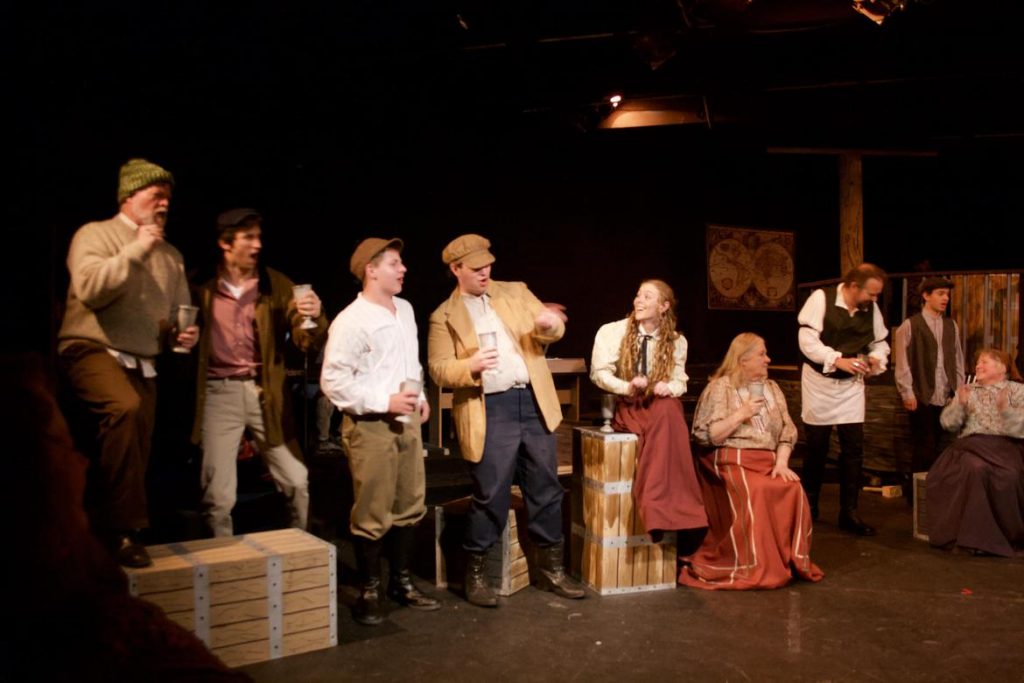 To those who have tried and failed to read "Moby Dick," director Jean Hardie understands the struggle.
An English major in college, Hardie said she was never able to finish the nearly 400-page novel.
"I refer to it sometimes as a book that everybody starts and very few finish," she said with a laugh.
So when playwright Ed Bryan first mentioned the musical adaptation of the Herman Melville classic he had been working on since 2013, Hardie apprehensively wished him luck.
But over time, Bryan won Hardie over, and when he asked her to direct the musical, she agreed.
After a couple of read throughs and sings throughs, Spokane Civic Theatre creative director Jake Schaefer suggested Bryan and Hardie, along with composer William Berry, workshop the musical at Civic.
"Basically when Jake gave us the time, that was like 'Oh now this is real'…" Hardie said. "I've often thought throughout the process 'This is kind of crazy. We can't do this.' But at every time when I would think 'I don't know if this is going to work,' we would find a way to make it work."
Whether they've read the novel, Spokane audiences are behind the musical. The four-show run, Thursday through Sunday, is sold out.
Many don't finish "Moby Dick," Hardie said, because, though the core of the story is exciting and tragic, Melville goes on and on about whaling and off on various tangents.
But Bryan and Berry have managed to dramatize the exciting moments while also teaching audiences about the world of whaling in an interesting way.
Of course, characters like Captain Ahab (Bill Garry), first mate Starbuck (Tim Campbell) and narrator Ishmael (David Hardie) get plenty of time onstage.
But because the musical is being produced in the studio theater with a cast of 29, the story had to be downsized quite a bit.
In the novel, the crew of the Pequod encounter 12 ships. This production lowers that number to four. And instead of the 30-member crew, the Pequod in the musical has eight people aboard.
"We tried to get a lot of the elements of those other characters that we have not been able to insert into this story and show them," Hardie said.
In this musical, Bryan and Hardie also wanted to highlight the female characters merely mentioned in the book, characters like Mary (Luricka Kougl), Starbuck's wife, Aunt Charity (Kathie Doyle-Lipe), who helps outfit the Pequod, and Annie (Karlin Kahler), Ahab's wife.
The female characters, though not part of the whaling expeditions, show how life goes on while the men are on their years-long voyages.
"This entire town full of women are at home very independently taking care of themselves, taking care of the children and seeing their husbands infrequently and that's part of the whaling life," Hardie said. "We've tried to put some of that in."
Throughout the rehearsal process, the musical has been nipped here, tucked there based on discussions of what is and isn't working.
Because this is an original production, there are no prior notes to look to for direction so there's been a lot of trial and error.
"It's figuring out how to interpret what's on the page," Hardie said. "How can we bring this to life?"
And as the piece is still in the workshop stage, Hardie, Bryan and Berry are looking forward to the chance to incorporate audience feedback after the four-show run.
They know the story they want to present, but does that story actually come across?
"You have to listen to outside voices sometimes and if you hear the same thing often enough, you think 'Maybe this is something we need to consider working on and trimming," Hardie said. "Or 'If you're not understanding this part of the story, how can we clarify it?'
To that end we're going to have talk backs after the performances and really try to see what's here."
Article by Azaria Podplesky of the Spokesman-Review