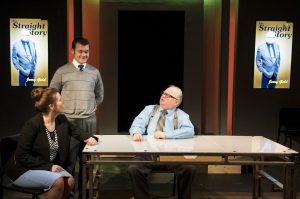 Depending on how it's done, incorporating TV screens and other multimedia elements into a live theater production could help or hurt a show.
On one hand, digital elements, when used correctly, can help tell the story in a way that tangible props simply can't.
On the other hand, if audiences wanted to watch TV, they would've stayed home, right?
Playwright Jeffrey Jackson's "Two Point Oh," a play in which the main character only ever appears on screen, relies almost entirely on the use of technology, which means a lot is riding on the relationship between the multimedia and live elements.
With a talented cast and two TV screens, graphical elements, live video manipulation, prerecorded clips and photographs, director Chris Wooley, creative consultant Jake Schaefer, set designer Matt Egan and stage manager and tech specialist Chris Brock seamlessly marry the two components in Spokane Civic Theatre's production of "Two Point Oh."
"Two Point Oh" takes place months after the death of software pioneer Elliot Leeds in a plane crash.
His widow Melanie is still mourning when she receives a package from her husband containing a program he created before he died, "Elliot 2.0," a digital version of himself programmed with thousands of hours of recorded thoughts and speech.
"Elliot 2.0" can answer questions, hold conversations, share memories and, time will tell, maybe even grow in intelligence. But, the characters wonder, is he alive?
"Two Point Oh" stars Dalin Tipton as Elliot Leeds, Allison Peterson as Melanie Leeds, Benjamin Dyck as Ben Robbins, Julie Berghammer as Catherine Powell and Ron Ford as Jerry Gold.
Wooley's choice to have Tipton stand onstage in place of the screens early in the rehearsal process so the actors could build connections was really smart, as, when it came time for Tipton to appear on screen, each character's relationship with Elliot seemed authentic.
Elliot could have very easily come off as flat, but Tipton's portrayal made the character, though digital, seem as lifelike as the actors onstage.
Read the rest of the article here.
Preview by Azaria Podplesky of The Spokesman Review
Photo by Colin Mulvany of The Spokesman Review