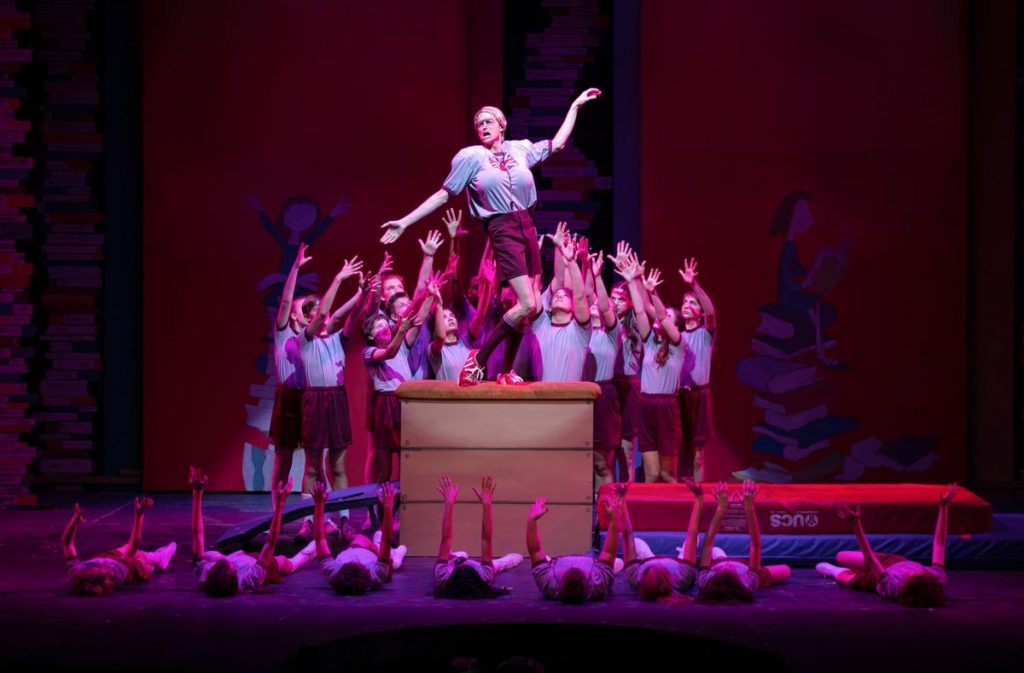 The Spokane Civic Theatre is known for its phenomenal production. It has this innate ability to create shows with a completely local cast and crew that mesmerize audiences and create a sense of professional theater similar to the shows that come to the First Interstate Center for the Arts.
"Roald Dahl's Matilda The Musical" is at the theater until Oct. 13 and is worth seeing.
Based off the book, which was published in 1988 and the film, which came out in 1996, the musical follows a little girl named Matilda. She has a bad home life and goes to a terrible school, but through the power of will and a positive attitude she is able to overcome and defeat the evil in her life.
In the Civic's production Matilda is played by Elanor Weitz, a local 11-year-old girl who absolutely killed it. I was so genuinely impressed with her ability to act, sing, dance and use a British accent throughout the entire show.
She had this charisma and confidence that typically isn't found in child performers at such a young age. Like the character, Matilda, she seemed wise beyond her years and that was clearly reflected in her performance.
You could tell Weitz, and her castmates, were having a blast on that stage and were giving it their all.
The other stand-out performance came from Doug Dawson, who played Miss Agatha Trunchbull. Yeah, you read that right, a man played a woman's role and was outstanding. He played Trunchbull in a way that was both terrifying and hilarious.
His ballet-ish number was out of this world, and quite frankly one of the leading reasons to see the show. The way he moved across the stage and presented himself was so unique and something I had never seen before and probably will never see again.
What made Dawson's portrayal of Trunchbull so fascinating was his ability to balance humor and terror which made his character both repelling and enticing. His character also acted as a great foil to the heroes of the story.
Now, onto the real stars of the show, the children. These kids were so adorable and endearing and all I really wanted was two hours of watching the children dance and sing on the stage.
In particular there's a number in the show called "Revolting Children" that is when the kids decided to revolt against and eventually defeat Trunchbull. Throughout the whole number I was taken aback by the kids' ability to perform and I was clapping along to the song and cheering them along throughout the number.
Their dance moves were irresistible, and they truly stole every single scene they were in.
There's something about local theater that is so endearing. It's hard to put my finger on but I think a big part of it is seeing these huge sets that you can sincerely tell how much work was put into them.
In "Matilda" the set looks like a book, reminiscent of its origins as a children's book. It was so innovative because the sets moved in and out of the book as if the audience was turning the page.
The props in the show also took me and the audience back to our childhoods when we used to play on the playground and jump on our beds.
This production of "Matilda" truly took me back to my childhood and allowed the audience and I to be immersed in this wonderful world that the Civic has created.
Personally, I think anyone who can should go see this show. Community theater is so important and this show truly exemplifies why. It showed off the talent of our wonderful Spokane community and created a performance that was important, unforgettable and downright fantastic.
"Matilda" will be at the Spokane Civic Theatre through Oct. 13. Tickets for students are $10 and $35 full price. You can find where to buy tickets and more information about the show at spokanecivictheatre.com/productions/roald-dahls-matilda-the-musical/.
Article by Riley Utley of The Gonzaga Bulletin
Photo by Marlee Andrews