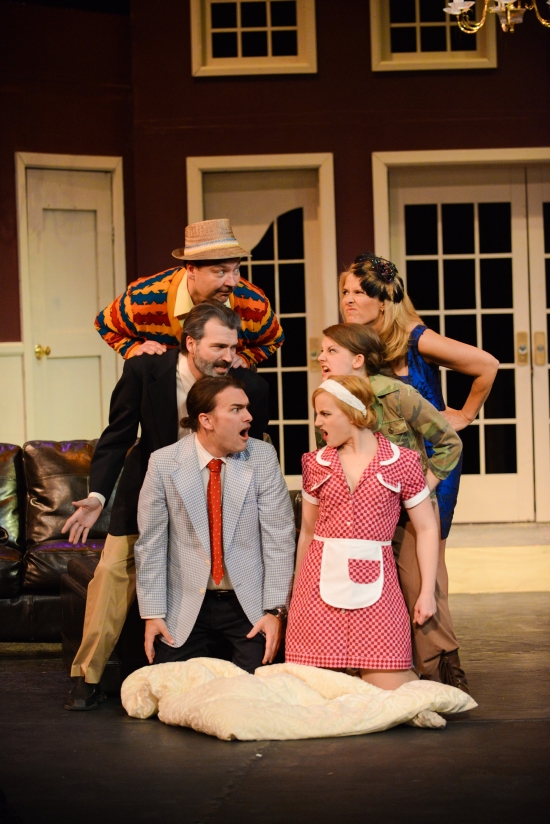 You've no doubt heard the term "slobs vs. snobs" applied to films like "Meatballs," "Animal House," "Revenge of the Nerds" and "Caddyshack," in which a group of slovenly underdogs eventually trounce their rich, uptight adversaries. "The Fox on the Fairway," which opened at Spokane Civic Theatre on Friday, is more of a snobs vs. snobs comedy, a bit of slapstick about two competing country clubs, one slightly stuffier than the other.
Written by Ken Ludwig and slickly directed for the Civic by Wes Deitrick, "The Fox on the Fairway" comfortably takes on the form of a classic farce: It combines the witty social satire of "The Importance of Being Earnest" with the in-one-door, out-the-other physical comedy of "Noises Off," with a dash of "Fawlty Towers" thrown in. (There's maybe a little "Caddyshack" in there, too). You'll either think it's hilarious or hoary; I'll admit I found it to be a little bit of both.
Ludwig's tangled web of misunderstandings and romantic rivalries centers on an annual golf competition between the Quail Valley and Crouching Squirrel country clubs. Henry Bingham (Bryan Durbin), director of Quail Valley, finds his job on the line if he doesn't produce a winning golfer. He's not concerned this year, however, because he's recruited the town's best golfer, and he bets Crouching Squirrel's director, the cigar chomping real estate magnate Dickie Bell (Tom Sanderson), that Quail Valley will win the tournament…
Review by Nathan Weinbender, Spokesman-Review.
Read the rest of the review online.
Photo by Chris Wooley, Head and Tails Photography