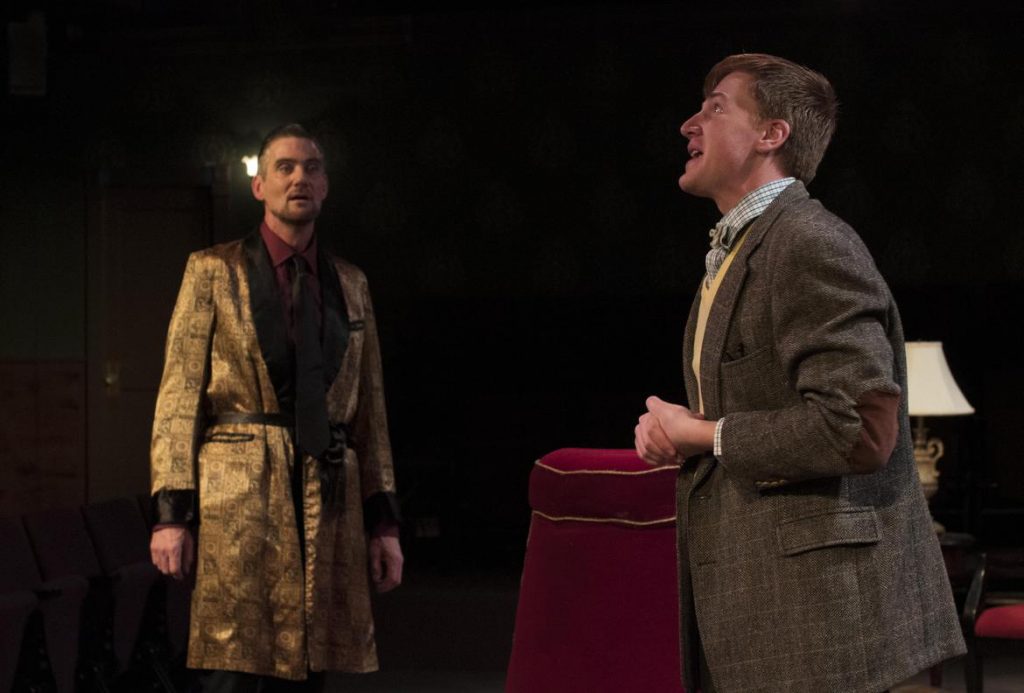 They say it takes a village to raise a child, and, though he's not a child, it sure has taken a village to raise Garry Essendine, the man at the forefront of Noël Coward's "Present Laughter," which opened at Spokane Civic Theatre on Jan. 17.
Essendine (Patrick McHenry-Kroetch) has built a reputation as a matinee idol, but, when at home, he's almost entirely dependent on his secretary Monica (Phedre Burney-Peters), his valet Fred (Paul J. Watts), his housekeeper Miss Erikson (Eve Luppert) and his wife, Liz (Elisabet Edwards), from whom he is separated.
Essendine's troubles are of his own making, as he sees no problem in wining and dining admirers, then sending them off the next morning with a well-rehearsed speech about how things would never work between them, relying on Monica, Fred, Miss Erikson and Liz to shuffle the women out of the house.
Things really go downhill, however, just before Essendine leaves for Africa when the "full extent of his misdemeanors are discovered," which leads to a series of frantic comings and goings from nearly the entire cast.
Civic staple McHenry-Kroetch is wonderful as the charming and cranky Essendine, and it was fun to see him paired up with the young and eager Daphne Stillington and the seductive Joanna Lyppiatt.
Abby Constable, in her Spokane Civic Theatre debut, played both sides of Stillington – lovestruck and, near the end of the show, plotting – well, and Craven oozed sophistication as Lyppiatt in a gorgeous dress from costume designer Jamie Suter and costume crew Madison Taylor-Hendricks and Jan Wanless.
Burney-Peters, Watts and Luppert really seemed like a well-oiled machine, dashing in and out to handle Essendine's crises as needed, and Edwards brought a lot of love to the role of Essendine's wife, making it known that she still cared about him but also had established some boundaries.
Kaylan Martin was hilarious as aspiring playwright (and borderline stalker) Roland Maule, and R. Scott Cantrell and Robert Tombari, both in their Civic debut, as producer Hugo Lyppiatt and manager Morris Dixon, respectively, balanced humorous bits and moments of full-out arguing well.
Civic's production of "Present Laughter" also featured Mary Jo Rudolf in the small but elegant role of Lady Saltburn.
As expected, the set, designed and constructed by Sam Holland, Josh Baig and Dennis Pham, was beautiful, with an elaborate faux marble entrance, regal carpets and faux wallpaper. I really enjoyed Deatherage's choice to place doors to rooms in the Essendine home in each corner of the stage, as it made the chaos feel more real as actors ran past the audience throughout the show.
By the end of "Present Laughter," you might find yourself wanting to shout, "You got yourself into this mess!" at the egocentric Essendine, but it was still fun to watch things unravel for him and see his support system fall effortlessly into place each time.
Article by Azaria Podplesky of The Spokesman-Review
Photo by Marlee Andrews