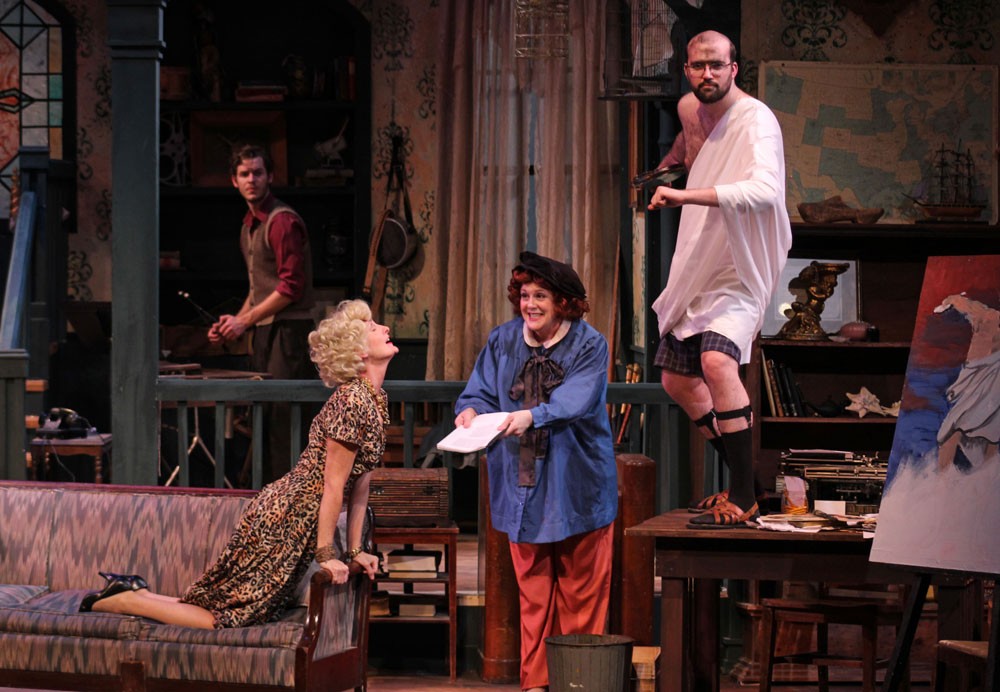 You can't deny the appeal of Moss Hart and George S. Kaufman's "You Can't Take It With You," a play with the perfect balance of humor, drama and feel-good moments.
The play, which premiered on Broadway in 1936 and won the Pulitzer Prize for drama the next year, is the story of the eccentric Sycamore-Vanderhof-Carmichael crew.
In the first few scenes of the play, audiences meets several members of the family.
There's the cook, Rheba (Athena Lauzon, in her Civic debut), and Penelope Sycamore (Phedre Burney-Peters), who is working on one of her many unfinished plays.
Then Essie Carmichael (Sarah Plumb), Penelope's daughter, dances (poorly, but not for lack of trying) into the room to tell her mother about her newest candy creations.
Shortly thereafter, Penelope's husband Paul (Joshua Baig) and Mr. DePinna (David Stanley, in his Civic debut) come upstairs from the basement where they've been testing out their fireworks.
We also meet Martin Vanderhof (Kris Kittelson), aka Grandpa, who has just come in from a commencement ceremony.
Soon enough, Essie's husband Ed (Dennis Burgess III) is playing his xylophone, Essie is dancing, Paul and DePinna are back down in the basement setting off fireworks, Penelope is typing, handyman Donald (Kaylan Martin) is sharpening a tool and multiple people are holding conversations at the same time.
You can't hear everything that's being said, but the conversation isn't really the point. It's to illustrate that what's chaotic for one family is commonplace for another.
The only seemingly "normal" member of the family is Paul and Penny's other daughter Alice (Jessii Arp, in her Civic debut), who works in an office and is dating a coworker named Tony Kirby (Dallan Starks).
She's is often embarrassed by her family's antics, but she loves them just the same.
It's only after inviting Tony's straight-laced parents (Doug Dawson and Lynn Noel) over for dinner that Alice starts to think her wacky family might turn Tony and his parents off.
Tony and his parents show up a day early, which gives them an unfiltered view of the eccentric family.
As Penelope, Burney-Peters was hilarious, breaking moments of awkward silence with a loud, drawn out "Well!"
Arp and Starks went through a rollercoaster of emotion as Alice and Tony, falling in love and breaking up over the course of the show, and Lauzon and Martin, as Rheba and Donald, had a sweet chemistry, especially in the scene during which the pair are fighting over the volume of the radio.
Watching Dawson and Noel, as Mr. and Mrs. Kirby, get more and more flustered by the antics of the family was hilarious, as was any scene with Dane Larson, in his Civic debut, as Boris Kolenkhov, Essie's dance teacher.
Watching Kolenkhov silently admonish himself after an interaction with Mr. Kirby was one of my favorite parts of the show.
Deborah Brooks received some of the loudest laughs of the night as Gay Wellington, an actress Penelope meets on a bus, and Audrey Overstreet nicely balanced the Grand Duchess Olga Katrina's elegance and willingness to don an apron and help in the kitchen.
Plumb and Burgess brought just the right amount of silly sweetness to the well meaning Essie and Ed, and Kittelson, as Grandpa, kept things going, no matter how crazy the action got.
Really thinking about the characters, costume designer Jan Wanless helped illustrate the contrast between the two families by dressing the Sycamore-Vanderhof-Carmichael family in bright clothing and using darker outfits for the Kirbys.
Director/set and lighting designer David Baker created a beautiful set for the show, a home packed to the brim with clutter that alluded to the varied interests of the family.
He also found a fun way to make the fireworks Paul and DePinna worked on feel real.
As chaotic as a show like "You Can't Take It With You" is, it's a nice reminder that you'll never go wrong by being yourself.
Like Grandpa said during grace, "All we want is to go along and be happy in our own sort of way."
Article by Azaria Podplesky of The Spokesman Review
Photo by Marlee Andrews