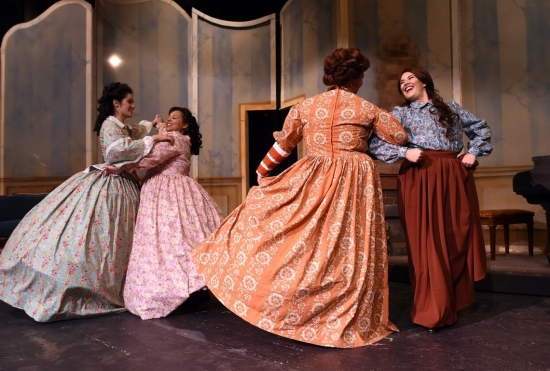 There have been six screen adaptations of "Little Women," and numerous television series, both here and in Britain. The central character, Jo, has been portrayed by Katharine Hepburn and June Allyson, Susan Dey and Winona Ryder.
…Civic's able cast helps make this a lovely evening of theater, one that's perfectly family friendly.
The actresses playing the March sisters are well suited to their roles, both as actresses and singers. As Jo, Emily Cleveland has a number of big songs. She brings high energy and a pleasing singing voice to the stage. Julia Keefe, a local jazz singer making her Civic debut as Meg, is always a delight to hear. As Beth, longtime Civic actress Lacey Olson brings an endearing sweetness to her role. As the bratty Amy, Kelsi Blaser has almost as much fun as Cleveland, especially as the two of them butt heads often. Andrea R. Tate does an admirable job of showing us Marmee's sadness and worry, while Jean Hardie provides a sarcastic kick as the girls' Aunt March.
Review by Carolyn Lamberson, Spokesman-Review.
Read the rest of the preview online.
Photo by Colin Mulvany, Spokesman-Review.