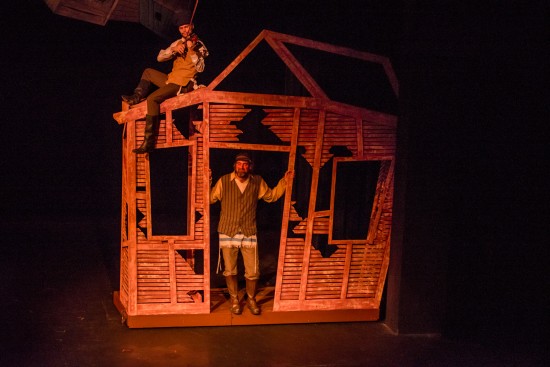 …Civic's interpretation of "Fiddler" understands the complex ideas at work and intelligently explores the themes of doubt and devoutness at the heart of the story. It's also impressive from a technical standpoint: This is a big, sweeping show that requires a huge cast, but Nickerson, McHenry-Kroetch and their crew have wisely approached the production with a stark, minimalistic style: The stage is mostly bare and the sets have a sharp, expressionistic look to them. It's a striking design.
There's also a memorable nightmare sequence in the middle of the show that requires a lot of pyrotechnics (during Friday night's performance, one of the wheels on the movable bed snapped off, and yet the production continued without incident), and the show's famous wedding sequence, in which a moment of celebration and liberation is interrupted by senseless violence, is a stirring set piece.
The cast, too, is terrific – Jones and McClellan as the oldest daughters do nice, nuanced work, as does Burrow as the passionate, revolutionary thinker – but Patrick McHenry-Kroetch and Deatherage are the real standouts. One of the show's best moments is also one of its quietest: Tevye and Golde have been together for 25 years, their marriage having been arranged when they were young, and they perform the playful but tender ballad "Do You Love Me?" They question whether blind devotion is the same thing as romance, and if they truly love each other in the purest sense of the word.
-Nathan Weinbender, Spokesman-Review
Read the rest of the review online.
Photo credit: Jesse Tinsley, Spokesman-Review