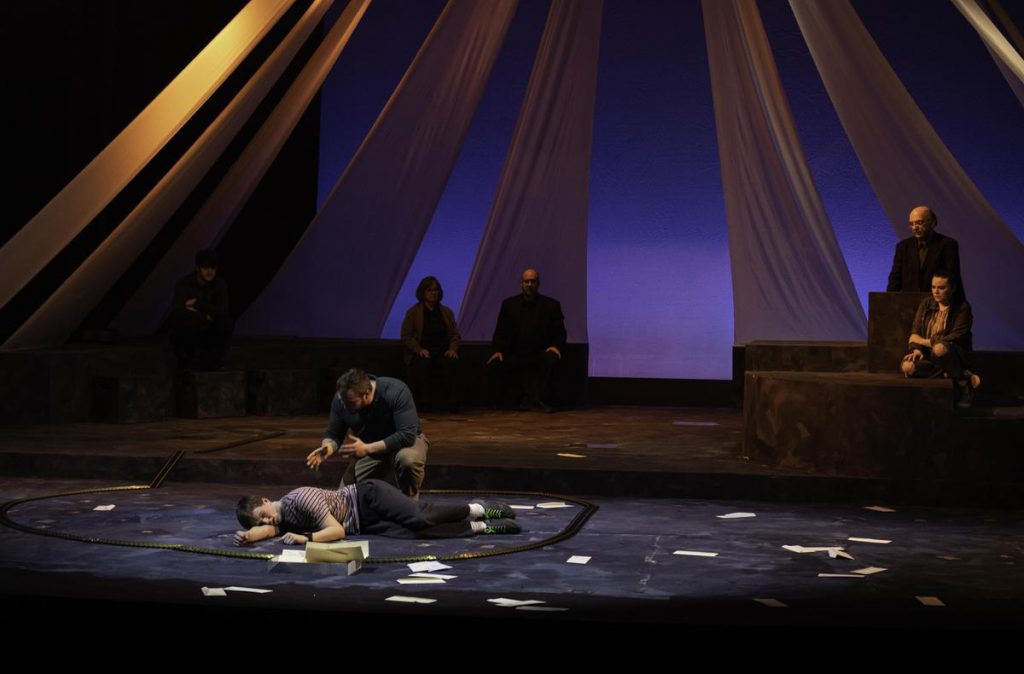 Opening night comes with enough pressure as it is, but the opening night of the regional premiere of a production must amplify that feeling.
Spokane Civic Theatre took on the challenge, and succeeded, with its newest main stage production, the regional premiere of "The Curious Incident of the Dog in the Night-Time," directed by Melody Deatherage.
"Curious Incident," based on the novel of the same name by Mark Haddon and adapted for the stage by Simon Stephens, follows Christopher John Francis Boone (Nicholas Griep), a 15-year-old amateur detective, who falls somewhere along the autism spectrum, though his diagnosis is never stated explicitly.
While investigating the death of his neighbor's dog, a startling discovery and an argument with his father (Jeremy Urann) set Christopher off on a big journey to London, during which he has to learn how to handle a variety of stressors and stimuli in order to reach his goal.
Having seen Griep in a couple smaller, though still memorable, roles, I was looking forward to seeing what he would do with a role like that of Christopher.
I was not disappointed.
Griep handled the character of Christopher with such attention and care, having researched the autism spectrum and "stimming," short for self-stimulatory behavior, during rehearsals.
Because of his research, his hand gestures, moments of rocking back and forth, grunts and lack of eye contact never crossed the line into parody.
With each new sight and/or sound, Griep's reactions really drove home how intense the world can be for someone like Christopher.
Urann, in his Civic debut, and Abbey Crawford were wonderful as Christopher's parents, Ed and Judy.
Both brought a bit of weariness to their roles, making it seem as if they really had been working on managing Christopher's outbursts for years.
Urann played both the good and the bad times between Ed and Christopher with conviction, and Crawford was so sweet as Judy. She gave Griep the most beautiful, motherly look after (spoiler) seeing Christopher for the first time after he arrived in London and made it clear throughout the show that her love for her son had never waned.
Brianne Smith, in her Civic debut, was fantastic as Siobhan, Christopher's teacher and confidante, encouraging him when he was up and comforting him when he was down.
The ensemble – Suzanne Maguire (in her Civic debut), Charles Fletcher, Dallan Starks, Jerry Sciarrio, Elizabeth Martin and Robbi Starnegg – did a brilliant job acting as chameleons and portraying whatever role a scene required.
No matter if the part was big or small, the six actors added to the show while keeping the focus on Christopher and his experiences.
Scenes between Griep and Starnegg's Mrs. Alexander, a neighbor Christopher connects with, were especially sweet.
The show featured a really interesting use of projection, and the set, though not exactly bare-bones, was simple enough to act as the Boone house, Christopher's school, a train station and more, depending on what the moment called for.
"Curious Incident" is sponsored by Skils'kin, a local organization which works to "enrich the quality of life for adults with disabilities," where director Deatherage is an HR business partner, and the ISAAC Foundation, a local non profit that supports families impacted by autism.
When speaking about the show, Griep said it was ultimately about acceptance and "accepting people from where they are at in life."
Deatherage echoed that sentiment in her director's note, writing "If we start seeing through his eyes, Christopher's view and relationship to reality reveals something about how all of us struggle to understand the world outside our heads. We can make sense of his perspective – not quite to live it, but to let go of judgments that polarize and separate us. Empathy."
Civic's production of "Curious Incident" showed that with just a little compassion, everyone, as Christopher learns, can do anything.
A word of advice: Stick around after the final bows for one last show of Christopher's charm.
Article by Azaria Podplesky of the Spokesman-Review
Photo by Marlee Andrews