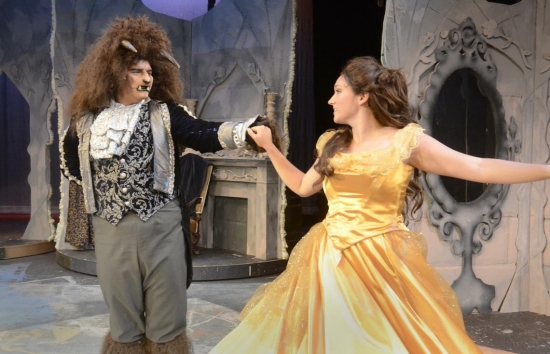 This is a classic, lovingly realized story, full of wonder, mystery, humor and romance, and it boasts some terrific songs that you'll be humming on your way home from the theater. "Beauty and the Beast" kicked off Spokane Civic Theatre's 70th season last weekend, and it's a polished production with a skilled cast, and while it doesn't erase our memories of the '91 film, it's entertaining on its own terms.
It'd be difficult to recapture the magic of the Disney movie, which is certainly one of the studio's finest features. But this show does occasionally channel the magic of its source material, and much of the charm of "Beauty and the Beast" is courtesy of its colorful supporting cast. In fact, some of the fringe characters are so delightful that the burgeoning romance between Belle and the Beast sometimes fades into the background: I particularly enjoyed Trail as Gaston and Grady O'Shea as his lackey LeFou, clearly relishing the chance to play dumb, and Loomer as the debonair candlestick channeling Maurice Chevalier.
Perhaps it's a good decision, then, to push those characters to the forefront, because they bring the production, directed by Jack Phillips, to life. I found the show's first act to drag a bit – perhaps I'm unfairly comparing it to the zippy pacing of the movie – but it seriously picks up steam by the time Belle reaches the Beast's palace. It's handsomely mounted, Summer Berry's costumes are eye-catching, and Webster and Siebel provide a warm emotional center.
Read the rest of the review here.
Preview by Nathan Weinbender of the Spokesman Review.
Photo by Jesse Tinsley of the Spokesman Review.