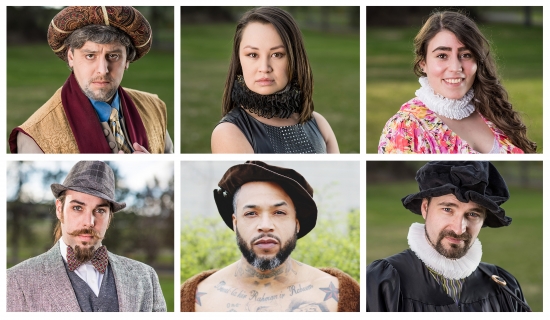 If you look closely at the program, you'll get a hint at what's to come with Spokane Civic Theatre's production of "The Taming of the Shrew."
Under "Setting," it says "Padua, back in the day."
While the language is as Shakespeare wrote, director/scenic and lighting designer David Baker has added a modern touch to the Shakespeare comedy with updated costumes and more attitude than the Bard could've imagined.
The wardrobe team – Jan Wanless, Ava Berg and Dee Finan – deserve a special shoutout for their role in removing the stuffiness ruffled collars (of which there are very few in this production) can bring to a play.
The first characters we see are wearing a blue velvet jacket (Bryan D. Durbin as Hortensio) and suit of bright red and a matching hat (Matt Cardoza as Gremio).
Then there's Tranio (a hilarious Michael Barfield), wearing a denim jacket and baseball cap, and the energetic Denny Pham as Biondello, wearing a plaid hat and pants in Easter egg-worthy pastels, complete with pink tennis shoes.
Both Barfield and Pham play their goofy servant roles to a T.
As the plot of "The Taming of the Shrew" revolves around Petruchio's attempt to "tame" the assertive Katherina so her younger sister Bianca can be wed, it makes sense that Civic's Katherina is clad in a leather jacket, form-fitting red dress and heels, as opposed to Bianca's more modest dress and leggings.
Dana Sammond is perfect as Katherina, giving anyone who crosses her a stare that threatens to burn holes through them; Skyler Moeder's mild-mannered Bianca acts as a great foil.
The pièce de résistance as far as outrageous costumes go is Petruchio's suit (worn by standout performer Seneca Smith), a mix of both black and white patterns and blocks of color. Smith's outfit becomes even more ridiculous in Act Two.
Read the rest of the preview here.
Review by Azaria Podplesky of the Spokesman Review