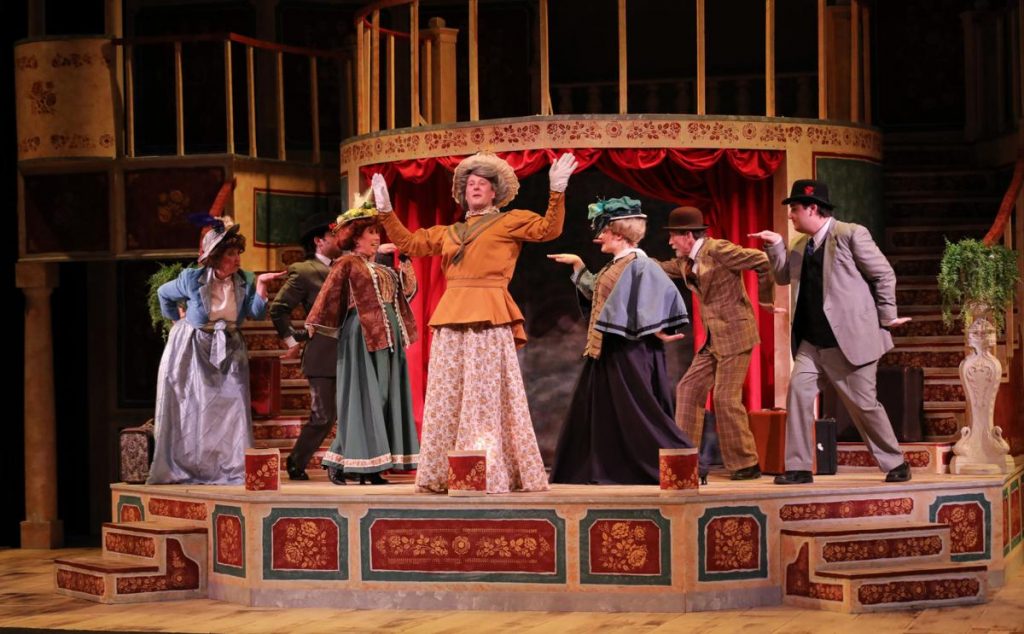 A wacky ensemble, stellar musical numbers and one man playing eight characters throughout the show. Those are a few of my many takeaways from Spokane Civic Theatre's production of "A Gentleman's Guide to Love and Murder."
This is the regional premiere of the Tony award- winning musical, which won best musical in 2013 and is based off the 1907 novel, "Israel Rank: The Autobiography of a Criminal," by Roy Horniman.
This musical was wild, to put it lightly. Every second I was on the edge of my seat truly not knowing what came next. The sheer creativity of the plot was hysterical and captivating in and of itself. Then, add a spectacular cast and wonderful music, and you have a production worth seeing.
The plot follows Lord Montague "Monty" D'Ysquith Navarro on his quest to kill off the seven relatives in front of him in the line of succession to become the ninth Earl of Highhurst. On top of this murderous adventure, a love triangle is intermixed.
Todd Kehne was the standout performer. He played the D'Ysquith Family, which is made of eight characters, all of whom get murdered by Monty throughout the production.
He played both men and women throughout, accompanied by many quick costume changes and incredible comedic timing. Kehne made every character feel like a completely different person and played all of them with such gusto that I'm not sure how he makes it through the show every night.
Another compelling reason to see this show is its creativity. The dialogue is quick-witted and clever, the physical comedy is out of this world and the way Monty kills off the D'Ysquith family is so unique and unlike anything you've ever seen before.
There were 11 people in the cast and that was a good choice. It was a complex and technical musical, but the tiny ensemble cast added to what a feat this production is. They were all so memorable and each had a moment to shine.
The music in this production is classic and almost operatic at moments. Taking such a classic form of music and mixing it with the humor of the show was endearing and created something I've never seen before.
It also displayed the casts' incredible singing ability. Every one of them had vocal range and performed at such a high caliber that it made this community theater production feel like a full-fledged Broadway musical.
This musical is distinct in nature. It mixes classical music, sets and costumes with a humorous and out-of-this world plot. The actors and actresses in the production were incredible. This production is worth seeing.
"A Gentleman's Guide to Love and Murder" will be at Spokane Civic Theatre until Feb. 23. Tickets for students are $10 on Saturdays, $25 any other day and $35 at full price. More information about the show and tickets can be found at: http://spokanecivictheatre.com/productions/a-gentlemans-guide-to-love-and-murder/.
Article by Riley Utley of The Gonzaga Bulletin 
Photo by Marlee Andrews