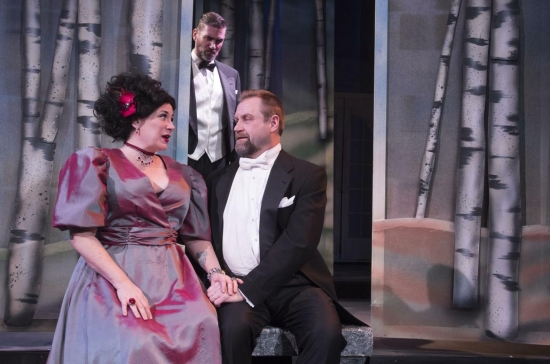 Love is one of those things that brings out the best – and worst – in people, as evidenced by the characters in "A Little Night Music," which premiered Friday at Spokane Civic Theatre.
The Tony award-winning musical from Stephen Sondheim, which was inspired by Ingrid Bergman's 1955 comedy "Smiles of a Summer Night," follows the love triangles, and in some instances quadrangles, that surround actress Desiree Armfeldt (Abbey Crawford).
The musical opens with the Liesbeslieder Singers (Alex Barclay, Mike Reinken, Janean Jorgensen, Amy Dawson and Amanda Edwards), who appear throughout the show, acting as a Greek chorus of sorts.
Desiree's mother Madame Armfeldt (wonderfully played by Jean Hardie), who is caring for her daughter Fredrika (Dacey Else), then enters, telling Fredrika that the summer night smiles three times: first on the young, then on the fools and finally on the old.
Then we meet lawyer Fredrik Egerman (Jim Swoboda), his much younger, somewhat naive wife Anne (Amber Fiedler) and his seminary student son Henrik (Mitch Heid), who is teased by Fredrik and Anne….
Read the rest of the preview here.
Review by Azaria Podplesky of the Spokesman Review
Photo by Colin Mulvany of the Spokesman Review