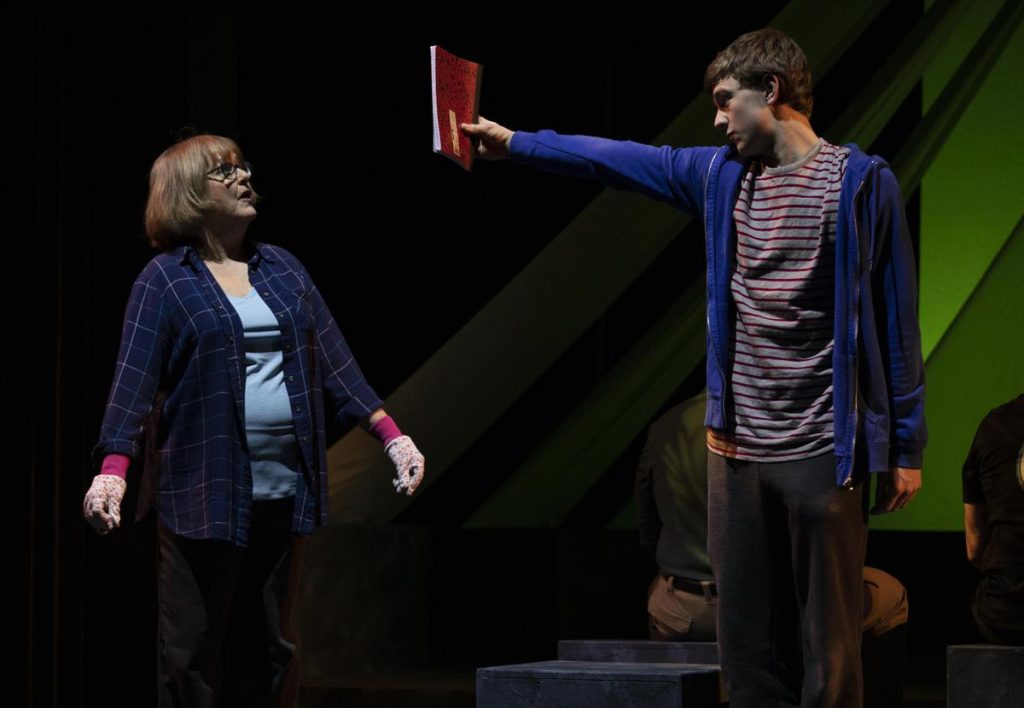 A flower shop employee.
A shopkeeper's naive assistant.
A clumsy jack of all trades.
The younger self of a seasoned performer.
University High School senior Nicholas Griep, 18, has played a variety of roles in his few short years as an actor, but none have been as challenging as that of Christopher John Francis Boone in Spokane Civic Theatre's "The Curious Incident of the Dog in the Night-Time."
"He is definitely different than anything I've done and different than who I am as a person, a different mindset," Griep said. "While it's been the most different, it's also been the greatest adventure I've been on as a character."
The regional premiere of "Curious Incident," directed by Melody Deatherage, opens Friday and runs through April 14.
Griep was inspired to trade the football field for the stage partly because of his mother's work in TV news.
She would often get free tickets to local performances and would bring Griep along. The next day, she would interview performers and learn about their time with the show.
"I got a lot of good information about these people and about their careers, and I found it really interesting so I wanted to try it out for myself," Griep said.
As an eighth-grader, he made his stage debut in U-Hi's production of "Mary Poppins."
"That was a blast and that launched me into theater," he said.
He followed that with "The Sound of Music" at Lake City Playhouse, "Evita" at U-Hi and "Little Shop of Horrors," in which he starred as Seymour Krelborn.
In 2017, Griep won the 5th Avenue Award for outstanding performance by an actor in a featured ensemble role for his role as Grandmaster Chad in U-Hi's production of "Legally Blonde: The Musical."
Most recently, he's found a home at Civic, having performed in "Hello, Dolly," "Mary Poppins" and "Follies."
"What kept me coming back was not only the theater community but also I loved being in a show where I could portray someone else and falling in love with a new character," he said.
"Curious Incident," based on the novel of the same name by Mark Haddon and adapted for the stage by Simon Stephens, follows Christopher, a 15-year-old amateur detective, who falls somewhere along the autism spectrum, though his condition is never stated explicitly.
While investigating the death of his neighbor's dog, a startling discovery and an argument with his father (Jeremy Urann) set Christopher off on a big journey to London, during which he has to learn how to handle a variety of stressors and stimuli in order to reach his goal.
Civic's production of "Curious Incident" almost didn't happen.
Because the show is currently being produced in Seattle, the company that represents the play's rights for production felt there would be a conflict if it was also produced in Spokane and denied Civic's application.
Creative director Jake Schaefer, knowing that Spokane is not Seattle, decided to appeal and was ultimately awarded the rights to produce the play.
"Civic is worth the fight for shows like this," he said in an email. "Because of the company's history, rich talent pool, resources and commitment to the whole of the community, we should be the first company in the area to produce it."
Griep hadn't read the novel before auditioning, but he read a synopsis and was blown away by the story.
"I really connected with it because someone who's not necessarily accepted by society is going out," he said. "I really took a lot of love into that story."
Griep chose not to read the book during the rehearsal process because he didn't want the character he was building to be swayed by another view of Christopher.
Instead, he wanted his portrayal to be informed by the research he did on the autism spectrum.
He also researched "stimming," short for self-stimulatory behavior, which involves things like rocking, repeating words and phrases, and hand-flapping in response to things like stress and fear.
"I really wanted to get a real take on how a real person on the spectrum would act," he said. "My biggest thing while continuing the role was playing justice to the role."
"Curious Incident" is set in Swindon, in southwest England, and London, which means Griep also had to work on perfecting an English dialect.
Griep, who plans to attend Spokane Falls Community College after graduating from high school and hasn't ruled out pursuing acting as a career, thinks a British accent is easier than others for him to master, but he was still grateful for the help of dialect coach Dawn Taylor Reinhardt.
Griep also praised the directors, cast and crew and is grateful for them for making "this show such a blessing to be in … and accepting me for who I am."
It's that idea – acceptance – that Griep, who plans to read "Curious Incident" as soon as the production closes, feels is at the heart of the show.
"It's not a story about a kid with autism," he said. "It's a story about a young man who goes on a journey. Truly, it's a story about acceptance, accepting people from where they are at in life.
"I think that's a huge reminder we need in life because we get so caught up in our own lives, I know I have, and then we look at other people's actions and we look down upon them. But really, we really need to accept people for who they are."
Article by Azaria Podplesky of the Spokesman-Review
Photo by Marlee Andrews