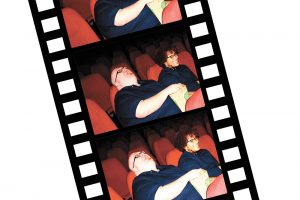 The Flick is both the title and the setting of Annie Baker's 2014 Pulitzer Prize-winning drama about the employees of a classic single-screen theater as it undergoes an ambivalent transition from film-based to digital projection. The play is receiving its regional premiere in a new production in Spokane Civic Theatre's Firth J. Chew Studio space.
Andrew Start, a former Spokanite and now a Portland-based acting instructor at Centralia College, is heading the production. It's the first time he's returned to the Civic since performing in the mid-to-late 1990s with the theater's long-running (and now defunct) Box 'n' Hat Players troupe under Jean Hardie.
"I grew up in Spokane," he says. "I basically left Spokane at 18, went to a few different colleges, and then lived in New York for about 12 years." While in New York, Start participated in regional theater as well as national tours for Evita and the Leonard Bernstein-scored Wonderful Town.
"I was inching ever closer to Broadway as a principal dancer and on an understudy track, and I had a few really big near misses. Which, I think, is common in the industry."
As a result of his own experience and the advice of his agent, Start drifted away from dancing and began pursuing nonmusical dramatic acting. He moved back to the Northwest last year to work as a choreographer and acting teacher.
In 2017, Start bumped into the Civic's creative director, Jake Schaefer, over the Christmas holidays. The two had first met through Coeur d'Alene Summer Theatre, where Start had performed throughout his 20s, and Schaefer suggested that he direct a show during the Civic's forthcoming season.
"I presented short little blurbs about how I would approach four of the different shows in the season. And for [The Flick], I said that my background in kitchen-sink realism, studying Sanford Meisner and Uta Hagen's techniques, would lend itself really well to this play" in which "essentially every scene is these two characters cleaning a movie theater."
Baker's writing has drawn both praise and criticism for its warts-and-all naturalistic conversation in these static scenes, where the characters' inarticulate complaints about the messiness of moviegoers and debates over the artistic merit of different films are punctuated by long silences.
"It's somewhat mundane," laughs Start, "but it's really beautiful if you can explore the actual reality of this sort of Sisyphean task and how a relationship can be built through a boring job."
As director, he's therefore encouraging his cast of four — Will Gilman (underachieving Sam), Marvin Hughes (film buff Avery), Aubrey Peterson (replacing Megan Levi as the "sexually magnetic" Rose) and Johnny Monday (enigmatic Skylar/Dreaming Man) — toward "playing action instead of emotion" in order to keep the characters' dynamic from becoming too stylized.
"I'm really just speaking to [the actors] about connecting and living in moment-to-moment truth, which is a Meisner phrase. That can sort of lift us out of that enhanced reality that we often see, especially in musical theater, and really working to ground them in what we call the 'reality of doing.' When does the conversation become more important than the task, and when does it not?"
Start says that creates a "ping-pong match of human connection" that mirrors our real-life relationships and makes for such a strong piece of theater. It also means Baker's play runs for nearly three hours, which tested the audiences' patience when The Flick debuted in 2013.
"In my director's notes, I've alluded to the fact that audiences walked out at Playwrights Horizons before [the play] started getting all the awards that it did. And I've asked for people to share in the silence and take from it what they can."
Younger theatergoers, he says, are likely to hear themselves echoed in the play's "contemporary" language, but Start is also of the opinion that The Flick is a unique and potentially rewarding drama for anyone who appreciates all the ineffable moments that "happen in the subtext."
"If they can find any solace in the meditations, they'll find beauty in the acute sensitivity with which Annie Baker explores relationships and just how human her characters are. We communicate so much through what we don't say to each other."
Article by E.J. Iannelli of the Inlander