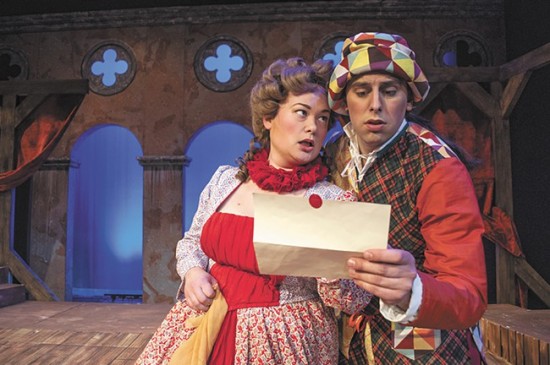 "The Servant of Two Masters, written by Carlo Goldoni in the mid-18th century. The convolutions of its plot bend around love, rivalry, scheming, deceit and, well, food. It's a classic commedia dell'arte, typified by its masked archetypal characters and improvisational comic routines. These often included Zanni (forebear of the English word zany) — sly or silly servants like the constantly famished Truffaldino of Goldoni's play.
…
Some modernized versions have transported the play's setting from Venice, Italy to places like Venice Beach, California, but Civic's version follows a traditional scenario set by Jeff Hatcher and Paolo Landi, the play's adapter and translator. Coincidentally, it was adapted by the same Jeff Hatcher who adapted Civic's recent production of Dr. Jekyll & Mr. Hyde for the stage and who also modernized the version of Wait Until Dark performed last April at Interplayers. [Director Patrick] Treadway says the connection is entirely unintentional: "He's just a busy guy, I think.""
-E.J. Iannelli, The Inlander
Read the rest of the preview online.
Photo credit: Sarah Wurtz, The Inlander