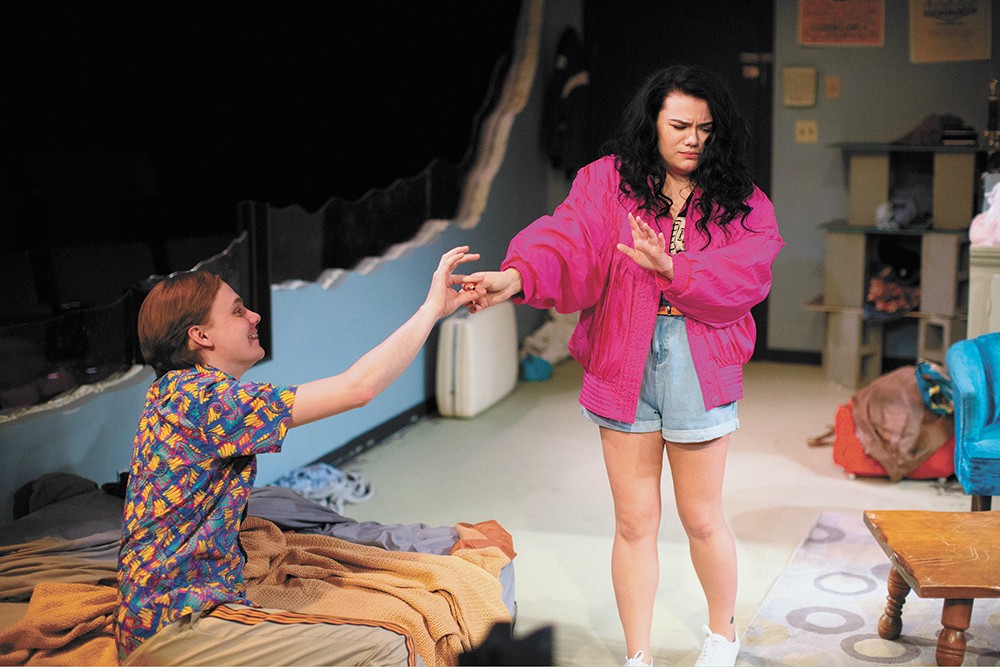 Though it has the unmistakable ring of a declaration, This Is Our Youth treats its title more like a question than a statement. Its three characters — two boys, one girl, all in their late teens and early 20s — are aimless and uncertain. They're unsure of who they are, who they want to be and how they fit into a world that seems to have given them everything and nothing.
Materialism and nihilism are almost natural byproducts of that state of affairs. And Kenneth Lonergan's play, first staged in 1996, is actually set in 1982, the start of an era that would later become synonymous with those two mindsets. But, as its plot unfolds in a single apartment over a 24-hour period, This Is Our Youth reveals itself to be about more than just the attitudes or anxiety of a single decade.
Jacob Carruthers plays Warren, "a deadbeat, stoner-type character" in a new production of This Is Our Youth at the Spokane Civic under the direction of Andrew Start.
"Warren has been through a lot of hard times. He's got a very, let's say, stormy relationship with his father stemming from some other family issues, and he finds a lot of solace hanging out with his best friend, Dennis, who sells him pot and hangs out with him. And it all kind of comes to a head when Warren has this really big fight and steals a bunch of money from his father," he says.
The stolen money quickly gets Dennis (Denny Pham) and Warren scheming. The plan they hatch eventually puts Warren in contact with Jessica, played by Elizabeth Martin. Warren ends up dropping a good chunk of the ill-gotten cash in an attempt to impress her.
The odd thing about it, says Martin, is that none of them really needs the money.
"They all live in this very privileged bubble. They're all wealthy. They all live in New York on the Upper West Side. Their parents pay for everything. She's a fashion student, if that tells you anything," she says. And yet, for a "people pleaser" like Jessica, it's actually more important to find good company and to be "accepted."
"Truthfully, at that age — and I am that age — don't we all just want to be accepted, have friends and to be cool? And I think that's very much still what she wants. But I think she's also beginning to grow up in the sense that she wants more than just a superficial friendship."
Her actions, however, won't always be consistent with that desire for something more substantial, given that Warren's flashy attempt to impress her succeeds. At least in part. And that leaves Jessica, much like Warren and Dennis, trying to reconcile her behavior with the ideals that she's still developing for herself.
It's messy, in other words, and messiness can sometimes test audiences' sympathy.
"These characters are like us," says Martin, "and if that makes them unlikable, that makes them unlikable. I find it hard to think they're unlikable because I've spent so much time dissecting them that I can see their little nuances as people. It doesn't have a nice little bow on it at the end. It's very real, very moment to moment about how we try to solve problems."
Carruthers says the temptation also exists to see the characters as types: spoiled rich kids, idle stoners, empty-headed narcissists, rebels without causes. But pigeonholing them risks overlooking their complexity.
"They are very real and very human people who are being put into a type as a result of the way they were brought up and trying to uphold the image they were given or that they chose for themselves. And they're coming to terms with the fact that it might not be the best-suited persona for them. It's really getting down into the weeds of what is actually making them tick."
Just as its characters can transcend type, This Is Our Youth also has the potential to escape its moorings in the Reagan era to convey "this universality, this idea that it's a cycle" to which culture, politics and coming of age all belong.
"It's a very personal story that a lot of people have gone through at that age," he says. "There's a lot of discovery about how we treat people, how we treat ourselves. What kind of choices are we making as we proceed through this daily grind? What gives our life purpose? What are we going to be leaving behind? At the end of the day, it shows the difficulty of change. It's a little sobering. But in a hopeful way." ♦
Article by E.J. Iannelli for the Inlander
Photo by Alycia Lovell for the Inlander