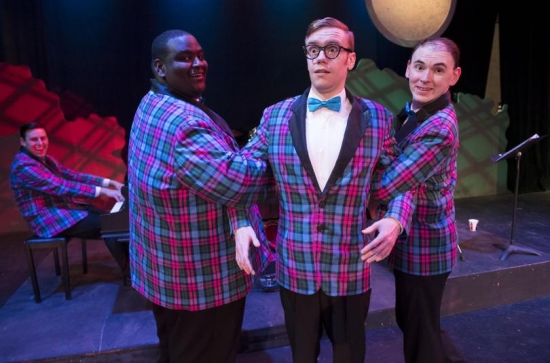 Right in time for the holidays, "Forever Plaid: Plaid Tidings" hits Spokane Civic Theatre on Friday, a rollicking, feel-good, willfully goofy Christmas comedy that's plastered wall-to-wall with classic songs.
"It's fun and wacky, and it should be very entertaining," said director Kathie Doyle-Lipe, who's no stranger to this kind of nostalgic variety show loaded with big musical numbers. "If people have seen and liked 'Forever Plaid,' it's the holiday version of that. There are a couple of real touching moments, where the guys reveal events that happened to them in their lives. But mostly, there's no big plot."
The first "Forever Plaid" show was created by writer Stuart Ross in 1990, and the jukebox musical found off-Broadway success and has since become a popular selection of community and high school theater companies. "Plaid Tidings" revisits Ross' characters and gives them a mostly new batch of songs to perform, but it also adds tinsel and wreaths and holiday cheer. It's basically a revue of a revue.
As in its predecessor, the premise here is both darkly comic and charmingly old-fashioned. Set in the mid-'60s, both shows concern four guys – Frankie (David Hardie), Jinx (Jonathan Barnes), Smudge (Nick Wittman) and Sparky (Preston Loomer) – who have visions of doo-wop stardom in an era that's ushering in rock 'n' roll.
Read the rest of the review here.
Preview by Nathan Weinbender of the Spokesman Review
Photo by Colin Mulvany of the Spokesman Review