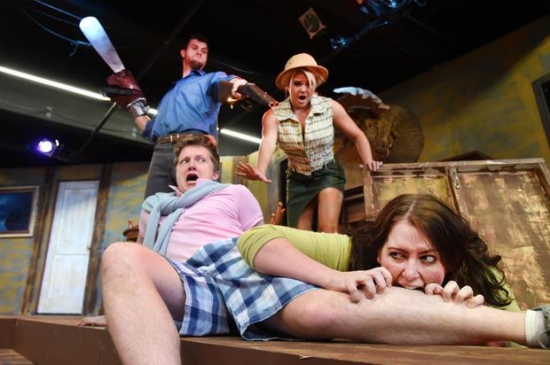 Troy Nickerson and Heather McHenry-Kroetch are at the helm of Spokane Civic Theatre's production of "Evil Dead: The Musical," which opens in the studio theater this weekend. They previously directed "Fiddler on the Roof" for Civic, but this show couldn't be any more different from that Broadway chestnut.
…
"You could just do this show and throw it out there and make it campy and kind of crappy," Nickerson said. "One of the cool things about it is that we've actually maintained a quality level of theater. It's skillfully done, and the cast is amazing."
…
"Evil Dead: The Musical" is an awfully bloody production – Chris Beazer, the show's music director, describes it as "SeaWorld with blood" – and if you're sitting in the first three or four rows, you're likely going to get sprayed with plenty of the red stuff.
"We're not guaranteeing that the splash zone stays in the splash zone," McHenry-Kroetch said. "I don't see that happening."
"But you do get a poncho," Nickerson assured.
Read the rest of the article online.
Photo credit: Jesse Tinsley, Spokesman-Review