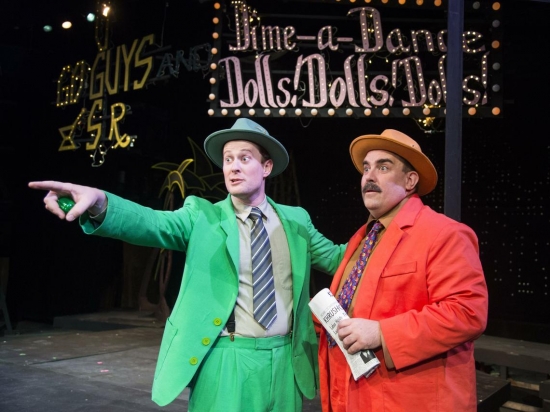 "Guys and Dolls" is the epitome of cool, a story of gamblers, gangsters, molls and lounge lizards that's become one of the most iconic Broadway shows of all time. The musical, which closes out Spokane Civic Theatre's current season, has been performed and revived countless times since its 1950 premiere and was famously adapted into a film starring Marlon Brando and Frank Sinatra…
"The characters are so strongly written, first by Damon Runyon and then by (songwriter) Frank Loesser and (playwright) Abe Burrows," Deatherage said. "They're fun, they're funny, they're wisecrackers. But they feel the same things we do – love, loss, hope, frustration. Even though they're broad characters, you still can relate to them on a very human level…"
Deatherage also says that the production itself has been designed to stand out from a conventional interpretation of "Guys and Dolls": The costumes and hairstyles are period appropriate, but the staging is more modern and abstract.
"We're taking sort of a fresh approach to it," she said. "It's not going to have a traditional set. It's a minimalist set, with open platforms taking us to different areas where the show takes place and suggested scenery. … We've streamlined in a few ways to keep up the pace and make it a fun ride."
Preview by Nathan Weinbender, Spokesman-Review.
Read the rest of the review online.
Photo by Colin Mulvany, Spokesman-Review