Avast Ye Maties – Take a Journey to Treasure Island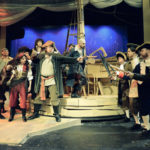 Tonight and for the next three weeks (only three weeks), peg legs and pirate ships are taking over the stage at Spokane Civic Theatre in Treasure Island. When you do a stage adaptation of David Baker's (the Civic's Technical Director) favorite book, you better be ready for some serious stage revisions. The Main Stage as you know it is long gone and in it's place a pirate's ship at an angle, replete with ramps, a revolving set, drops that fly in and out, traveler curtains (you have to see it and then you'll understand it), and a climbable ship's mast that sits center stage. The stage is now in the hands of swashbuckling pirates! Expect epic sound effects and the shooting (fake) of guns to complete this tale on the high seas.
Only a Real Peg Leg Will Do
Pay special attention to Long John Silver's Peg Leg. It's actually rather amazing. Many theatres have struggled with challenge of having a two-legged man have only one leg on stage. Solutions have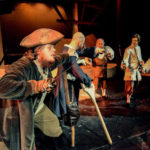 included painting the cast member's real leg to look like a peg or simply bandaging the leg, Spokane Civic Theatre director Chris Wooley said "no way" In this case, the costume/technical team worked really hard to devise a solution to a believable peg leg. After serous attempts and considerations of amputating  Damon Mentzer (you might remember him from the Count of Monte Cristo), they came up with a solution. Be on the look out for it. You'll love it! Long John Silver is the ultimate one legged pirate. And yes, he does have a parrot.
What Pirate's Do Best
Other than plunder, pirates are darn good at fighting. The cast of Treasure Island starting practicing this skill on their first day of rehearsal. The result? AMAZING fight sequences. The Spokane Civic Treasure Island pirates are equipped with real swords, strong choreography, and a pirate attitude. By practicing fight choreography constantly, the pirate's fights will keep you entertained and won't look cheesy. Remember, Civic is serious about their pirate action.  Did we mention that we purchased about 20 swords just for this production? Add to the mix Bryan Durbin, the fight instructor, is also a cast member and one of the pirates. We're really bringing you serious sword expertise.
Come See the Pirate Ships and Meet the Pirates
This may be your only opportunity to meet Long Johns Silver, Dr. Livingston, Billy Bones, Black Dog, and so many more.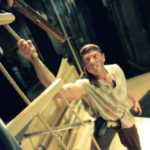 Treasure Island
By Ken Ludwig www.KenLudwig.com
Based on the Book by Robert Louis Stevenson
Directed by Christopher Wooley
April 5 – 21
Family Adventure Story – Main Stage
The classic swashbuckling tale comes to life in this new stage adaptation! Young Jim Hawkins sets off on the adventure of a lifetime as he searches for the buried treasure of pirate Captain Flint. Sword fights and mutiny abound onboard the ship. Watch out for Long John Silver as he navigates more than the high seas!
Curtain Times
Thur – Sat: 7:30 P.M.
Sun: 2:00 P.M.
All photos courtesy of Chris Wooley of Heads and Tails Photography.