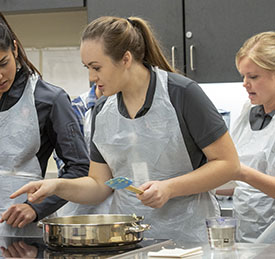 There's something called the Alexander Technique for Musicians that Mikalah Barem thinks might make a good research project, should she end up needing one.
The technique is a way to consciously exercise your body properly while singing or playing a musical instrument.
Barem is personally acquainted with the pain of "piano back" because she used to spend 10 hours a day at a piano bench when she was in college at Willamette University, on her path to becoming a musician.
Barem found music early in life. She taught herself to play "Twinkle Twinkle Little Star" on a toy piano when she was four years old. All through her primary school years in Mt. Vernon, Wash., she was involved with music and dancing. She sang in choirs and played different instruments – piano, snare and bass drums, xylophone, marimba, timpani drum – in various school bands.
Then at Willamette University, she was affected by two game changers.
First, she realized that she loved to study, which she hadn't done much of in high school because she was so busy with music.
Second, she discovered that musicians didn't always have the money to pay their bills. This became apparent when she tried to cash a few checks she had earned playing in a band, only to be told the band leader's bank account had been closed. She did not get paid for her work with that band.
With her new interest in studying and the realization a career in music may not pay her bills, Barem thought about nutrition and how she had independently researched what she would need to know to be a vegetarian after reading the Omnivore's Dilemma in high school. She has remained vegetarian the last 10 years.
So, while finishing her B.A. in music she started taking the prerequisites for a nutrition degree. After graduating from Willamette, she was accepted at Washington State University in Pullman, where she completed the courses needed to transfer into the Nutrition & Exercise Physiology Program at WSU Spokane for her junior and senior years.
At age 23, she is now facing a choice of at least two directions as she gets closer to getting her bachelor's degree in May. She is applying both to the WSU NEP Coordinated Program in Dietetics and to the new MS NEP in Research degree.
She is learning now what it might be like to work directly with patients because the senior practicum in NEP involves nutrition counseling and exercise coaching with real patients, usually people on campus. This summer she will learn more about how it feels to be a researcher because she will be a research assistant in the lab of NEP faculty member Pablo Monsivais.
"I'm a huge believer in preventative medicine, and that is why I love this program – it's a combination of nutrition and exercise and preventative health care," Barem said. "A healthy lifestyle and disease prevention is what I hope to accomplish with patients and others through my future in dietetics or research."
Whichever direction her nutrition career goes, she hasn't let go of music and dance at all. She has a job as events manager at the Bing Crosby Theater in Spokane and also teaches dance, music and drama for the Christian Youth Theater. She also takes a few students into her home for piano or voice lessons. And, she will be dancing and singing in the Elf The Musical which opens at the Spokane Civic Theatre the day after Thanksgiving and runs through December 23.
How does she pack so much activity into her life?
"In high school I learned how to be efficient," Barem said. "While my mom would be driving me somewhere I would be writing an essay for class on my phone."
Article by Lanelson of WSU Health Sciences Spokane Extra