In about two weeks, Spokane Civic Theatre will be alive with the sound of music. In this case, the music of Jason Robert Brown. Singing this wonderful composer's praises and music will be none other than some of Civic's most talented vocalists. So, we thought we would take a few minutes to highlight some of the "cast".
Meet Robby French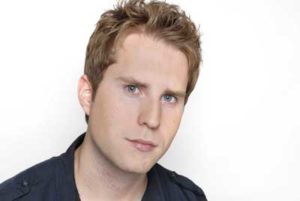 And not just any Robby. This is the same Robby French who went all Full Monty a few seasons ago. But for this in concert, he'll be keeping all his clothes on. We promise.
The Interview
Spokane Civic Theatre: We would love to find out a little more about you….Tell us about your background and your love of music. Is this your first in concert?
Robby: This is my fourth in concert, and I'm thrilled to be a part of this amazing show in which I sing Tenor. My background in music began at an early age, playing drums and singing for our neighbors when I was little. Growing up,  I got involved in local theatre and ended up in college in NYC at The American Musical Dramatic Academy. After graduation, I returned to Coeur d'Alene, and got cast in the CDA Summer Theatre. I did a regional tour of The Complete Works of William Shakespeare. . .Abridged! And later returned back to NYC to go to The New York Conservatory for the Dramatic Arts, which focused mostly on acting for the camera and film technique.
Spokane Civic Theatre: What appeals to you about your role in Songs for A New World? What are your thoughts on Jason Robert Brown's music?
Robby: I have loved Jason Robert Brown's music since I first heard it my senior year of high school. The melodies are beautiful, the rhythms are complex, and each song is better than the next. I had the opportunity to be cast in his wonderful two person show, The Last Five Years, as well, at Spokane Civic Theatre, with fellow cast mate Andrea Dawson. It's a gorgeous simplified musical that evokes so much emotion and substance, that the songs do most of the work for you. Jason's music makes the job of the actor easier. His style is unique, and I love singing his music. This is truly an honor to meet him and present one of his best works to the Spokane Community.
Spokane Civic Theatre: If I'm you less than average theatre attendee, why should I come to see this show? Sell me on it!
Robby: The In Concert for the most part will be staged, with projections and lighting, setting the mood for the time and place of each song. Songs for a New World, is a different piece of theatre in that every song is its own story and is a separate piece from the rest. The music shares the common objective of taking a chance, one more step, a final decision, and what ultimately becomes of that decision. How is the rest of your life affected by the present or previous choices you have made? That is what this show is about. That ultimate decision. A leap of faith.
Spokane Civic Theatre: Parting thoughts?
Robby: I am truly delighted to be a part of this amazing piece of musical theatre history, and to work with such a great cast. You really don't want to miss this one.
For more information about other productions this season, please visit Spokane Civic Theatre's Website and check out twitter! We're constantly updating the Spokane Civic Theatre Facebook Page with the latest and greatest. And reserve your seats now for the rest of  Season to Inspire with shows like A Closer Walk With Patsy Cline, White Christmas, Escanaba in Love, Next to Normal, On Golden Pond, Treasure Island, Grease and more.