In this weeklong series, we're introducing our fabulous playwrights with work in the 26th Playwrights' Forum Festival at Spokane Civic Theatre. We asked each of our playwrights a few questions about themselves and their entries, so you'll know a bit about them before you see their works Friday and Saturday!
Today, we meet our second playwright!
Introducing: Keith McGregor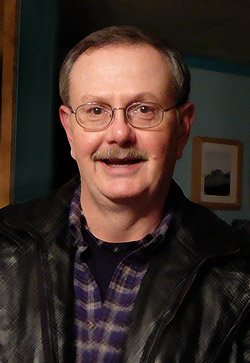 Name: Keith McGregor
   Lives in: Monroe, Washington (in the greater Seattle area)
   Playwright of: Lost and Found
   Current occupation: Retired, so he has a "fair amount of writing time".
Did you go to school to learn how to be a playwright?
If so: where? If not: how did you learn?
I started college studying architecture, but that didn't last.
My B.A. is in English and Fine Arts, and my M.F.A. is in Theatre—directing and production management.
I started writing in college and have taken a few playwriting classes, but mainly I've done a lot of reading about playwriting, writing plays, and going to/working in the theatre.
What is Lost and Found about?

Two hikers—both elderly men—encounter each other on a mountain trail high in the Cascades. A neglected geocache, hidden high on a peak overlooking Lake Valhalla, a pristine Alpine lake, gives new perspectives to both of them.
What inspired you to write this piece?
Each of these men is facing a different issue about aging—issues that are very common as people go into their final years. At this point, I'm looking at those (and other) considerations myself.
Are you going to be in the audience this weekend?
I'll be there Friday night, but probably not on Saturday.
Anything interesting about yourself, your play, or your experience that you'd like to share?
Well, pertaining to this play, I do a fair amount of day hiking in the Cascades, I'm a Master Gardener, and I'm working on a series of short plays called "Viewpoints," which looks at different issues and situations around the experience of aging. (It will—I hope—be a lot funnier than that description sounds.)
For more about my writing work, visit www.ravenwriters.com .
Lost and Found is one of six one-act plays showing at the sold out Playwrights' Forum Festival this year – and one of five competition pieces. Each of the five pieces will be competing to win the Adjudicator's Choice Award, and an Audience Choice Award.