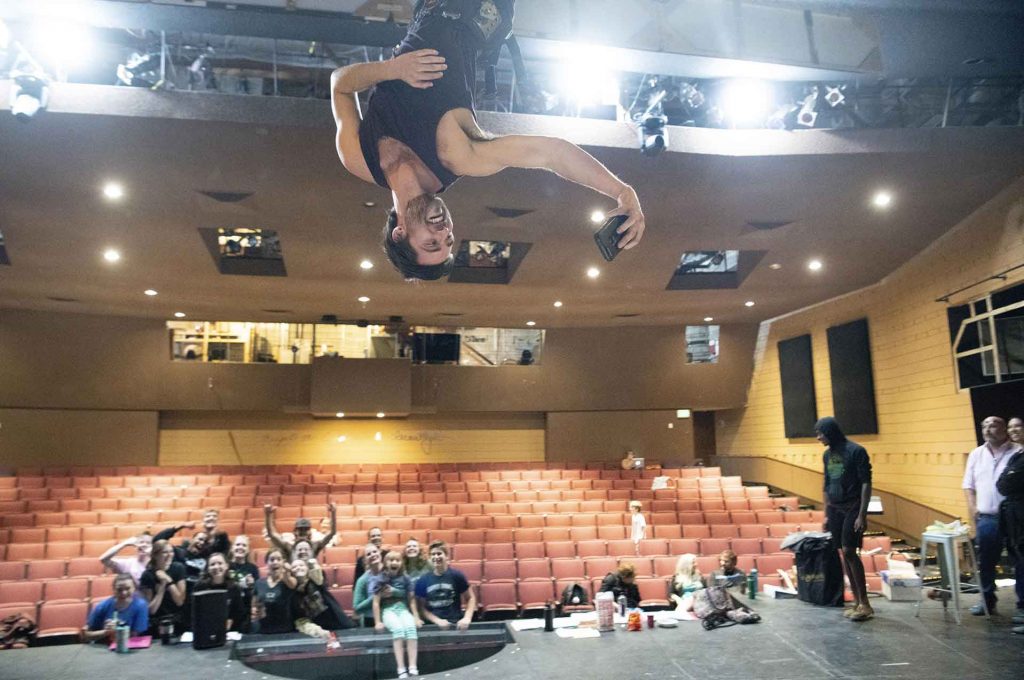 The East Wind must be passing through Spokane. Mary Poppins is coming to town.
Or, rather, Disney and Cameron Mackintosh's "Mary Poppins," which opens Friday at Spokane Civic Theatre.
The musical, which premiered in England in 2004 and on Broadway in 2006, is based on the stories of P.L. Travers and the 1964 Disney film of the same name, starring Julie Andrews and Dick Van Dyke.
Director Troy Nickerson suggested the play as a possible season opener despite having never seen the musical before.
"I had been doing a lot of dark plays, 'Equus,' 'Who's Afraid of Virginia Woolf?'," he said. "I thought some Disney thing would be fun."
Civic's creative director Jake Schaefer could see Nickerson was the right fit.
"He's like a painter in that his pictures are first born in his head, and he's got this ability to realize it in an extremely organic way," he said. "And he gets results. It's incredible. He's a force."
While it's an entertaining experience to watch a fully realized production on stage, there's something to be said about seeing just how hard the cast and crew worked to make that production seem flawless – especially a show that involves a lot of complex dance numbers and flying scenes.
From beginning to end, this is how Spokane Civic Theatre's production of "Mary Poppins," which runs through Oct. 14, came together.
'If you want this choice position'
Auditions brought between 60 and 70 actors to Civic, and the production team saw about half of those actors during callbacks on June 26.
Throughout the evening, groups of actors shuffled between the main stage, where they sang and ran scenes from the show for Nickerson and music director Henry McNulty, and the lobby, where choreographer Heidy Cartwright assessed how well each performer could move.
While Cartwright worked with older actors, the young actors trying out for the roles of Jane and Michael Banks, Poppins' charges, took the stage.
The six Jane and two Michael hopefuls, first as a group, then in pairs, sang an excerpt from "The Perfect Nanny."
"If you want this choice position/Have a cheery disposition/Rosy cheeks, no warts!/Play games, all sort."
The dozen actors trying out for the role of Poppins then sang a few lines from "Practically Perfect."
"By the time the wind has blown the weather vane around/I'll show you if I can/No matter what the circumstance for one thing I'm renowned/My character is spit spot spick and span/I'm practically perfect in every way."
Both McNulty and Nickerson wore poker faces the entire night, not revealing how they felt about each audition.
Then it was onto more script readings with different combinations of actors: George Banks, Michael and Jane; Mrs. Corry, Poppins and Michael; and George and Winifred Banks.
Winifred Banks hopefuls sang a snippet of "Being Mrs. Banks" before a few more script readings.
Nickerson and McNulty asked those auditioning for Poppins to sing "Practically Perfect" once more.
"It's this barely contained whimsy that she has," McNulty explained. "Very precise and playful at the same time."
The night wrapped up with singing auditions for the evil Miss Andrew, George Banks and jack-of-all-trades Bert, singing "Chim Chim Cher-ee."
"When there's hardly no day/Nor hardly no night/There's things half in shadow/And halfway in light/On the rooftops of London."
With that, Nickerson, McNulty, Cartwright, Schaefer, assistant director MJ Smith, stage manager Lauretta Heaney and producer Michelle Holland began to deliberate.
Some decisions seemed like no-brainers for the team, while others took a little more discussion.
"Vocally, I'd come out strong for her," McNulty said about one Mary hopeful. "She's responsive as a musician."
"She moves really well," Cartwright added.
"She looks like she fell right out of the book," Nickerson said about another.
Slowly but surely, Heaney and Holland began matching actor cards with character cards as the team selected its cast.
In the end, Quincy McCune and Jerrod Galles were the picks for Mary Poppins and Bert. Mia Kubicek, 12, and Eli Wissing, 9, were cast as the Banks children.
Rehearsals start,
no sugar needed
On July 2, the cast and crew gathered for a read-through.
Two weeks later, surrounded by racks of clothing and meticulously labeled boxes ("Sweaters: Argyle," "Sweaters: Shawl Collar," "Sweaters: Pullovers") in the third-floor rehearsal space, McNulty welcomed the cast to rehearsal.
"We're at the start of a new production," he said. "It's always so meaningful because theater is its own animal … We all have another reason for being here; the love of doing it …
"Without further ado, let's do the most difficult part of the show," McNulty said, eliciting a few nervous laughs from the cast.
The most difficult part of the show, it turned out, was "Anything Can Happen."
"For all intents and purposes, this is the finale of the show, even though there are a couple more scenes," Nickerson said about the song at a rehearsal in August.
Measure by measure, McNulty and the cast worked through the song, with McNulty telling the actors it should feel ethereal and to emphasize the end of words like "spin" and "in."
During breaks, actors who had previously worked together caught up, while new friendships started to take shape.
McCune and Eli, for example, shared a pack of Chips Ahoy cookies.
"When I auditioned, they paired me with Mia and Eli, so I didn't know any different," McCune said, reveling in the trio's rapport. "I had a feeling they would get cast, so when I saw they were it, it made my heart a little happy."
Back at rehearsal with McNulty, the cast switched gears to "Step In Time," the elaborate rooftop-traversing number from Act 2.
"There's almost a conspiratorial feel to this," McNulty said about the song, led by Bert and his fellow chimney sweeps. "This is almost their call to each other to come together and gather … There should be a hushed excitement to this."
After rehearsal, McNulty explained his decision to start with the hardest piece.
"Starting with the most complicated part helps to see how the voices mesh together, and it will inform choices elsewhere," he said. "Also to get used to singing as a group. From show to show, you go from choir to choir. This is day one of a new choir."
Cartwright had a similar thought process when it came to the first choreography rehearsal two days later, starting with "Step In Time."
Cartwright was quick to explain that while she was teaching everyone the entire piece, they would eventually be put in groups and would not be performing the lengthy number in its entirety.
"It's going to be fast and furious for those of you who haven't tapped, then I'll break it down even further," she said.
Cartwright was quick with a joke or a silly accent to ease the tension, and Nickerson reminded the dancers that it was the beginning of the rehearsal process.
"This is stuff you wouldn't normally start with, so give yourself a break," he said. "Take a breath and have fun with it."
Even still, both expected the actors to work hard.
"If you haven't got it by now, when I say 'One more time,' I'm lying," Cartwright said. "One more time."
The cast caught on quickly and, throughout rehearsals, took to asking "Is this a Heidy one more time or a real one more time?"
As the night went on, most of the actors seemed to be in high spirits, optimistic about the choreography moving forward.
"I think we're in a good spot," McCune said during a break. "We're all eager to learn, and we're getting more comfortable with each other and making friends in the process."
For Cartwright, it's all about getting people comfortable on their feet. "My specialty is training people who've never tapped and putting them on a f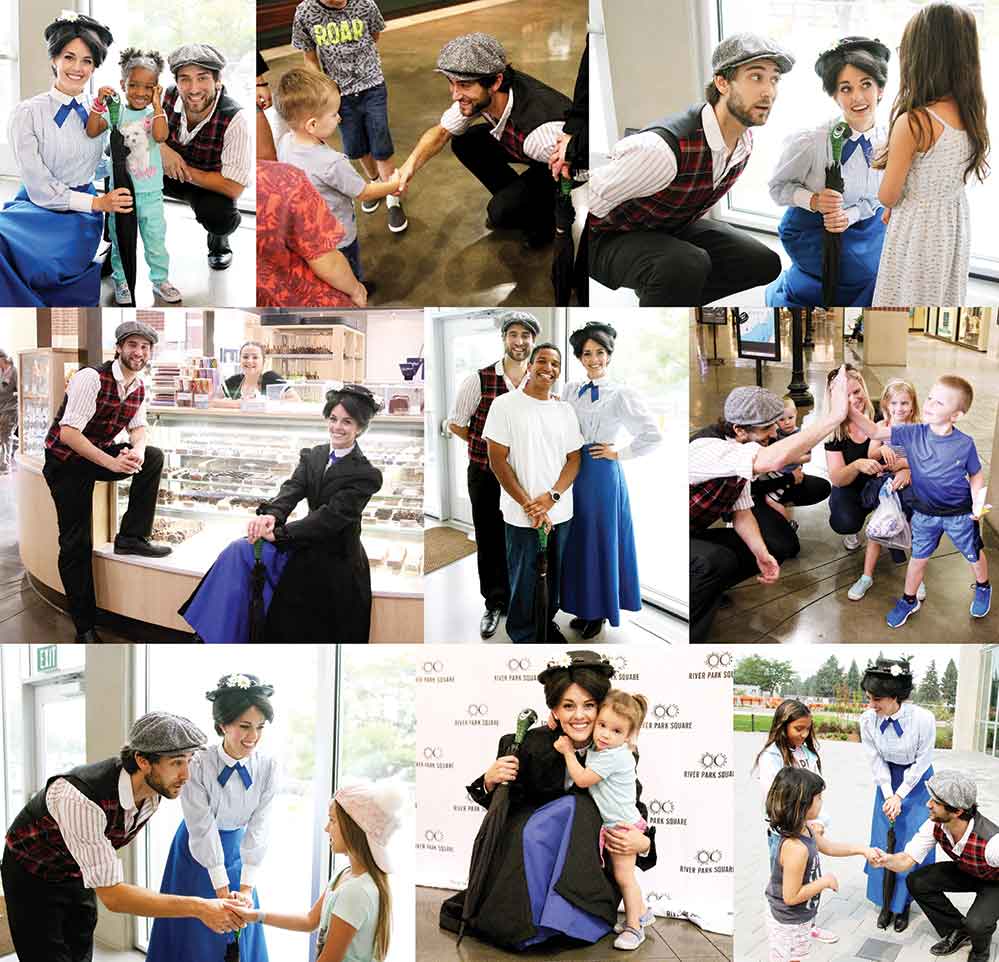 ast track," she said. "I pull people aside and fill in the holes, so they're not just learning musical theater dancing, they're learning techniques they can carry with them."
A week later, when the cast had their first taste of performing on the main stage, "Step In Time" was already much tighter.
"You're starting to not be able to tell who's tapped and who hasn't, which is really exciting," Nickerson said.
In just one week, it was also clear that the actors had become fluent in "Heidy-speak."
She spoke in tap ("dee-da-da-ah,") and often pointed vaguely at different areas of the stage while saying "hum-ma-nuh hum-ma-nuh huh," though the actors always seemed to know exactly what she wanted them to do.
Upstairs, McNulty worked with Day (Winifred Banks), McHenry-Kroetch (George Banks), Griep (Robertson Ay, ensemble), Heppler (policeman, Von Hussler, ensemble), Stafford (Mrs. Brill) and Mia (Jane Banks) on "Cherry Tree Lane," which Nickerson and Smith then began to block, determining where actors should move for dramatic effect.
Line by line and with input from the actors, the pair envisioned how it would appear onstage, making subtle changes as needed.
The next week found the cast blocking a scene in the bank where George Banks works, and a week after that, "Jolly Holiday" and "Supercalifragilistic- expialidocious" were the main points of focus.
The spelling choreography was particularly tricky, but Smith assured the cast it would come with time.
"I practice it all the time at home, but I get here with the music and it's like 'Ahh!' " Moonitz (Mrs. Lark, Miss Smythe, ensemble, properties mistress) said. "It's not my body; it's my brain. I just have to connect it all. I know I'll get it."
Nickerson and Smith also choreographed Galles (Bert), Mia, Kahler (ensemble), Martin (ensemble) and Thorstad (Valentine, ensemble), the latter three playing a trio of penguins during "Jolly Holiday," which Thorstad was especially excited about.
"We need more penguin choreography," Nickerson said after making good progress with the scene.
"Yes!" Thorstad exclaimed. "Give the people what they want."
Dressing the part
At the read-through, costumer Jan Wanless took measurements of each actor.
Before that though, she read through the script and made note of the differences between the movie and the musical.
Though there are a few differences between the two, Wanless acknowledged that because the film is so iconic, there are certain elements she had to give a nod to nonetheless, like Poppins' black coat, boots, umbrella and carpet bag.
But in other areas, like "Super," Wanless had more creative freedom given the song's fantastical nature. The dress Nauditt wears as Mrs. Corry, for instance, features about half a dozen fabrics, in almost as many patterns.
"There is no time period," Wanless said. "It's whatever fun stuff we found."
Wanless estimates there are about 1,600 individual pieces for the actors, each with a few at least partial costumes changes.
Some simple pieces, like white shirts and black pants, are repurposed from previous productions, while others are new creations by Wanless or a member of the costume construction crew.
This show presented an interesting challenge for Wanless, who had to account for flying harnesses when creating certain costumes.
She also had to check with Cartwright to make sure dancers in coordinated outfits exited the stage at the same time and that a character's hat wouldn't interfere with choreography.
"There's a lot you can do ahead and a lot you just roll with it," Wanless said.
Wanless has seen firsthand how costumes can help some actors shift into their character, something McCune experienced after putting on Poppins' signature blue dress and black coat for the first time.
"It was a little overwhelming," she said. "It was the first time I clicked with her, like 'Oh, I'm Mary Poppins.' "
Let's go fly an actor
To truly take members of the cast over the rooftops, Nickerson enlisted the help of Jason Wilson, with Las Vegas-based company Flying By Foy.
By his estimate, Wilson has worked on at least two dozen productions of "Mary Poppins." This was his first time working with Civic, but Wilson, who lives in Hayden, has worked with Central Valley High School and Coeur d'Alene Summer Theatre, among other area theaters.
On Thursday, Galles rehearsed his aerial "Step In Time" choreography.
"He's taken right to it," Wilson said. "He needs very little coaching."
The day before, Craven (Miss Andrew, ensemble) had a chance to fly too.
"I don't like amusement park rides, so I was like 'How's this going to go?' but it was really good and comfortable," she said.
The ride is, by the way, surprisingly smooth. Though you're aware of the harness and the wires, it still feels magical to be in the air.
"One of my favorite quotes is from Peter Foy, the founder of Flying by Foy," Wilson said. "People would ask 'How do you make people fly?' He would say 'Happy thoughts and fairy dust. We're just there as backup.' "
Talking the talk
When she wasn't assisting Wanless in the costume shop, Robbi Starnegg, who recently starred in Civic's "Hello, Dolly!," helped the cast perfect their English accents.
Characters such as the Banks family, Poppins and the bankers speak in an elevated English dialect, while others, including Bert and the park keeper, speak with a working-class Cockney accent.
"If people are musical in a sense, they can pick up on sound a little bit better, on dialects," Starnegg said. "Some people have an ear. Some people have to work for it."
In the Cockney dialect, the voiced "th" sound in words like "the," "these" and "that" becomes a "v" sound. The unvoiced "th" sound, like in "think," "thought" and "Thanksgiving," becomes the "f" sound.
And actors should drop and invert the "h" sound if the second part of the phrase has a vowel. "Happy Easter," for instance, becomes "Appy Heaster."
"I love working with actors," Starnegg said. "Helping them find things they can do, talents that they didn't know they had."
Selling their wares
As she does with every production, marketing coordinator/photographer Emily Jones took publicity photos of the cast, this time using The Spokesman-Review tower as a backdrop for photos with McCune, Galles, Mia and Eli.
A couple weeks later, McCune and Galles, again joined by Jones, spent the morning at River Park Square, taking photos with children and handing out tickets for a free ride on the Looff Carrousel, which the pair would ride that afternoon.
McCune invited children to hold her parrot umbrella ("This is my good friend David. I take him everywhere with me."), and Galles told everyone it was good luck to shake a chimney sweep's hand, something Bert tells Jane and Michael in the show.
Some children knew who the pair were while others seemed to agree to the photo only because their parents were so enthusiastic.
"It's just so magical," one mother said, tearing up while watching her children chat with McCune and Galles.
"Is that your real accent?" one father asked Galles.
The trio then walked to the carousel, stopping often for pictures and to talk with children.
McCune and Galles definitely drew a few stares from others in line for the carousel, but they looked picture perfect perched atop the horses, with McCune, as the proper Poppins would, sitting side-saddle.
The next day, McCune, Galles, Mia and Eli performed at TheaterFest, an event organized by Spokane Arts that previewed the upcoming performing arts season.
On Sept. 18, McCune and Galles will visit children at Sacred Heart Children's Hospital.
'A merry tune to toot'
By late August, the show had really come to life.
With the rooftop set pieces in place, it was easy to imagine "Step In Time" as the showstopper it would eventually become, and "Super" was ready for audiences, which Cartwright noticed, too.
"I'm seeing smiles on faces," she said. "You guys are like 'Oh, I'm starting to get it!' "
At this point in the rehearsal process, the focus was on fine-tuning entrances and exits and subtle moments in bigger scenes.
During one rehearsal, Nickerson told Eli to take his time in certain spots and make an "I love you" to Poppins more sincere.
Though young, Eli and Mia took notes like seasoned performers, immediately implementing the fixes into subsequent run-throughs.
The actors had a lot of fun working on the show, though both admitted it was a big time commitment.
"I missed a family reunion and one hour of a party," Eli said. "There are a lot of sacrifices, especially being a main, but it's a lot of fun to be onstage."
"And it's fun to fly," Mia, who also likes "Playing the Game" and stepping on Griep, as Robertson Ay, during "Spoonful of Sugar," said.
With opening night days away, the cast and crew turned much of their attention to scene changes, the complexity of which caused a good deal of frustration.
"A lot of shows, once you leave, you never come back," Nickerson said. "But this show, they return to the nursery six times. They return to the house six times. It has to be choreographed. A bad scene change can kill any show."
It's about this time that Nickerson and Cartwright began looking for ways to simplify problem areas for the cast.
A brush step, for instance, was taken out of "Step In Time" and replaced with stomps.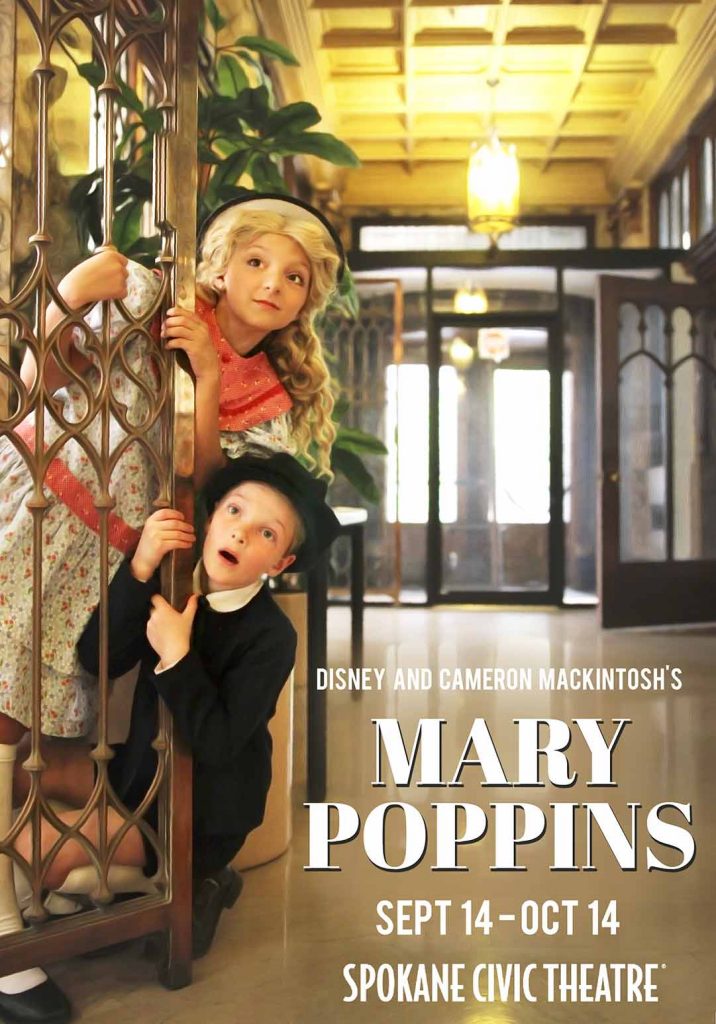 After two months of near-constant dancing, rehearsals started to take a toll on the performers.
"It's about now that you'll see rollers and tape and braces," Cartwright said during a Sept. 3 rehearsal.
Sure enough, Schneider (Annie, ensemble), and later Cartwright, helped Williams (ensemble) roll out her shin splints later that night.
"Too much tapping, not enough stretching," Williams said, also explaining that practicing on the concrete floor of her garage didn't help.
To her credit, and the credit of every actor and crew member who was feeling tired, she pressed on, jumping up to perform or help with scene changes when needed.
After a rehearsal focused primarily on scene changes the day before, the cast and crew began their first full run through, focusing on incorporating those scene changes into the show.
Nickerson chimed in with bits of direction like "Energy! Faces!"
Smith, too, was looking for places to edit.
"Mainly right now, I'm looking for moments that aren't working and looking for ways to make it as smooth as possible for them," he said. "Right now, we're putting acting on the back burner so we can get this as smooth as possible. Once we get to dress, we can add that back in."
The cast and crew had to reset several times to work through set changes, but about four hours after the run through began, Day was optimistic about the state of the production.
"Some shows don't get a full run until the week before (opening) and we're two weeks out, so we're in a really good place right now," she said.
There were frustrating moments of organized chaos, but for the cast and crew, it was just a part of the process.
"It's the storm before the beauty," Cartwright said. "The transitions you see on stage that look flawless are because we have these rehearsals."
Two nights later, Griep echoed her sentiments.
"The most special part is seeing the ups and downs of the show," he said. "It's all in the process of putting a show together, but we're all in the same family to bring the show to life. The lows tonight are only going to bring us together as a cast."
As if on cue, Eric Wilson thanked Griep for giving him a pep talk during a particularly rough moment in rehearsal.
The family element Griep mentioned became more and more apparent as rehearsals went on, with groups of friends that initially began as duos and trios quickly doubling and tripling in size.
Cast and crew members arrived early and stayed late to help each other out, and in what was perhaps an "On Wednesdays, we wear 'Wicked' " agreement, dance captain Guin and Gamon, both in the ensemble, wore the same "Wicked" shirt to rehearsal at least twice.
"One of the best parts is making friends and making those connections," Griep said.
'Run with precision'
In the final days of rehearsal, Nickerson worked with Brian Ritter on light design, and the cast and the 15-member orchestra met for "sitzprobe," their first rehearsal together.
"It's the first chance for the actors to hear what the fully realized sound will be," McNulty said. "With the tones and textures, it's a different experience."
McNulty aimed for two orchestra-only rehearsals before sitzprobe to ensure they had a "quality product" to present to the cast.
After sitzprobe, tech week, aka "hell week," begins.
They'll incorporate the flying scenes into rehearsal, and the cast will perform run-throughs in hair, makeup and costumes.
Nickerson and Wanless will use this time to make sure a set change didn't interfere with a costume change and vice versa.
After four run-throughs, the cast and crew will reach opening night.
Despite the stress of rehearsals, the impending tech week, and feeling like, at times, his head was going to explode, Nickerson was quick to sing the praises of his cast and crew and the process of creating theater.
"We're so lucky we get to do this," Nickerson said to Cartwright. "Sometimes I think 'What do other people do? Do they not have magic in their lives?' This is a place where you can lose yourself. I'm not a Muggle; I have magic in my life."
Article by Azaria Podplesky of The Spokesman Review
Photo by Jesse Tinsley of The Spokesman Review (Top Left)
Photos by Emily Jones (Center Right, Bottom Left)