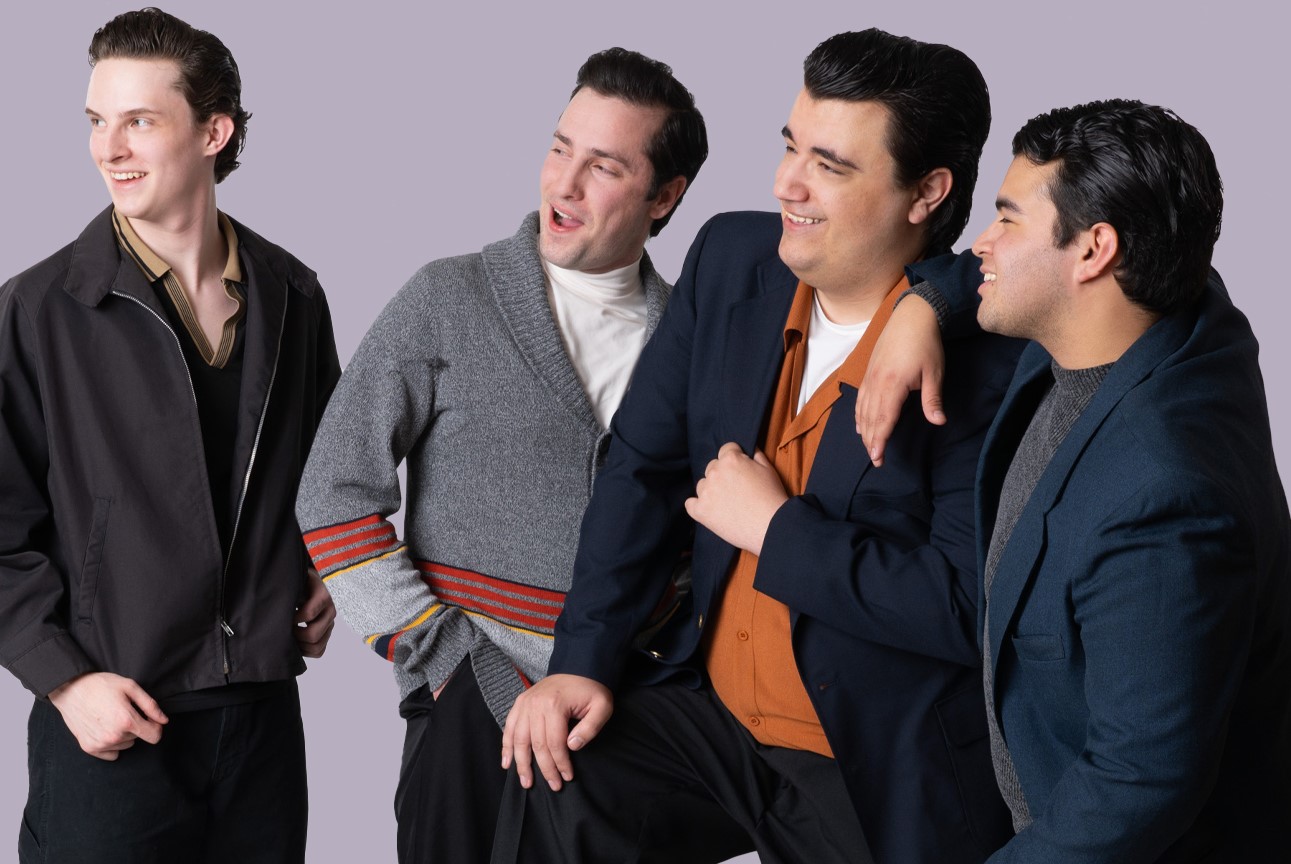 Jukebox musicals have a reputation for flimsy narratives but are often buoyed by a hit parade of songs. But "Jersey Boys," which opens this weekend and runs through March 26 at the Spokane Civic Theatre, has the tunes and the story, albeit an unlikely tale.
There were a myriad of lads singing on the street corners in the Mid-Atlantic during the '60s, but few broke out. However, no group of kids belting out tunes in dodgy neighborhoods compares to the story of Frankie Valli and the Four Seasons.
The act started out on the turbulent streets of Newark, New Jersey, and was inducted into the Rock and Roll Hall of Fame in 1990.
"It is such a great story," said Spokane Civic Theatre music director Henry McNulty. "At some points the story is gritty and at other points it's poignant. 'Jersey Boys' is an exceptional show, which features characters in a three-dimensional manner."
The rags-to-riches show is tightly scripted and the scenes move quickly thanks to a book written by Marshall Brickman and Rick Elice. There is plenty of humor and heart as the tumultuous life of Valli, including his issues with his bandmates and daughters, is portrayed. The tremendous script is a huge reason the Tony- and Grammy-Award winning show ran on Broadway for 15 years.
"You have the story and then there are the songs, which everyone knows whether you've heard them on the radio or in commercials or in movies," McNulty said. "You can't help but be familiar with the songs, and you're surprised that these hits are all from Valli and the Four Seasons."
McNulty, 36, grew up on the South Hill well after the peak of Valli and the Four Seasons. "But I became familiar with the songs as a kid since I would hear their songs on the oldies station," McNulty said. "My grandmother loves Frankie Valli and the Four Seasons. Who wouldn't love their songs? They're so catchy and are great stories."
A fascinating part of "Jersey Boys" is how the Four Seasons were impervious to the British Invasion. So many vocal groups of the '60s perished after the Beatles conquered America. But the Four Seasons were anomalies thanks to an array of well-crafted tunes.
"My Eyes Adored You," "Let's Hang On!," "I've Got You Under My Skin," "Can't Take My Eyes Off of You," and "Dawn (Go Away)" were huge Four Seasons hits that battled the Beatles for chart position. And then there was the resurgence of the Four Seasons during the '70s with "December, 1963 (Oh, What a Night)."
"There was no group quite like Frankie Valli and Four Seasons," McNulty said. "And Valli is such a fascinating character."
Post Falls' Daniel Renz, who plays Valli, has taken a deep dive into the iconic singer's life while preparing for "Jersey Boys."
"It's a very challenging role and I'm doing all that I can to portray Valli," Renz said. "This is an incredible opportunity since Valli has led an amazing life. It's so challenging since Valli sings in such a high register. I haven't had a lot of dramatic roles. This is pushing my acting and singing experience, but I'm loving every minute of this experience."
Renz, 19, started acting with the Christian Youth Theater when he was 8. "I've been acting for awhile, but I've never had a role like this," Renz said. "I can't express how excited I am to work on a script that is as detailed as the 'Jersey Boys' script. It's also interesting playing a legend who is still alive. There is no story quite like this one."
McNulty agrees that "Jersey Boys" is unlike any other show. "It's unique," McNulty said. "It's a compelling story with music that lives on. You still hear Valli and the Four Seasons' songs."
The Italian rock band Maneskin hit the charts in 2017 with a cover of the Four Seasons' "Beggin."
"If you come to 'Jersey Boys' you are reminded why their songs are so timeless," McNulty said.
If You Go
'Jersey Boys: The Story of Frankie Valli & The Four Seasons'
When: Friday through March 26, 7:30 p.m., Wednesdays through Saturdays and 2 p.m. Sundays.
Where: The Spokane Civic Theatre, 1020 N. Howard St.
Cost: $10 for students, $30 for seniors and military and $35 adults
Info: (509) 325-2507, www.spokanecivictheatre.com
Read full article here.
Article by Ed Condran
Photograph by Chris Wooley