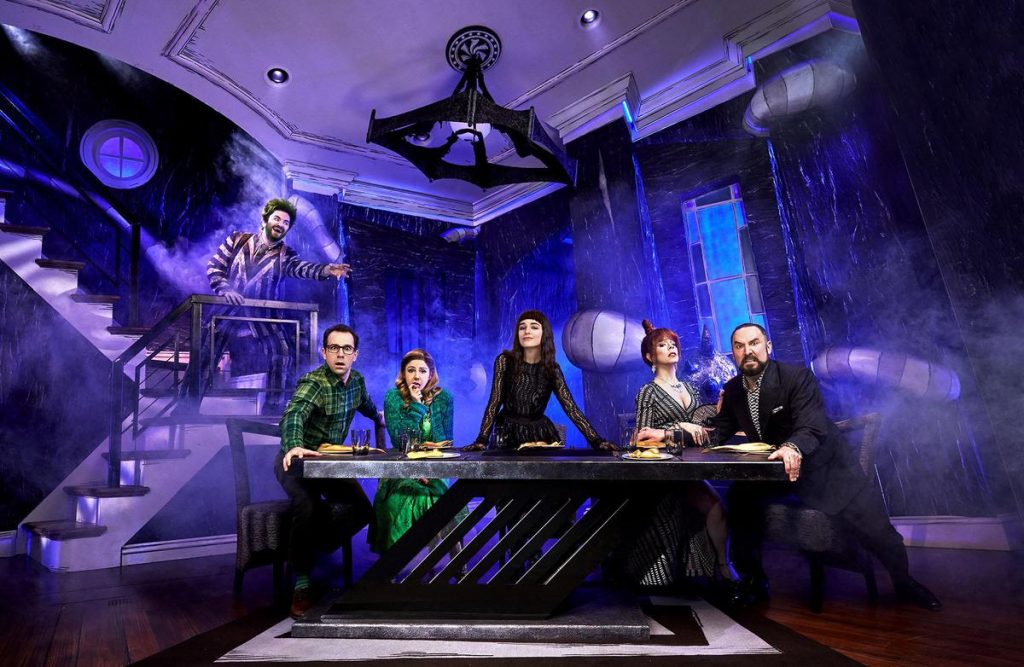 NEW YORK – Upstairs at the Winter Garden Theatre, a 123-year-old building on Broadway Avenue between 50th and 51st streets in midtown Manhattan, is a room with a long counter and two lighted mirrors along one wall. The wall opposite is home to a rack of costume dresses, most in black, but one in deep, rich red. Personal touches – a Salvador Dali art print, coloring books, an electric guitar, fan art, flowers – decorate the space.
There's a doll on the counter, still in its box, of the actor Michael Keaton as Beetlejuice from the 1988 Tim Burton movie of the same name. High on a shelf above the mirror is a smaller doll, from Vinyl Pop, of Lydia Deetz, the Winona Ryder character from the same film.
This is the same space that served as Barbra Streisand's dressing room when she originated the role of Fanny Brice in 1964's "Funny Girl," in the theater where "Cats" and "Mamma Mia" both enjoyed long runs of a decade or longer.
And for the next year, this will be where Sophia Anne Caruso will prepare to become Lydia Deetz, eight times a week.
'It's showtime!'
"Beetlejuice," the new musical adapted from Burton's movie, is set to have its official Broadway opening Thursday, with Caruso in the leading female role. For the Spokane-born Caruso, it's the culmination of a childhood dream, and the result of a lifetime of work. Albeit a relatively short lifetime; Caruso turns 18 this summer.
"My dream when I moved to New York was to be a leading lady in musicals on Broadway," Caruso, sitting in her dressing room as light streamed in from the windows, said. "That was my dream."
Of her work as a 9-year-old in "The Miracle Worker," directed by Patty Duke, Spokesman-Review theater critic Jim Kershner wrote, "Caruso is a riveting Helen. … Caruso's face is exceptionally expressive. She glowers into the middle distance with lowered malevolent brows. Her mouth turns up in malicious glee over some outrage she plans to commit. Yet in several crucial scenes, we also see the pain, the frustration and the utter, childlike despair over the fact that she can't even communicate her despair."
It's not just her talent that drew attention. Local theater watchers could tell she had "it" – presence on stage, sparkle, the drive to achieve, a big voice and a body that loved to dance.
Ask her, and she'll tell you she's always been acting, always been singing. Before she knew what "theater" was, she was putting on shows, performing for family.
"I was always being a total drama queen, making up these just wild stories," Caruso said. There's a family story, she said, about the time Caruso was visiting her aunt for the weekend, told them her dog had died (when Poochie was alive and well at home) and then put on this "whole dramatic thing" all weekend.
"It wasn't that I was lying, I just wanted to put on a show. I just wanted to see if I could convince them. When people ask how long I've been acting, I say 'My whole life.'
"I was magnetic to theater, and it appears theater was magnetic to me," she added. "I love doing it, and I love feeling that I can express myself and tell stories, but without getting in trouble. And I just kept doing it."
In 2012, she and her family took a leap of faith and relocated to New York so that Caruso could pursue acting professionally.
The leap has paid off.
'Beetlejuice! Beetlejuice! Beetlejuice!'
But it's been a long road to "Beetlejuice." She started with the show three and a half years ago, when it was still in the development stage, taking it from workshops and staged readings to a run last year at the National Theater in Washington, D.C. With her throughout this process has been Alex Brightman, the Tony-nominated star of "School of Rock," who is playing Beetlejuice in the stage adaptation directed by Alex Timbers with music by Eddie Perfect and book by Anthony King and Scott Brown.
Brightman recalls meeting Caruso for the first time, when "she was 14 going on a very mature 45," he said last week. "I really hope someday I can grow up to be who she is, truly, because when I met her I was astounded – and I still am – by her professionalism."
In their collaboration, he's found her to be poised and focused, deeply talented and very specific as an actor.
"It comes with age," he said, "and she doesn't have as much age as she has experience. And it's baffling."
The musical of "Beetlejuice" varies from the movie in one key way. The movie was the story of Barbara and Adam Maitland (Geena Davis and Alec Baldwin) who want life to stay the same after their deaths, even after the Deetz family moves into the Maitland's beloved home. The musical centers on Lydia. She's a teenage girl still mourning her mother and dragged to the country by a father who isn't prepared to deal with what she's going through. That re-centering, Brightman said, has been the result of long collaboration between the play's cast and creative team.
"We've all taken this wonderful collaborative creative liberty with the movie, which has its own aesthetic, and it's iconic – and we're telling a different story. We're doing what a true adaptation does, we're taking the source material and we're elevating it," Brightman said.
For all of its comedy and outlandishness, "Beetlejuice" is a musical about death.
The story's core is "about a girl who wants to know more about something that no one wants to talk about," Brightman said, "and Sophia just by virtue of who she is, she just has that. There's an air about her that is curious and that is no B.S. She can see right through a lie. She doesn't believe things that are not true. She needs to have things logically make sense for her. That's Sophia, and that's what translates well into Lydia. … And the way Sophia elevates it for the stage, is really wonderful and natural."
Part of that naturalness comes from real life experience. Caruso's final show in Spokane was "Ruthless! The Musical," at Interplayers in 2012. It never opened because actor David Gigler collapsed on stage during rehearsal just days before opening and died. He was 47. Fast forward to late 2015, and Caruso appeared in "Lazarus," the Off-Broadway musical by David Bowie. She'd worked with Bowie closely on her songs for the show, including "Life on Mars." The rock icon died early the following year, just as the actors were about to record the cast album.
Her mother, Deena Caruso, said Gigler's death has affected her in every show since. "She's had some post-traumatic stress from that," she said, adding her daughter recognizes where that anxiety stems from. "She did do 'Ruthless' here in New York … so she had the opportunity to work through that and to bring that to fruition on the stage, and it was very healing for her to do that."
Family members and friends from New York have died too, and Caruso is cognizant of using the emotions from those experiences to help make her performance more real.
"It definitely has all really influenced it a lot," Caruso said. "And influences all of the work that I do because it all seems to be about death and dying."
This might seem incongruous about a show that is a musical comedy, a show Caruso describes as being huge, bright and funny.
But, she adds, for a show with a title character who is a ghost, "this show is more about life and living. It's really easy to make your audience members leave feeling defeated, but the comedy in our show balances with the darkness, so it's that perfect yin-and-yang … I think audience members leave feeling informed about life and living and death and dying, but also leave feeling joy."
The show has been in previews since late March, and the tweaks have continued until this past week. Which can mean long days for Caruso and her fellow actors.
"Previews have been very crazy, and I'll work sometimes from 11:30 in the morning to 11 at night," she said. "It's a lot of heavy work right now."
Her mother points out the work of a leading lady goes beyond the 12 hours of rehearsal and a show in a day. She serves as a spokesman for the show.
"You're doing press at 8 in the morning. It's not six days a week, it's seven. She's working her ass off, and she's not just working her ass off at the theater, she's out there doing Twitter and Instagram, promoting her show," Deena Caruso said. "She's doing her interviews and going to red-carpet events. … It's everybody's job to promote the show."
Big dreams take hard work
The work is not unfamiliar to her.
Ask those who have worked with her, directors such as Yvonne A.K. Johnson or Troy Nickerson, who first encountered her at Civic, and they'll attest to it. Both talk about the work ethic Caruso exhibited when she was elementary school age. She took acting, dance and voice lessons in Spokane.
"She has such an amazing internal drive and motivation to achieve her dreams and her goals," said Johnson, artistic director of Spokane Valley Summer Theatre. "I think it's amazing. She has this innate talent and ability. She connects with others on the stage and she has a genuine connection with her audience."
Nickerson recalls that Caruso taught herself to dance on pointe shoes for "White Christmas." She was 8; most ballet students don't get on pointe shoes until they're 12. He is not at all surprised to see her launching a major Broadway show at 17.
"When you say 'triple threat,' it's right on," Nickerson said. "She's an amazingly honest actress, she has a giant voice, and she's a beautifully trained dancer."
Nickerson and Johnson both remember first noticing her in Civic's production of "The Best Christmas Pageant Ever," where she played an angel in the ensemble.
"She absolutely sparkles on stage," Johnson said. "When you've been directing as many years as I have and you've seen as many shows and as many talented individuals, you can see she just has it."
Johnson would go on to direct Caruso in "Annie" at Civic in 2012. It was a role Caruso was determined to play. She'd attended the open casting call a year before in New York when producers were mounting a Broadway revival. She made it through a couple of callbacks, but ultimately didn't get the part. But it did cement her desire to work in New York.
Nickerson said he pretty much picked "Ruthless!" for Interplayers because he knew she would be perfect in the role of Tina Denmark, the 8-year-old girl who was "born to entertain," and who goes to nefarious lengths to do just that.
"She was just a little star. She was bigger than life. She grabbed your attention, on and off the stage," Nickerson said. "She certainly was one of the most talented actors I've ever directed. The first time I saw her, I said 'Wow … That girl can do anything she wants to."
Her parents recognized that too. Steve Caruso, an executive with Brookdale Senior Living and a former golf pro at the Coeur d'Alene Resort and Coeur d'Alene Casino golf courses, and Deena Caruso, who owned Finders Keepers, the popular vintage clothing and jewelry store, understood that their youngest child had something that deserved nurturing.
"She had the work ethic and she had the sparkle, and you have to have both in order to make it," Deena Caruso said. "The fact that she was willing to work so hard for it and really go after it, is the main reason I was willing to be so supportive of her dream. A lot of parents put their kids into this business because it was their dream, and so they push their kids into it, or they encourage their kids to do it. With Sophia, from the very beginning since she was 6 years old and she went to her first audition at Spokane Children's Theatre, it was always her dream. It made it very easy for us to be supportive because it wasn't our dreams we were chasing. We'd already fulfilled our dreams."
Still, it's not every family that would relocate 3,000 miles across the country to allow a 10-year-old to pursue a dream.
For the Carusos, the decision came after much discussion. Deena Caruso said many factors came to play: They were older parents and Sophia was their last child. They'd both accomplished what they wanted professionally.
"I remember we sat down and said 'What if we didn't? Would we look back on life and say, "Man, I regret we didn't allow her the opportunity to go for it?' " Deena Caruso said. "We just decided to say, what if we do it? What if we decide to roll the dice and go for it and live with no regrets."
Steve Caruso recalls remembering a quote by the late Sen. Robert F. Kennedy: "Some men see things as they are and say, why; I dream things that never were and say, why not."
So the Carusos said why not.
Making the big leap
Mother and daughter moved first, settling in New Jersey. Caruso immediately enrolled in dance classes – tap, jazz, theater dance and ballet – along with voice and acting classes. Her father sold the house in Spokane and followed them east a little later, when his job allowed him to transfer. She started going on auditions, booking gigs. Soon, she was making enough money to pay for her lessons herself, and a little later she was able to pay managers and publicists, so Deena didn't have to be the "momager."
"We were willing to invest in her to cover the living expenses, but she was willing to invest in herself to cover the cost of training properly," Deena Caruso said. "She was making a financial commitment as well, which was really important to us."
She did NBC's live broadcast of "The Sound of Music," and appeared in an episode of "Smash." She's done work Off-Broadway in dark, edgy plays such as "The Nether," and went with "Lazarus" for its West End run in London.
"She has worked so hard to get where she's at," Deena Caruso said. "Not only has she worked so hard, but she's kept her nose clean. She's done things by the book. … There was no luck involved in it. It was all hard work and sacrifice."
Brightman has seen that work up close, and has found her to be a wonderful scene partner. And for one big reason: She makes him laugh.
"I'm a comedian by nature, and she's funny. I don't think she knows how funny she is. She takes herself seriously and that's great, but she is very funny without realizing it. And what's great is we both get to be funny, but she gets to be this really odd straight man to my comedy," he said. "But what's also great is when the tables decide to turn, she has this very wacky side that she does not like to show to everybody. Performing of the scene is fun, but what's really exciting is rehearsing the scenes with her, because that's where the playful version of Sophia comes out the most."
On stage, he added, she's very much an equal, "because she's such a damn good actress."
With her goal of leading a Broadway musical very nearly achieved, Caruso admits she has begun thinking about what comes next, even though she plans to stay with "Beetlejuice" for at least a year.
While musicals were her dream, she had found that her dream has shifted. "I realized that my true passion is acting and doing plays and I love doing that. And I love doing quirky Off-Broadway theater and dark plays, and I sort of developed an identity around those things and am known for those things."
Her penchant for difficult subjects – playing the role of a virtual reality avatar created to allow pedophiles to live out their fantasies in "The Nether," or playing Girl in Bowie's arty, sci-fi musical "Lazarus" – helped her see the potential in "Beetlejuice."
Yes, it's a big, campy musical. But it's not just a big, campy musical, she said.
"I've kind of come back to this dream I had as a child of being a leading lady on Broadway and being in a musical. Now I have a deeper appreciation for it. It took me awhile. I've lived in New York for eight years about, it didn't happen immediately for me. I didn't just move here and become a leading lady on Broadway. I did a lot of work in between."
Achievement unlocked
"Beetlejuice" has changed since its D.C. run, where critics took aim at its crassness and chaos. As the Washington Post put it, "The new 'Beetlejuice' musical is overcaffeinated, overstuffed and virtually charmless."
With an eye toward attracting wider (and younger) audiences on Broadway, the raunchiness has been tamped down.
"The show has really evolved," Deena Caruso said. "The changes are for the better. They've listened to feedback from the audience. … It's a great show."
Sophia Caruso also has been on board with the changes made leading up to the Broadway run.
"I think that's good because Lydia's plotline targets teenagers, children and young adults," Caruso said. "I'm happy about that. I think the writers have made some really good changes. I agree with everything."
The appeal to younger crowds was evident on Thursday night, when young children and teenagers sat among the audience for a preview performance of "Beetlejuice." Audiences laughed throughout, and most clearly enjoyed the show. Afterward, many fans stood outside the stage door, waiting to meet the actors. And Caruso stopped for as many as she could get to, smiling and chatting, accepting drawings from young fans, signing Playbills and posing for photos.
She said she's seen friends and fans from Spokane pop up at the stage door during the show's preview run, an unexpected surprise.
"That's so awesome and I never thought people would come across the country to see me or that people from my hometown would even remember me," she said. "So that's been really cool, and I wanted to say thank you for the support. And I hope I get to see more people coming from Spokane, because I think that's really awesome and I never expected that."
Article by Carolyn Lamberson of The Spokesman-Review
Photo one: Mathew Murphy / SEAN KATZ/KATZ PR
Photo two: SEAN KATZ/KATZ PR / SEAN KATZ/KATZ PR