Shakespeare in the park, not just for the rich and famous!
Spokane Civic Theatre recently connected with the Island Shakespeare Festival in Whidbey Island. For those of you who have never been to an outdoor Shakespeare Festival and who feel like a road trip from the East Side of Washington to the West(ish), you should add this to your schedule. Let's give you a quick breakdown, shall we?
Spokane Civic Theatre: Give us the goods….what goes in to a Shakespeare Festival?
Island Shakespeare Festival: This is our third season. Our first season we did As You Like It, last season we did Romeo and Juliet, and this season's offering is A Midsummer Night's Dream. We have actors come to us from across the country to rehearse, including students enrolled at Southern Oregon University who also work with Oregon Shakespeare Festival. Artistic Director Rose Woods fuels our fire with her fierce love and respect of Shakespeare. One of her favorite questions is "Why these words?" At our first rehearsal, she said ""I want to focus our energy on demystifying classical theatre." We exist because we want people to learn to fall in love with the classics!
Spokane Civic Theatre: What can the audience expect?
Island Shakespeare Festival: Lots of fun in a beautiful setting! And it's free! We perform our plays at the Story House Theatre, housed at the gorgeous Whidbey Institute (find out more about the land here: http://www.whidbeyinstitute.org) This version of A Midsummer Night's Dream has been inspired by Steampunk design in the set (designed by Jacob Bloom), the costumes (designed by Julie Cunha) and the wigs (designed by Bristol Bloom and Jade Iversen). A great introduction to Shakespeare for those who are unfamiliar, and an original re-imagining for those for whom Midsummer is a well-loved play. 
Spokane Civic Theatre: Outdoor right? How is this different than, say, an indoors performance?
Island Shakespeare Festival: Bring a picnic! We suggest that you bring something to sit on (blankets and lawn chairs work nicely) and layers, as the temperature can change later in the performance. Also, there are no tickets (again, it's free!) so we encourage people to get to the theatre as early as 4:00 to get a good seat.
Spokane Civic Theatre: Do you have a blog or a facebook or twitter account that we could track you on? We would love to keep up with you that way!
Island Shakespeare Festival: Thanks for asking! We have Facebook and Twitter accounts and we would love for your readers to become part of our online community:
 https://www.facebook.com/pages/Island-Shakespeare-Fest/143121522369250
Spokane Civic Theatre: How about some pictures from last year?
Island Shakespeare Festival: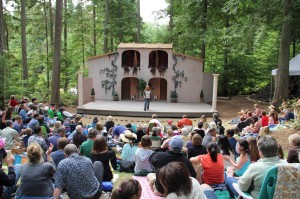 Spokane Civic Theatre: Anything else you think people would like to know before planning to come over to your side of the state (as it were)?
Island Shakespeare Festival: Make a weekend of it! There are lots of amazing places to eat, hike and camp around Whidbey. Feel free to ask us for recommendations!
Contact info for the Shakespeare Festival is 360.221.1710. The Festival runs from August 4 – 26