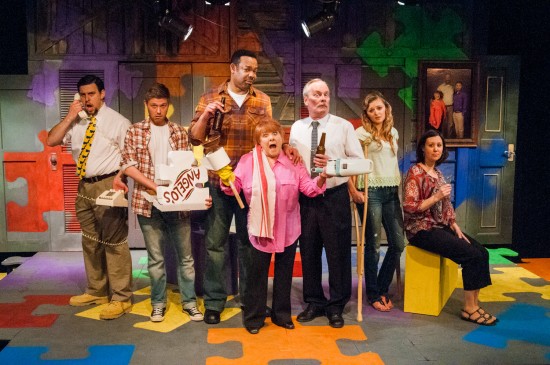 Spokesman Review – Spokane 7 Section
Civic's 'Becky's New Car' a wild, energetic comedy
by Nathan Weinbender
"Sometimes our lives become defined by such familiar, indelible routines that we don't notice how tedious they are until something – or someone – upsets the formula. This realization hits Becky Foster, the protagonist of Steven Dietz's play "Becky's New Car," when a widowed, socially awkward millionaire wanders into the car dealership where she works.
Becky (Kathie Doyle-Lipe) has been married to Joe (Steven Blount) for 28 years, her grown son still lives at home, and she's taken on too many responsibilities with her job, but she's more or less content with her life. But all of that changes when Walter Flood (Gary Pierce) enters the scene. He's looking to purchase nine new cars as gifts for his employees, and in seeking advice from Becky about which models to buy, he comes to think that she's a widow."
See the rest of the article at the Spokesman-Review online!
The Inlander
PUZZLING IT OUT
Becky's New Car at the Civic examines the delicate interplay of people and things
by E.J. Iannelli
"As far as metaphors go, the notion that life is a juggling act seems about right. Each of us has responsibilities — to our employers, to our family, to our friends, to ourselves — that have to be addressed fairly and simultaneously if they are to be addressed at all, and keeping those balls aloft accounts for the frisson and frustration of everyday existence.
Christopher Wooley would suggest a different metaphor: that life is a puzzle, a potentially satisfying whole made of neatly interlocking pieces. Take one of those pieces away, or force it into a space where it wasn't designed to fit, and the harmony of that whole is threatened."
See the rest of the article at The Inlander online!