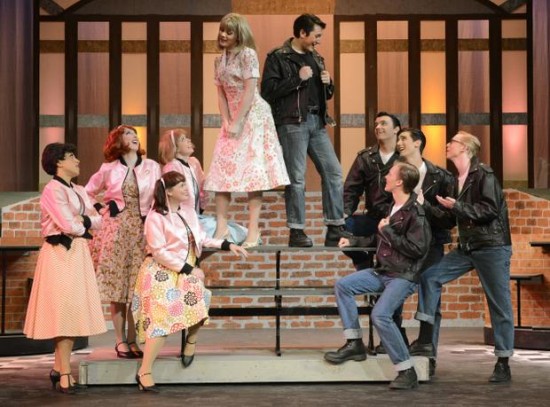 From left, Brittany Cozza as Betty Rizzo, Alanna Hamilton as Marty, Kallie Tilla (sitting) as Jan, Lauren Goldbloom as Frenchy, Morgan Keene (standing on table) as Sandy, Joshua Spencer as Danny, Jerrod Galles as Sonny, Jesen Korver (sitting) as Kenickie, Nathan Hoyt as Doody and Eric McGaughey as Roger in Spokane Civic Theatre's production of "Grease." Colin Mulvany Photo
"Grease," as they say, is the word.
And the word will be heard starting this weekend at Spokane Civic Theatre.
"Grease," the 1971 musical that spawned a hit 1978 movie and countless high school productions, opens on Civic's main stage Friday. It tells the story of Sandy and Danny, two high school kids who enjoy a summer romance at the beach. When school starts, Danny returns to Rydell High School, where he leads a pack of "greasers." When Sandy transfers to Rydell, Danny plays it cool to impress his friends, leaving Sandy feeling confused and angry.
Stepping into the roles made famous by John Travolta and Olivia Newton-John are Joshua Spencer and Morgan Keene. The duo first teamed up in last summer's Civic Academy show, "Happy Days."
Yvonne A.K. Johnson, Civic's executive artistic director who is directing "Grease," said both Spencer and Keene are "triple threats" – singers, actors and dancers – who have good chemistry on stage.
"The two of them are very well suited for each other," Johnson said. "They're adorable."
After "Happy Days," Spencer went on to appear in "White Christmas," and Keene turned in a highly regarded performance as Natalie in "Next to Normal."
"She's had a banner year, that's for sure. Quite a talent," Johnson said.
The bulk of the cast is made up of high school students or those recently out of high school, Johnson said. There are only three adult roles: Miss Lynch (Ryan Marie Patterson), Vince Fontaine (Jhon Goodwin) and the Teen Angel (Mark Pleasant).
Pleasant, who was Daddy Warbucks in "Annie" last year and Phil Davis in "White Christmas" this season, will make the most of his small part, Johnson said. He'll be dressed to the hilt, with the fog machines going full blast.
"I think people will get a kick out of that. He only has the one featured number ("Beauty School Drop-Out"), but he'll bring the house down with it."
The biggest issue in staging "Grease," Johnson said, is that four big songs from the movie aren't included in the stage play, including, remarkably, the title song "Grease." The other three movie songs? "Sandy," the Oscar-nominated "Hopelessly Devoted to You" and the No. 1 single "You're the One That I Want."
So Civic wrote to request permission to use the songs in their production, and incorporated them into the show.
"We had to pay a lot extra for those four songs," she said. "But I think it will be worth it."
The song "Grease," a No. 1 hit for Frankie Valli, will be used to help set the scene, Johnson said. "There isn't an overture that's written for this show, so I'm using it as an overture to help set people back in the 1950s."
With a show such as "Grease," which is so widely known, there's a delicate balancing act between keeping it fresh and meeting the audience's expectations.
Part of keeping it fresh is the set, designed by Matthew Egan, Civic's assistant technical director. Johnson said it's intended to evoke a Wurlitzer jukebox. They've built their own car – the Greased Lightning – and will use slide projections of images to help set the mood.
"It's the nostalgia of the time period," Johnson said. "It's important that we've represented that very well with the show."
Carolyn Lamberson, The Spokesman-Review, May 16, 2013