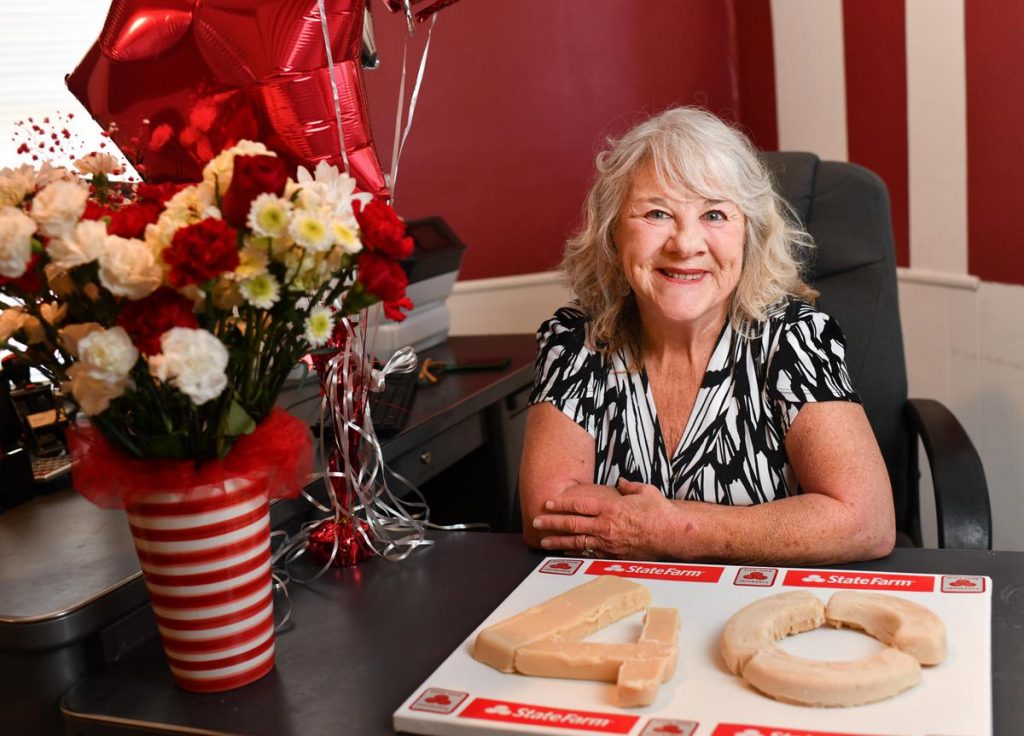 When Prudential Life Insurance honored its "Top Salesman" of the year in 1975, the award included the traditional trove of gifts: a men's suit, cuff links and three tie tacks, along with a silver trophy in the shape of a man carrying a briefcase.
The winner, Estelle Holzer, commented, "A woman has to work much harder to prove her worth and ability."
Kathie Doyle-Lipe remembers those days.
Her father, Mel "PeeWee" Whitehead, had been a State Farm agent almost three decades, yet the company had no women agents in Spokane until Doyle-Lipe was hired in 1979.
"It was still a good-ol'-boys club," she said.
"The local manager at the time, who I love dearly, told me at one point that it would be better to pay me to stay home. He didn't think females had what it took."
One reason the insurance industry softened its opposition was federal legislation passed in 1972 that gave the Equal Employment Opportunity Commission more leverage to prosecute employers who discriminated against applicants based on gender or ethnicity.
"State Farm had to hire a female," Doyle-Lipe recalled. "I think the reason I was picked was because of my dad."
During a recent interview, Doyle-Lipe discussed her tearful initiation to the profession, her biggest claim settlement and ways to lower insurance premiums.
S-R: Where did you grow up?
Doyle-Lipe: In Spokane. I attended Shadle Park.
S-R: Any favorite memories?
Doyle-Lipe: Cheerleading and gymnastics. I did pretty well at that.
S-R: Did you work during high school?
Doyle-Lipe: I was a Parks and Recreation leader – sort of a babysitter in the parks during summer. I also worked in restaurants and was a secretary for my dad. He was a State Farm agent from '51 to '95.
S-R: How about college?
Doyle-Lipe: I went to Whitworth for a year. When the scholarship went away, I transferred to Eastern, but I dropped out when I got married and had kids.
S-R: Was there a particular moment or event that changed the direction of your life?
Doyle-Lipe: Probably taking on this job. I'd planned to be an elementary school teacher. But with two kids and going through divorce, I needed something flexible.
S-R: Did you start out with your dad?
Doyle-Lipe: That's not how State Farm works. He and I initially couldn't even share an office. I had to prove myself on my own. I started out as a "scratch agent," making cold calls and going door to door.
S-R: Do you remember the first policy you sold?
Doyle-Lipe: Yes, and 40 years later I still have those clients insured.
S-R: How about other memories? Good? Bad?
Doyle-Lipe: Both. It was scary knocking on strangers' doors when I was 26. I'm only 4-foot-9 on a good day. Once or twice I felt threatened – evening appointments with single men who'd been drinking. But one of my fondest memories was knocking on the door of a man who was around 80, with poor eyesight. He asked, "What kind of cookies are you selling?"
S-R: How long did it take to prove yourself to your manager?
Doyle-Lipe: A couple of years. We'd start every meeting with a box of tissues on the desk for when I burst into tears over my bad numbers. (laugh) Selling was hard. Part of that was getting the public to accept female agents. But eventually I did quite well.
S-R: How well?
Doyle-Lipe: I'm not one of the top agents who go for it like crazy. But of the 30 or so local State Farm agents, I'm in the middle of the pack.
S-R: Did you eventually work with your dad?
Doyle-Lipe: Yes, in this office – 4704 North Maple. We became kind of partners.
S-R: Do you remember any of his advice?
Doyle-Lipe: He always said the important thing is the customers. He taught me how to treat them with respect and take care of their needs.
S-R: You may be better known from your work in local theater. When did you start acting?
Doyle-Lipe: By my fourth year as an agent I needed an outlet. I went to an audition for "Grease" at Spokane Civic and got cast as Patty, a high school cheerleader.
S-R: What skills gleaned in theater have helped you professionally?
Doyle-Lipe: When I'm talking to someone and feel attacked, I take on the character of a good salesperson and don't take what they're saying personally.
S-R: Did the recession impact your business?
Doyle-Lipe: Yes. People weren't buying second cars or changing homes. If I hadn't had residuals, I would never have survived.
S-R: What's your demographic niche?
Doyle-Lipe: A lot of my clients are older, because when my dad retired and State Farm split up his business, a lot of them came back here to me. We insure four generations of a couple of families. But our goal is to get more young clients, to keep the business going.
S-R: Auto and homeowner insurance are necessities. What are the arguments for or against life insurance?
Doyle-Lipe: If you want to pass on an instant $500,000 estate to your spouse or kids, buy life insurance. But I don't necessarily recommend it for people who already have a great estate.
S-R: How about umbrella policies for coverage above and beyond your homeowner or auto liability limits?
Doyle-Lipe: I strongly recommend those – typically $1 million to $2 million of coverage.
S-R: When a home burns, how does a claims adjuster determine the value of lost contents – furniture, clothing, appliances and such?
Doyle-Lipe: Most companies require some sort of proof. Pictures are best. Receipts and credit card records help. Some people give us actual photos. Others keep records online. But just saying someone took $4,000 in jewelry or tools, without any proof, doesn't work.
S-R: What's the biggest claim you've ever handled?
Doyle-Lipe: Over $1 million when a house burned to the ground during the 1987 Hangman firestorm.
S-R: Was the client satisfied with the payment?
Doyle-Lipe: Yes. Thank goodness.
S-R: Are insurance settlements taxable?
Doyle-Lipe: No.
S-R: Are clients who suffer a loss sometimes surprised to learn how high their deductibles are?
Doyle-Lipe: Yes – more with homeowner's insurance than with auto, because homeowner deductibles often are a percentage of the home's value. As a home's value increases, so does the deductible.
S-R: When should someone not file a claim?
Doyle-Lipe: When it's only going to cost you $100 or so more than your deductible, because you might end up with a surcharge on your policy and a claim on your record. Most companies will cancel after two or three claims.
S-R: What makes a good insurance agent?
Doyle-Lipe: Knowledge and caring.
S-R: What makes a good client?
Doyle-Lipe: Someone who understands that premiums fluctuate, but also that building loyalty with an agent gives you an advantage when you're in a tight spot.
S-R: Describe some client do's and don'ts?
Doyle-Lipe: Don't assume all valuable items are covered under your homeowner's policy. Ask. Don't underestimate the replacement cost of your house just to lower your premium. And be honest if you have something on your driving record, because we'll find out anyway.
S-R: When someone discovers what you do, what do they most often ask?
Doyle-Lipe: "How can I lower my premium?" I tell them to consider raising their deductibles and make sure they're getting all the discounts they're entitled to.
S-R: Who qualifies for discounts?
Doyle-Lipe: Someone with more than one line of insurance. Someone with a clean driving record. Students with good grades may get discounts. High credit scores also may lower your premiums.
S-R: What's your busiest time of year?
Doyle-Lipe: Winter, because of snow-damage claims and auto accidents.
S-R: What do you like most about your job?
Doyle-Lipe: The folks I work with, the flexible hours and how happy people are when claims go right, which they usually do.
S-R: What do you like least?
Doyle-Lipe: The new computer system they've thrown at us!
S-R: What has this job taught you about yourself?
Doyle-Lipe: That I can get up and drag myself to work even on bad days, and that I can make a difference in people's lives.
S-R: What's the career outlook for your profession?
Doyle-Lipe: It's very different than when I started. Now you are assigned clients right away. But I think it's harder in some ways. You have to totally live it for a number of years.
S-R: What advice would you offer someone considering an insurance career?
Doyle-Lipe: Learn how to take "no" for an answer. And have some savings, because you're going to struggle for a while.
S-R: What challenges lie ahead?
Doyle-Lipe: Trying to figure out the right time to retire. I know there are going to be clients who don't want to switch agents. I've already cut back my hours and figure I'm good for another four or five years.
S-R: What's at the top of your bucket list?
Doyle-Lipe: A trip to Europe, because I've never been. I'd like to see Italy where my dad was stationed there and London because of its theater.
S-R: How many local productions have you been involved in?
Doyle-Lipe: Directing, choreographing and acting, well over 100 – mostly at the Civic.
S-R: What's your dream role?
Doyle-Lipe: The lead in "Hello, Dolly."
S-R: When will you perform next?
Doyle-Lipe: Next month, in a Coeur d'Alene Summer Theatre production of "Arsenic and Old Lace." I'm Aunt Abby.
S-R: Break a leg.
Doyle-Lipe: Thank you.
Article by Michael Guilfoil of The Spokesman-Review
Photos by Tyler Tjomsland of The Spokesman-Review