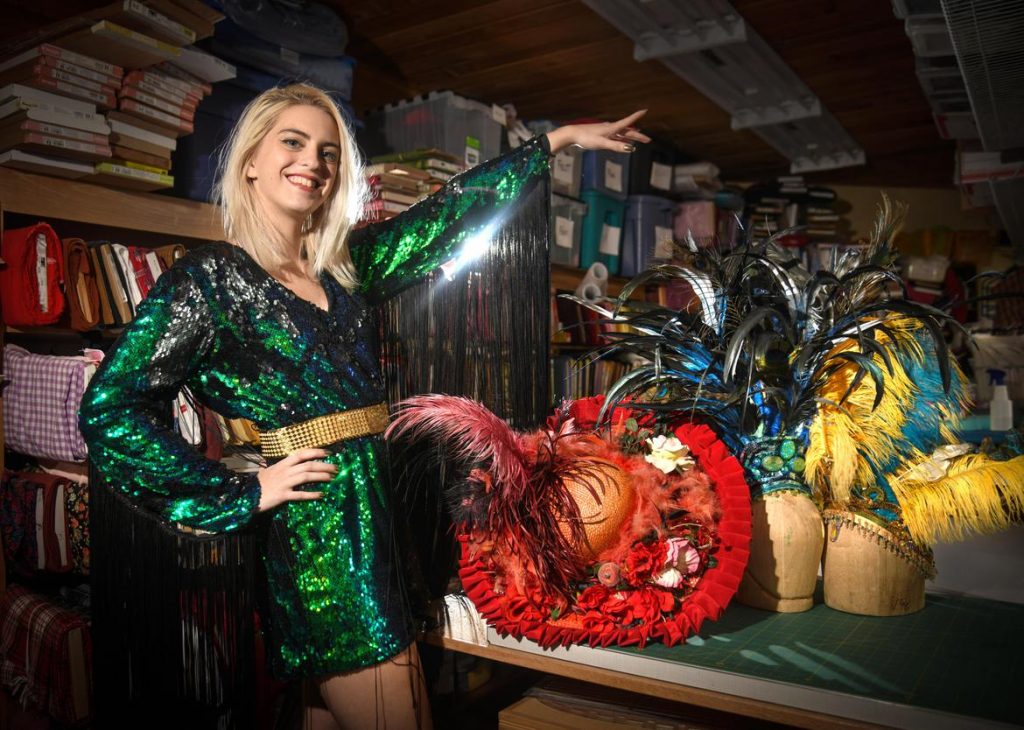 Frank Lloyd Wright claimed his childhood fascination with building blocks ignited his lifelong passion for architecture.
Madison Taylor Hendricks can probably relate.
"It sounds silly," she said, "but when I got my Barbie fashion design kit when I was 5 or 6, that was the moment when I knew I was going to be doing this."
By "this" she means designing costumes for Spokane Civic Theatre productions.
And if ever there were a holiday conjured specifically for people like Hendricks, it's Halloween.
"I love being able to dress up in something wacky and crazy that I couldn't get away with on a day-to-day basis," she said.
Hendricks plans to celebrate this Halloween as "a dark, creepy version of Alice in Wonderland" decked out in a blue cupcake dress, billowing petticoat and white apron.
"I'll probably pair that with some ripped fishnets, black combat boots and zombie makeup."
During a recent interview, Hendricks discussed the Joker, safety pins and dirty socks.
S-R: Where did you grow up?
Hendricks: In San Diego, California.
S-R: Do you remember any of your early Halloween costumes?
Hendricks: When I was really little, I got a cardboard box from my mom, cut out holes for my arms, had someone write "Milky Way" on the box and went trick-or-treating as a bite-size candy bar. Another year I was a spider witch. That costume included a black dress and a spider-web tablecloth I wore as a shawl. My mom let me do some crazy makeup, with black lipstick and dark eyes. It was a lot of fun – sort of a 6-year-old's version of goth.
S-R: What was your first job?
Hendricks: I worked in retail at a store called Nautica in San Diego when I was 15 or 16.
S-R: How about high school?
Hendricks: I went to an all-girls school, and that's where I got involved with theater. I was in shows, but also helped make all our costumes.
S-R: Did you have a favorite class or activity?
Hendricks: Dance has always been a big interest of mine. English, too – I love to read. And I played soccer for 14 years.
S-R: Did you have a career in mind back then?
Hendricks: I wanted to do something creative. I wasn't sure whether it would be as a performer or a designer, but I knew I didn't want a desk job. When I was 17, I decided on costume design and was lucky enough to have a family that really supported me.
S-R: Where did you attend college?
Hendricks: Gonzaga. That's how I made my way up here from San Diego. I started volunteering at the Civic Theatre almost right away. I was hired in 2016 to assist in the costume rental shop, and when I was a senior, the Civic offered me a job as a costume designer. I graduated from GU last year with a bachelor's in theater art, concentrating in technical theater, which is all the backstage aspects.
S-R: Did you have a mentor?
Hendricks: One of my college professors – Leslie Stamoolis – has been invaluable. She taught me that if you want a costume to be a quality piece, use the best materials you can.
S-R: Can dramatic effect also be achieved with inexpensive materials?
Hendricks: It can. This past year we did "Young Frankenstein," and to create our monster, we used football pads and pillow stuffing. We could have ordered a sophisticated costume, but it would have been expensive and probably not much better.
S-R: There are so many variables and unknowns in community theater. Can you recall any particularly challenging moments?
Hendricks: Every show has something. I remember working on "Kiss Me Kate" and the wedding dress wouldn't zip up. We were still safety-pinning it together as she was walking out on stage.
S-R: What did that teach you?
Hendricks: To stay calm, because at that moment the actor and everyone else is panicking, and panic doesn't help. Centering yourself, breathing and staying calm is what gets you through stressful moments – and remembering that it's only theater. No one's going to die. Everything will be OK.
S-R: When you watch a film or play, are you thinking about costumes when most of the audience may be more focused on dialogue or action?
Hendricks: Oh, constantly. Especially with period pieces – looking at whether the designer made historical choices or stylistic choices.
S-R: For instance?
Hendricks: In the original "Mary Poppins" with Julie Andrews, some of the costumes are not accurate to the period. Her famous white, puffy "jolly holiday" dress would not have been worn in the Edwardian period in which the movie is set, but the designer consciously chose something the audience would enjoy.
S-R: Is that OK?
Hendricks: Completely OK. As a designer, you have to weigh how much authenticity you owe to a particular era against what, as an artist, you want to give the audience.
S-R: Do you notice costume bloopers?
Hendricks: Definitely. There's a movie with Dwayne "The Rock" Johnson – I can't remember which one, but it really bothered me – where in one scene there's a rip on the left side of his shirt, and in the next it's on the right side. How did no one catch that?
S-R: Have the vast resources available on the internet made it easier to be a costume designer?
Hendricks: Yes and no. Online shopping means we aren't limited to what local stores have in stock. On the other hand, the internet raises audiences' expectations because they can look up what other productions have done, forcing us to be more innovative.
S-R: Some shows, such as "Oklahoma" and "Romeo and Juliet," are always playing somewhere. Are there alternatives to starting from scratch when it comes to costumes?
Hendricks: There are websites that rent entire show packages, and other theaters you can borrow from. For "Matilda," we borrowed Miss Trunchbull's getup that made her look bigger from a theater in San Antonio, and they got our "Elf" costume. We've also rented and sold show packages to other theaters.
S-R: The current "Joker" film is the latest iteration of a supervillain who dates back to the first Batman comic book in 1940. Do you find yourself comparing different interpretations of iconic characters?
Hendricks: There have been so many Jokers and Spider-Mans, it's impossible not to compare them. One of the things I look at is how well a character's design reflects the time in which it was created while still staying true to the original material. I'm personally not a fan of the Jared Leto Joker. I think they were trying to make the design edgier to appeal to a modern audience and strayed a little too far from the essence of the original comic-book character.
S-R: What's your basic design philosophy?
Hendricks: Never sacrifice creativity for practicality. As an artist, I try never to compromise on a design element just because something else is easier.
S-R: When it comes to getting dressed for a night out, do friends seek your advice?
Hendricks: (laugh) All the time.
S-R: When choosing your own outfits, do you feel you owe it to your profession to dress well for any given occasion?
Hendricks: A little bit. I feel I understand not just costume history but fashion history, and I want to honor the designers who came before me. Part of doing that is looking the best I can.
S-R: How would you describe your look?
Hendricks: I have two. One is a combination of things that may have been owned by a 12-year-old boy – comfy T-shirt and jeans. My other look is edgy alternative. My favorite piece right now is my tutu dress – maroon, very full, cut just above the knees. I look like a Christmas tree ballerina.
S-R: Where do you wear that?
Hendricks: I've worn it to events here at the theater and out partying with friends. I'm not afraid to be the most overdressed person in the room. I think it's fun.
S-R: Have you had any "signature pieces" appear on stage?
Hendricks: A couple. One was a sweatshirt I created for a character in "Mr. Burns," a post-apocalyptic play we did at Gonzaga. The sweatshirt had patches from everyone else's costume. The other was a costume I designed and wore last year in "Follies" at the Civic. It was a sequined body suit – very glamorous, very over the top.
S-R: Do you sew?
Hendricks: Yes. That's a big part of this job.
S-R: So far, have you found working in theater glamorous?
Hendricks: Not really. I spent the entire morning cleaning dirty socks and kids' PE uniforms. Opening night is glamorous. Other than that, it's a lot of hard work.
S-R: What do you like most about your job?
Hendricks: Creating pieces that make actors feel like their characters.
S-R: What do you like least?
Hendricks: I hate laundry.
Interview by Michael Guilfoil
Read the article here on the Spokesman-Review
Photo by Dan Pelle