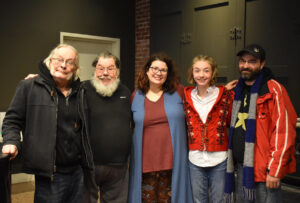 LISTEN TO THE RADIO INTERVIEW HERE
Co-directors and cast members on what's familiar and unexpected about this show
Kearney Jordan, Bryan Durbin, Ruby Krajic, Bill Marlowe and Gary Pierce entered the KPBX studio with E.J. Iannelli to provide details on the Spokane Civic Theatre's new production of the holiday classic A Christmas Carol, which opens this Friday.
Jordan and Durbin are co-directing this production. Krajic is playing the Ghost of Christmas Present, Marlowe the Ghost of Christmas Past and Fezziwig, and Pierce is playing Scrooge.
A Christmas Carol was an annual Civic tradition for many years, but it has not staged this non-musical adaptation by the late Barbara Field for over a decade. The play is making its comeback as part of the theater's 75th anniversary season.
The two directors and actors talked about walking the fine line between familiarity and novelty, the mentoring that the show's veteran actors are providing to the younger ones, and some of the special effects that are being used to enhance the story.
A Christmas Carol opens at the Civic on November 25, 2022 and runs until December 18. Tickets and more information are from the Spokane Civic Theatre website.