Who Says Normal is Where We Want To Be?
Perhaps Next to Normal is where we are most comfortable. Opening this Friday, February 1 and running through March 3, Next to Normal is best described as a rock musical about a family dealing with bi-polar disorder, depression, drug abuse, and more. Now, before you jump off the deep end and wonder exactly why anyone would want to see this a play that wrestles with so many issues, think about it. These are life. Life goes on. Life moves forward. And those very moments of black are the ones that lead us to light. With less than 100 seats per night and only 18 shows, tickets are going, going, going. Yvonne AK Johnston is directing and shared a few insights with us on what to expect, why and how.
Civic: Ok everyone has established that next to normal is gut wrenching (or at least that is the take away)…I mean it deals with some very serious issues. This is not Mary Poppins =). 
Yvonne AK Johnson: Next to Normal tends to move audiences very deeply … because the story is honest, captivating and revealing. Mary Poppins it is not! I know when I saw the production in New York I felt extremely contemplative … still do. It's a show that tends to stay with you and will have its own following for years to come by artistic teams, performers and audiences. These characters are real people. The writers (creative team) certainly did their research in creating this 2010 Pulitzer Prize Winning piece of theatre.
Civic: We are curious to know how you helped the cast get in to character and prepare for these roles.
Yvonne: In addition to daily character work and scene/lyric study, one of our preparation highlights was when Anna Pearce (Patty Duke) came to rehearsal this past week to speak with us about bi-polarism. She said that she had not seen or heard the piece yet directly. (However, she will be attending with her wonderful husband Mike Pearce) I asked the cast to prepare questions for her in advance that would pertain to their characters. i.e. How did being bi-polar affect your children? Your work? How did your children feel and how did you react when your children brought friends home? How did this impact your relationships? What were your doctors like and what did they recommend to you for treatment? The conversation throughout the evening was fascinating, eye opening … Anna needs to write more books! Lets just say that everything she said was a mirror image of what these characters are going through in Next to Normal. We are eternally grateful for her support, wisdom and willingness to share her experiences with all of us. Thank you Anna!
Civic: We want to know if you think running this production on a proscenium stage in small theatre will be better than on a stage like the main stage. And why? What is different?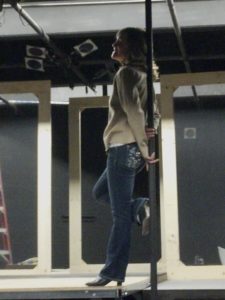 Yvonne: We chose to present this piece in the Studio Theatre versus the Main Stage as the production needs to take place in a more intimate environment. The set is multiple, versatile spaces and multi-level … it even includes three poles! Also, this show is not for everyone and does contain some adult language and certainly mature material that is not suited to all. The studio lends itself to being able to present incredible theatre that we would not for several reasons present on the Civic Main Stage. Please note that this show is a contemporary rock musical with both electric and acoustic bass and guitar being featured. Dialogue is minimal with a total of 37 songs. (Run time is a little over two hours plus intermission). 
Civic: Parting thoughts?
Yvonne: This is a unique theatrical experience to be a part of and a cast that is dynamic as the show itself. At every rehearsal we light a candle of hope to remind us all that, "There will be light!" We hope that you will go on this journey with us as an audience. See you at the Civic!
Don't Miss These Season to Inspire Productions
Upcoming shows at Spokane Civic Theatre
The Drowsy Chaperone – Dazzling Musical Comedy – Main Stage – Thomas Heppler, Karen Brathovde, Mike Hynes, Alyssa Day, David Hardie,  and directed by Jean Hardie and Kathie Doyle-Lipe
On Golden Pond – Uplifting Classic Play –  Firth J. Chew Studio Theatre – Directed by Wes Deitrick
Treasure Island – Family Adventure Story – Main Stage
The Dixie Swim Club – Warmhearted New Comedy – Firth J. Chew Studio Theatre
Grease – Spirit of the '50s Musical – Main Stage