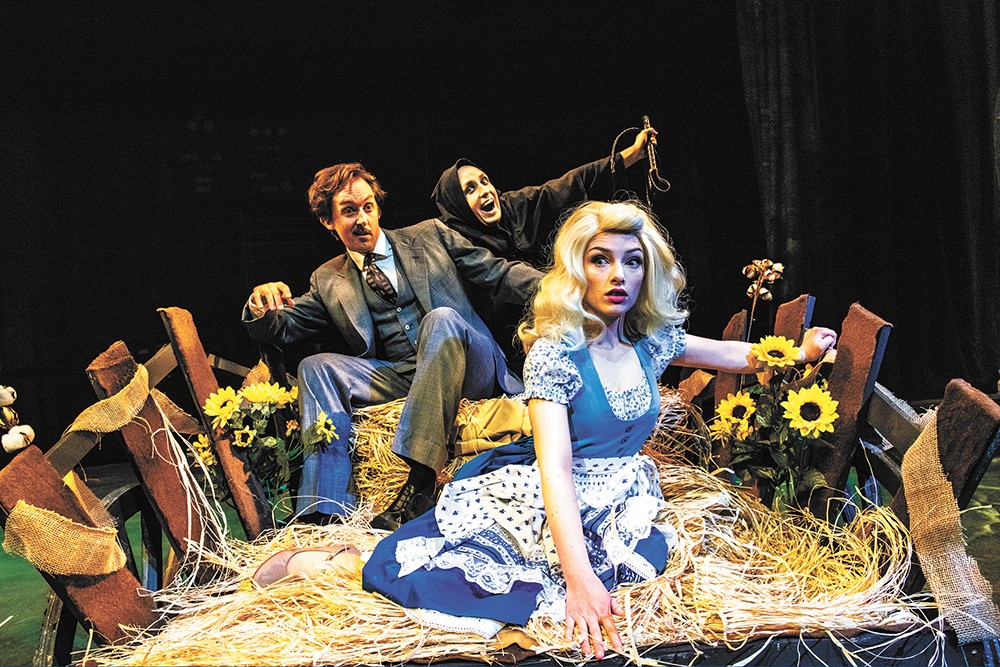 Mary Shelley's Frankenstein famously sprang from a private literary contest between Shelley, her husband Percy and Lord Byron to see who could write the best horror story. In the 201 years since it was published, her novel has gone on to be as misunderstood and misrepresented as the monster at its center. Popular imagination's green, lumbering, square-shouldered brute with neck bolts is a far cry from the articulate, philosophical and lovelorn (though still gargantuan and repulsive) creature that Shelley described.
That Frankenstein has somehow spawned another life isn't only fitting given its narrative. It also shows how timeless ideas inspire other artists to rework and reimagine them into something very different — but which still exists at a few clear and traceable removes from its creator.
Mel Brooks' Young Frankenstein is a good case in point. As you'd expect from the director of Spaceballs and Blazing Saddles, the 1974 black-and-white film is a goofy send-up of many things, including early horror cinema, cultural stereotypes and even romance, all fashioned loosely around the classic Frankenstein story. In 2007, with the help of Thomas Meehan (Annie, Elf the Musical, Hairspray), Brooks turned his cult film into a stage musical, augmenting the rich body of Frankenstein-inspired work with one more variation on its theme.
The musical adaption of Young Frankenstein is rare in the screen-to-stage world, says Jake Schaefer, because of its strong "connective tissue" with the film. Schaefer is creative director at the Spokane Civic Theatre and is also leading the production of Brooks' musical that closes the theater's 2018-19 season.
"We talked about this within the production company a lot," he says. "Unlike Mary Poppins or Elf, the huge benefit straight out of the gate is that Mel Brooks did write the book, and to take it a step further, he collaborated really heavily on the music. And finally, he and Susan Stroman, who's the original director and choreographer, collaborated extremely heavily on the workshop production and then the first fully realized Broadway production."
Schaefer says "very intimate and very real" involvement of the film's original writer and director allow for a little more faithfulness of translation from one medium to another. It's something he personally appreciates as a longtime fan of the film.
"There are one or two new sections that are really small and are literally just for stage transitions. Other than that, all of your favorite moments are in the show, from the [Frau] Blücher horse bit to the staircase to the turning of the bookshelf. All of these sort of infamous gags are in the show."
And for the uninitiated who might not (yet) be hip to those gags, he's of the opinion that Young Frankenstein stands on its own.
"For a new person, it's so funny. The book itself is written very well. You can tell that it wasn't just the stage manager's first draft of the script. It was meticulously reviewed once it got sent out for licensing. The transitions," which Schaefer compares to smooth cinematic crossfades, "are really concise, and so consequently it's a lot of meat and really minimal filler," he says. "Which for us is a huge positive, because you're talking about momentum."
The cast has been instrumental in seizing and sustaining that momentum. Civic Music Director Henry McNulty is playing Frederick Frankenstein (pronounced "Fronk-en-steen," of course), the New York doctor who inherits grandfather's castle in Transylvania. He's joined by Chris Hansen as Igor (pronounced "Eye-gore"), the bumbling hunchback assistant. Hansen played the same role in Idaho-based Aspire Community Theatre's 2017 production of Young Frankenstein.
"He and Henry have an amazing chemistry together. I didn't see that spark at callbacks, but I remember this witty repartee happening between the two of them at the read-sing-through. And then we started blocking, and it was like flying through these sequences. Everything about it has been awesome."
Christina Coty, whom Schaefer praises for her "powerhouse voice" and dedication to her role, is appearing as Dr. Frankenstein's fiancée Elizabeth Benning. The character eventually develops a greater appreciation for the monster he creates, played here by Drake Haren. Aubree Peterson is the yodeling lab assistant Inga.
"If you put her in the orchestra, she'd be the drum kit," Schaefer says of Peterson. "She's a spitfire — fireworks and firecrackers. She's just got all this color and packs this punch. The thing about Inga is, she's not dumb. I think that stereotype of the dumb girlfriend is trite and outdated. She's just innocent and totally unaware of any sexual innuendo she offers," he says.
This being a Brooks brainchild, there's certainly innuendo to spare, but Schaefer says there's still a message to be found amid all the zaniness and double entendre.
"Without wanting to sound too philosophical, the major takeaway of Young Frankenstein is ultimately that anything is possible. It's a really great experience based on really great material." ♦
Article by E.J. Iannelli of the Inlander
Photo by Erick Doxey of the Inlander