Ladies and Gentlemen, Boys and Girls !  We are thrilled to finally reveal our Main Stage Performance Camp Production!  Each summer, we have seen talented teens rise to the challenge of rehearsing and staging a show in under 3 weeks.  We wondered…could our impressive community of teen performers tackle the impressive feat of staging a Regional Premiere Production??  The answer, of course, is a resounding YES!  
WANDA'S WORLD
This summer, we invite you into a wonderful world- WANDA'S WORLD.  The story of a girl, who like most middle-schoolers, just wants to fit in.  It's a touching story of acceptance, self-awareness, and confidence, with fun and clever songs you'll be singing all summer long.  We can't wait to see this exceptional show come to life on our stage!
Auditions: June 12-14, 2017. You'll want to prepare a contemporary song (not from the show) and wear clothes you can dance in, and bring sheet music for a provided piano accompanist. More information about auditions will be announced closer to the dates.
Rehearsals: July 3-20, 2017, 9 AM – 5 PM
Show Dates: July 21-30, 2017
Tickets go on sale June 1, 2017!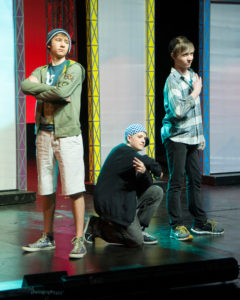 WANDA'S WORLD is a feel-good, family musical for the "tween" in all of us. It tells the story of Wanda Butternut, the popular host of the hit TV talk show, Wanda's World, where kids call in to get advice from Wanda to solve their problems. Wanda is beautiful, confident and always knows what to say… in her fantasy. In real life, Wanda is a middle school girl with a big birthmark on her face, who is terrified to deal with the first day of school in a new town. Gradually, with the help of an extraordinary teacher, she overcomes incredible odds and learns to follow her own path.
Photos Courtesy of Quincy Community Theatre
Photos by Chet Coonrod