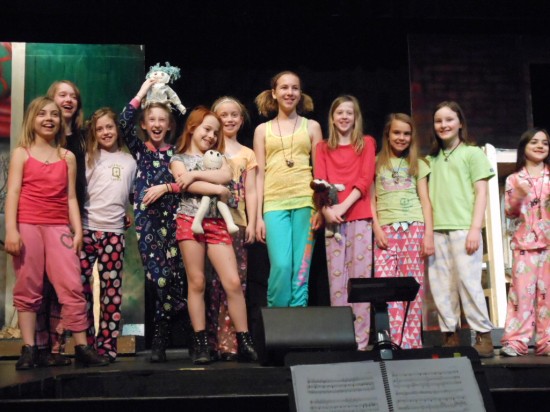 With the help of family members and cast/crew, this sleepover was intended for the orphans to bond as friends, rehearse, and to make memories they'll never forget.
The busy schedule included fittings for orphan costumes, a pizza dinner, a visit from Daddy Warbucks actor Mark Pleasant and rehearsals for "Hard Knock Life" and "Never Fully Dressed" with choreographer Michael Muzatko, who also plays Rooster in Annie. The orphans were also given tote bags to design as they wished to use for scripts, shoes, water bottles, etc. and the gifts didn't stop there!
Deena Caruso, owner of Finders Keepers and mother of Annie actress Sophia Caruso gave individualized charm bracelets to each of the girls while Michael gave them each a NYC charm from the top of the Empire State building. Additionally, the Caruso family donated charms and beads to make matching necklaces for the orphans, a necklace for each cast/crew member, and more to be purchased at the shows with all proceeds to benefit the Academy Scholarship Fund.
After gift time they had ice cream sundaes and then a scavenger hunt that was designed by Spokane Civic Theatre interns so the girls were introduced to the different areas of the theatre that they will need to know in the coming weeks. With the prize of Spokane Civic Theatre swag, those orphans got competitive and ran around the building to collect signatures and complete their riddled tasks.
To conclude the evening, the girls wound down and watched "Puss and Boots" in the lobby with plenty of movie treats and popcorn. After the movie, everyone moved back to the stage to sleep… well, more like tell ghost stories until 3:00 AM.
In the morning, lead costume designer Jan Wanless and her husband Ken made a beautiful hot breakfast including waffles with fresh strawberries and whipped cream, sausages, and juice. They even made homemade cinnamon buns and coffee for the families at the morning showcase!
After cleaning up, packing and preparing the stage the orphans showcased the beginning of the show for families and cast members that came to show support. Everyone left thinking about this experience of a lifetime… and then went home for afternoon naps!
We'd like to thank the chaperones, all of whom were Civic staff and stage managers – they dedicated so much time, energy, support, and endurance!