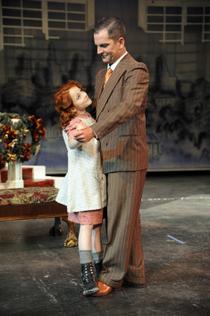 In a scene from the Spokane Civic Theatre production of "Annie," Annie, played by Sofia Caruso, dances with Oliver "Daddy" Warbucks, played by Mark Pleasant. Colin Mulvany photo. Annie is directed byYvonne A.K. Johnson.
The sun will come out tomorrow. It's a sentiment that's been with us a long time, thanks to "Annie," the classic Broadway musical about a little red-headed orphan girl, her dog, and the billionaire who comes to love her as his own.
Spokane Civic Theatre will wrap up its 2011-'12 season with a production of the beloved play, which opens Friday. Sophia Caruso stars as Annie, and the large cast includes Phedre Burney-Quimby as Miss Hannigan, Mark Pleasant as Oliver "Daddy" Warbucks, Andrea Dawson as Grace and Sandy as himself. Yvonne A.K. Johnson directs.