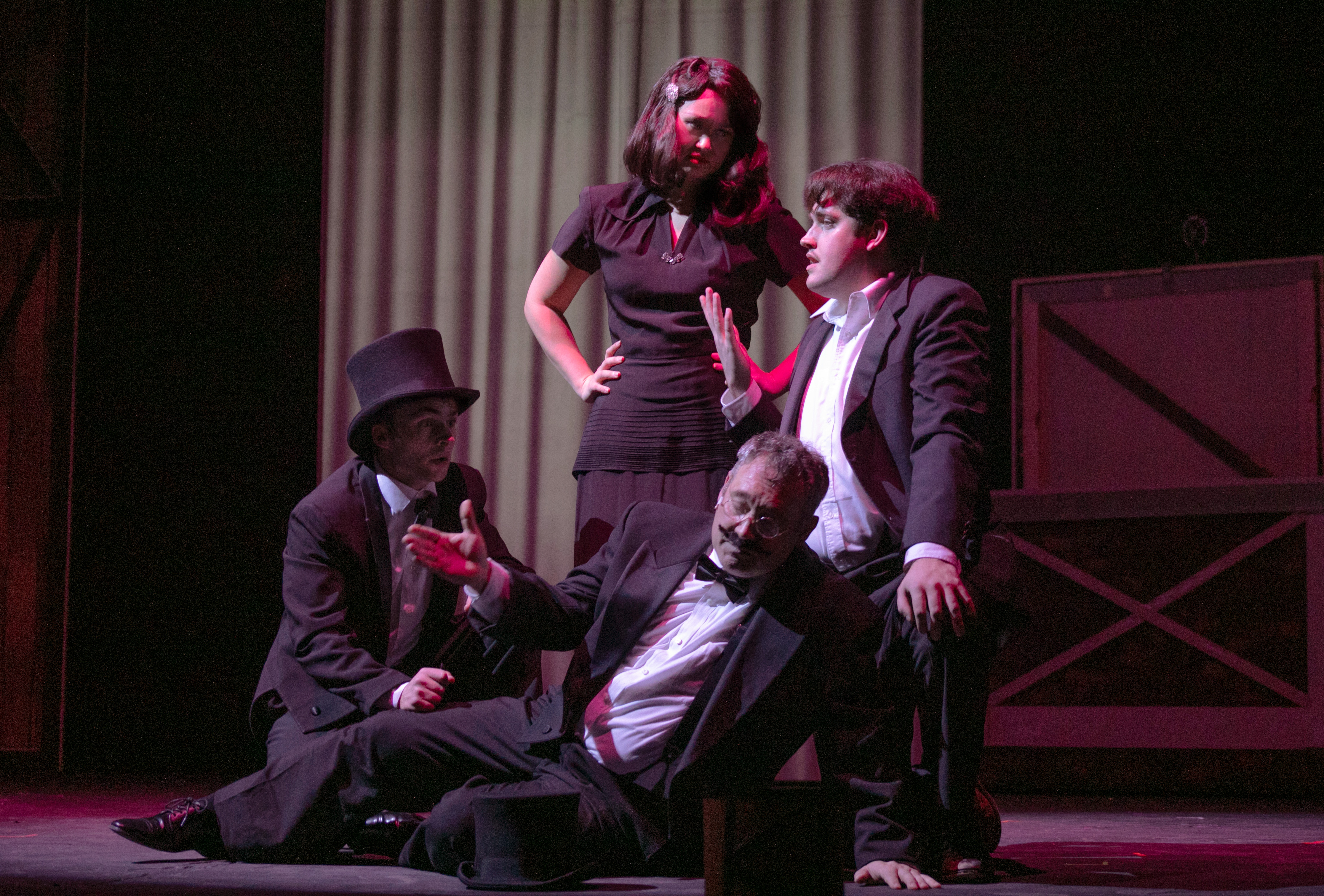 Versatility is the key to making the parody of the Alfred Hitchcock classic "The 39 Steps" work. There are just four actors in the cast of "The 39 Steps," which runs from Friday to February 12 at the Spokane Civic Theatre, in a show featuring more than 50 characters.
"It's a challenge," 39 Steps director Heather McHenry-Kroetch said. "Aside from the changes of costume, there are different dialects. But it's working out. The script is fan fiction. It's fun. With our play, you see behind the scenes. It's a treat for those who love parodies and enjoy Hitchcock."
The protagonist, Richard Hannay, played by Dallan Starks, is lured into a world of intrigue by a mysterious woman, who claims to be a spy. When Hannay discovers her dead body, he flees London with the police on his trail.
The plot of the 1935 film is quite different than the novel written by John Buchan, who crafted "The 39 Steps" in 1915. Hitchcock's film popularized the innocent man forced to go on the run. The master of suspense continued with the concept with 1942's "The Saboteur" and 1959's "North By Northwest."
Hollywood has followed with such projects as "The Fugitive," "Body Double" and "The Shawshank Redemption."
"The 39 Steps" doesn't receive the acclaim that many of the aforementioned films are showered in but it was very popular and scored critical notice during the '30s. The iconic Orson Welles raved about "The 39 Steps." "Oh My God, what a masterpiece," Welles gushed.
The film has received some recent love. In 2022, Time Out Magazine ranked the film at No. 8 on its list of best thrillers of all time.
However, parodies of such productions are uncommon. "The 39 Steps" mock up was originally written in 1995 by Simon Corble and Nobby Dimon. Another version by Partrick Barlow was written in 2005 and played London's West End and Broadway. The Civic is running with the latter version.
"The challenge for the actors is that they have to play it real," McHenry-Kroetch said. "You have to put yourself in the comedic situation and so much of this requires timing. It's not easy but it's fun once you get this down. The actors have put their work in."
Dana Sammond plays all three of Hannay's love interests, Annabella, Margaret and Pamela. Dan Bisbee and Jaron Fuglie portray the rest of the cast. "It'll be a memorable experience," McHenry-Kroetch said. "There's nothing quite like this show."
If You Go
The 39 Steps
When: Jan. 20 – Feb. 12
Where: Spokane Civic Theatre, 1020 N. Howard St.
Cost: $35
Info: (509) 325-2507, www.spokanecivictheatre.com
Article by Ed Condran
Photo by Marlee Andrews