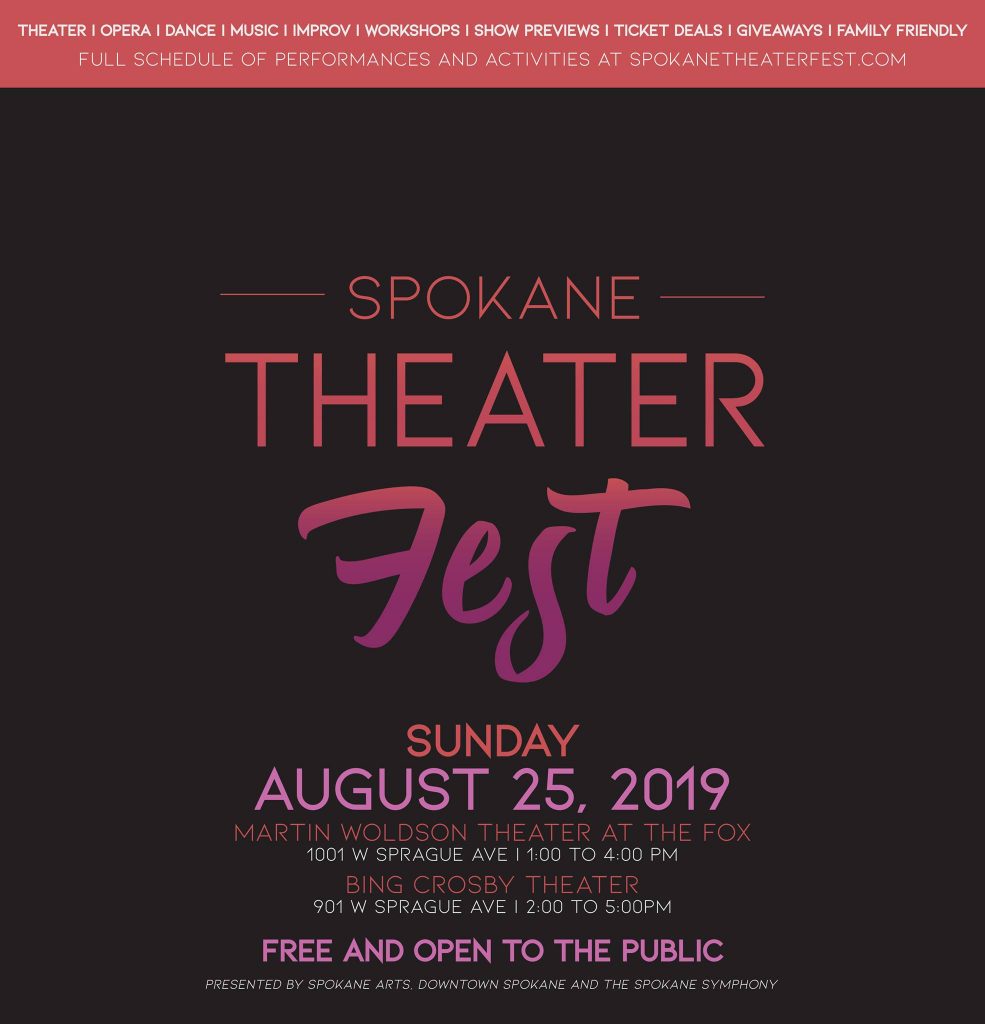 Spokane has a plethora of opportunities to attend and participate in the performing arts. From musical theater to improv comedy, dance to drumming, and everything in between, there's something for everyone.
The notion of keeping up with it all is daunting, and that's why TheaterFest was created.
TheaterFest is a one-day event that brings a multitude of performers from all over the community into a free mini festival so the public can sample virtually everything the arts scene has to offer without a hefty pricetag.
"We created the event for many reasons, but the role it fills is to be a showcase to the community of the performing arts scene and highlight the depth and breadth of what exists in the performing arts," says Melissa Huggins, executive director of Spokane Arts. "We also wanted it to be an opportunity for community members to see a preview of what will be going on in the season."
After a successful first TheaterFest in 2018, this year they've expanded to two theaters: the Martin Woldson Theater at the Fox and the Bing Crosby Theater. The groups' performances will be about 15 minutes, and people can bounce between the two venues. There will be about 16 main stage performances between the two theaters, as well as lobby activities in both locations.
Featured on the main stages is a diverse set of local groups like the Spokane Civic Theatre, Spokane String Quartet, Vytal Movement Dance Company, Cimarron Tribal Belly Dance, Inland Northwest Opera, Spokane Taiko, Stage Left Theater and many more.
"This is a free sampler so you don't have to fork out for a theater ticket and you get to go see some ideas and get ideas of what is going on while not being committed to it," says Vincas Greene, the founding director of Vytal Movement Dance Company.
Vytal Movement Dance Company is a good example of how this event benefits not only audiences but the performers as well.
"The people who came were enthralled by everything that was going on," Greene says of last year's TheaterFest. "We got to perform, which was fun, and making lots of connections and see[ing] the other performers there. It's a really good-hearted and much-needed event for Spokane."
Vytal will be performing two numbers that encompass everything the company does. They will also have a table where people can come visit with the dancers as well as the board of directors. While there, people can sign up for their newsletter and purchase a T-shirt or sticker.
"Take time to visit. The neat part of this event is we're there because we want people to talk to us. So, take advantage of that. This is a time the groups have set aside to interact with people. Ask questions, we want to tell you our stories," Greene says.
Most of the participants in TheaterFest will have a supplemental table or activity that offers attendees an opportunity to meet the people behind the arts.
The Spokane Civic Theatre, for example, will be doing a few numbers from their upcoming production of Matilda, but will also be in the lobby where the audience can meet the performers. They will also be offering a special ticket package exclusive to TheaterFest for their upcoming performances. Other companies will be offering similar deals (visit spokanetheaterfest.com for a complete list of ticket specials) as well as a variety of events both interactive and educational. There will be an instrument petting zoo provided by the Spokane Symphony, voice lessons from the Inland Northwest Opera, mask-making from Whitworth Theatre Department and more.
"You get to try out something new, and I think an important aspect of the event is for community members, especially young people, the ability to meet and talk to a performing artist and learn how they got to where they are," Huggins says.
Along with learning about performances in the upcoming year, this event will also be an opportunity for people to get involved directly with the performing arts. "We're the organization for the volunteer community," says Jake Schaefer, creative director at Spokane Civic Theatre. "But, we're also sustained by the volunteer community, too."
Similar to the Civic, Spokane Ballet Studio uses TheaterFest to promote their classes.
"My reason for participating in TheaterFest is so my students have an opportunity to perform as well as inspire children," says Sara Donally, owner and director of Spokane Ballet Studio. "[Through this event] we could reach kids who have never been exposed to the arts before.
"This is a good showcase of what we have to offer. You can get a little snippet of each kind of art and from there decide if you want to go see the shows. You can find out what moved you and go from there."
Huggins says the visual arts have First Fridays and the literary arts have the Get Lit! festival and they really wanted to create something similar that truly showcased the performing arts.
"It's not just coming to support community theater, it's not just a means of entertainment. TheaterFest represents what arts in Spokane means to us," Schaefer says. ♦
TheaterFest • Sun, Aug. 25, 1-5 pm • Free • Martin Woldson Theater at the Fox • 1001 W. Sprague • Bing Crosby Theater • 901 W. Sprague • spokanetheaterfest.com • 321-9614