Parking for Civic
As development in our area, the North Bank, continues, we anticipate parking to be nebulous and difficult. Although Spokane Civic Theatre only owns and controls its land, we actively explore accessibility measures with surrounding property owners. At this time, we recommend that you arrive early and park in the main Arena lot, directly west of Spokane Civic Theatre. If possible, please carpool or ride share. For those in need of accessibility support, please be dropped off in front of our facility and utilize the ramp for entry.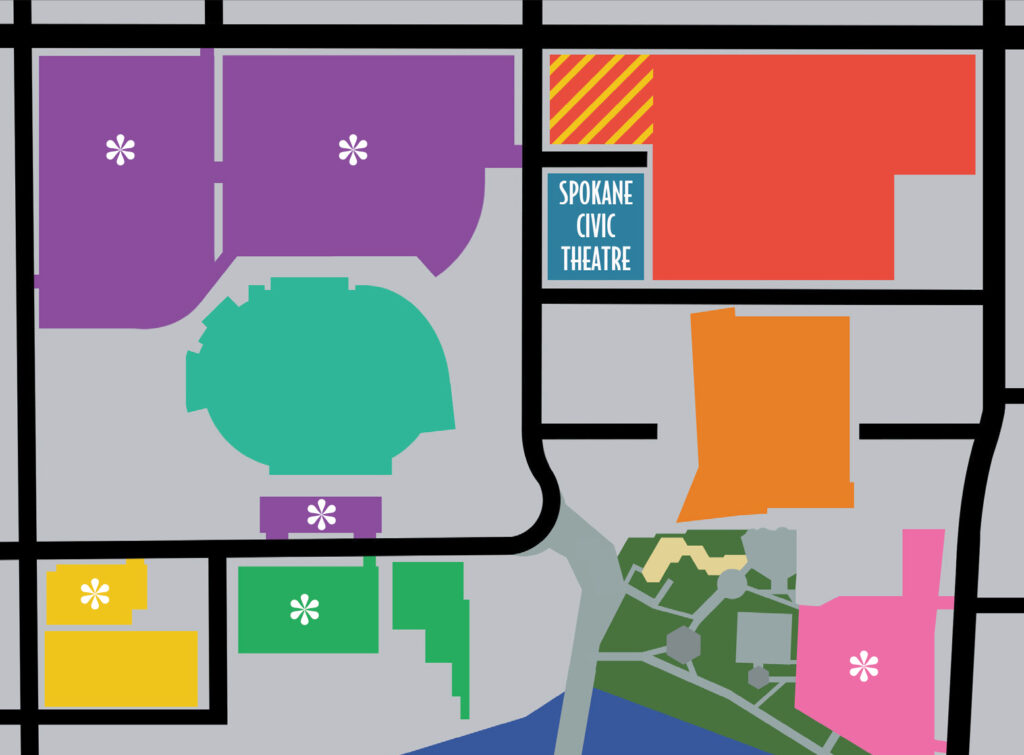 Paid Parking Lots
Diamond Parking Lots

Wonder Building Garage

Flour Mill Parking Lot

Riverfront Parking Lot
Other North Bank Venues
Downtown Spokane Stadium Build Site & Construction Lay Down Area

Spokane Veterans Memorial Arena

The Podium

Flour Mill

The Wonder Building

Riverfront Park
Parking During the Day
When visiting the Spokane Civic Theatre during the day, you may park in front of the building on Garner Avenue in the 10 minute loading and unloading zone.
When taking classes, or taking your kids to classes, at the Spokane Civic Theatre Academy you will be given parking passes on your first day of class. Those parking passes are valid for the date duration of your class for you to park in the Spokane Civic Theatre Staff and Volunteer Parking Lot.
Parking For a Show
When the booths are manned, fees range from $7 – $15, cash only.
When the booths are not manned:
There is a parking kiosk at the west parking lot to accept credit cards. This option can be time consuming when the lines are long.
You can download the CallToPark app or use CallToPark.com to pay for your parking with a credit card. When using this option, you will need your license plate number and the lot number posted.
If you have an issue with the Diamond Parking Lots, please contact the Diamond Spokane Office at (509) 747-8144.
City Parking Meters
The meters turn off at 7 PM Monday-Saturday and are off all day Sundays.
To the south of the building along Dean Street and Cataldo Ave (one block south) there are city meters that take nickles, dimes, quarters, and dollar coins.
You can download the Passport Parking app to pay for your parking on your smartphone with a credit card. When using this option you will need the zone number listed on the parking meter.
Spokane Transit
There are Spokane Transit Bus Stops at the corner of Howard St. and Gardner Ave., the Arena Lot, and the corner of Boone Ave. and Washington St. Please visit www.spokanetransit.com to see if this option could be right for you. Call the theatre at 509-325-2507 for production run times to plan your trip.
Parking as a Volunteer
As a volunteer production team member, during a show your producer or stage manager will provide you with a Spokane Civic Theatre Staff and Volunteer Parking Lot pass for the duration or your show, as well as information as where to park when the lot is full.
As a front of house volunteer, please plan ahead to park in the city parking around the theatre on show nights.
The Spokane Civic Theatre Staff and Volunteer Parking Lot passes are only valid while you are working or volunteering.