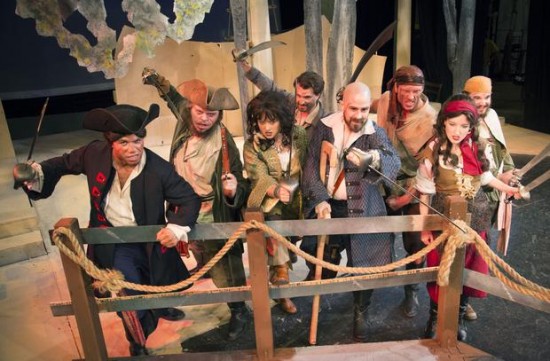 Yes, there will be a parrot.
Yes, there will be swordfights.
And yes, there will be a peg-legged pirate named Long John Silver.
"It's the biggest physical challenge I've ever had as an actor," said Damon C. Mentzer, who will play the most famous pirate in literature. "We've already shattered at least three different versions of my peg-leg."
This is all in the service of making the Spokane Civic Theatre's production of "Treasure Island" as authentic and swashbuckling as possible. It's playwright Ken Ludwig's well-received 2007 adaptation of the granddaddy of all pirate stories, Robert Louis Stevenson's "Treasure Island."
Stevenson's tale follows young Jim Hawkins as he gets swept up with Long John Silver in the search for a pirate captain's treasure map – and then to the mysterious Treasure Island itself,
"It's a spectacle," Mentzer said. "We're on the high seas, a dock in Bristol, a jungle … I think this show has more locations than any show I've ever been in."
The sets – including the deck of the pirate ship Hispaniola – were designed by technical director David Baker. Director Christopher Wooley is in charge of keeping the action rolling and fight choreographer Bryan Durbin is in charge of keeping the sabers rattling.
"There are four swordfights and several musket fights," Mentzer said. "It's a very active show."
The show is billed as a family adventure and is, of course, suitable for kids. However, Mentzer said they have made a conscious effort to keep it from straying into the more-silly Disney territory.
"I believe we are doing it without being campy and over the top," Mentzer said. "You are a pirate – you have to be intimidating."
The show includes plenty of literature's most notorious pirates, including Billy Bones, Israel Hands, Blind Pew and Anne Bonny, played, respectively, by Delvone Bullis, Evan Clements, R. Travis King and Sarah Miller.
Then there's Long John Silver himself. He befriends and becomes a father figure to young Jim Hawkins, played by Evan Lee Achten. Yet Long John Silver has his own cunning, devious and ruthless plans.
"I have always enjoyed playing villains, so reaching that aspect of the character came easy for me," Mentzer said. "The father-son connection – I had to put more work into the empathetic side of the character."
Playwright Ludwig is better known for comic farces such as "Lend Me a Tenor" and "Moon Over Buffalo." Yet Ludwig has also developed a reputation for fast-paced adaptations of classic adventure stories, including "The Three Musketeers" (which the Civic will do next season).
When Ludwig's "Treasure Island" premiered in 2007 at Houston's Alley Theater, Variety's critic Joe Leydon said "it could usefully serve many youngsters as an introduction to the magic of live theater." It later went on to a successful 2008 run on London's West End.
Leydon wrote said that Ludwig adapted the classic story with "respectful enthusiasm and savvy showmanship."
"Some scenes are line-by-line re-creations from the book," Mentzer said.
Now, about that parrot. Mentzer doesn't want to give away too much, so here's an intriguing hint: A mechanical engineer had a hand in creating this character.
We'll just have to see whether it knows how to chirp, "Pieces of eight! Pieces of eight!"
www.spokesman.com/stories/2013/apr/05/sword-play/
Photo by Colin Mulvany