Spokane based Event Rents sure knows how to throw a party
Ok, how about decorate for a party
Locally owned event rental and party supply company, Event Rents, has become one of Spokane Civic Theatre's newest community supporters. And we could not be more thrilled. Their donation of linens, tables and seating helped us pull of one of our most successful season opening galas. While they have a wide (read HUGE) assortment of linen colors (did we say HUGE?), we opted for what some might consider boring, but we consider elegant, white linens. Which looked quite awesome with the white chairs, we might note.
Early in, early out
The Event Rents team showed up early, early to set up giving us ample time for our own Gala craziness (you know how that goes: auction items – check, gala decorations – check, costumes – check, food – check and double check!) and their pick up couldn't have been more perfectly timed. While you were watching the first act, Event Rents was diligently (and quietly) tucking away their tables, chairs, linens and such.
Support Event Rents
So, Spokane, the moral of the story here is yes, we are giving a huge shout out and a bigger thank you to Event Rents for their donation of time and goods that helped make The Producers Gala a wonderful event. And for the rest of you, if you're thinking party, wedding, or any celebration, call Event Rents. They are simply the best in the region at what they do. And we're asking Spokane Civic Theatre supporter to support Event Rents. That simple.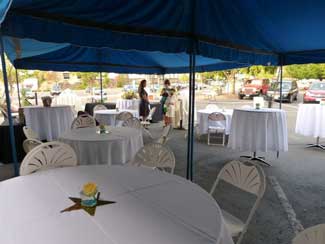 For more information about other productions this season, please visit Spokane Civic Theatre's Website and check out twitter! We're constantly updating the Spokane Civic Theatre Facebook Page with the latest and greatest. And reserve your seats now for the rest of  Season to Inspire with shows like A Closer Walk With Patsy Cline, White Christmas, Escanaba in Love, Next to Normal, On Golden Pond, Treasure Island, Grease and more.