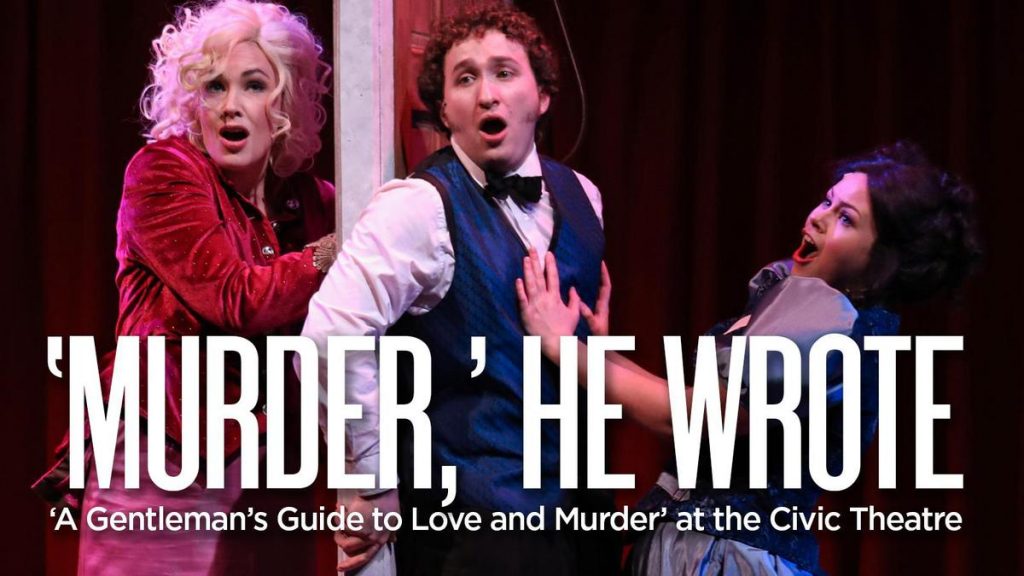 Despite "murder" already being in the title, the dark comedy musical "A Gentleman's Guide to Love and Murder" opens with "Prologue: A Warning to the Audience" – meaning that if you elect to see this play, you really can't say you weren't warned.
The story opens in 1909 London where Lord Montague "Monty" D'Ysquith Navarro (Joseph Hall), Ninth Earl of Highhurst, laments the series of mischievous murders that landed him in the Scotland Yard cell in which he presides. He spills the details in his journal, dubbing his memoir "A Gentleman's Guide to Love and Murder."
The play flashes back to 1907, a time when innocent and penniless Monty remained ignorant to his aristocratic family lineage. Upon the unexpected visit of an old woman, Miss Shingle (Mary Starkey), it is revealed that Monty's recently deceased mother had hidden the fact she was a member of the privileged D'Ysquiths but had been disowned, having defiantly married for love rather than societal expectation.
Monty's father, a Spanish musician, died long ago when Monty was a boy. Miss Shingle insists that Monty reclaim his lineage and notes Monty is ninth in line to inherit the earldom of Highhurst presided over by Lord Adalbert D'Ysquith. Monty eagerly writes to Lord Asquith D'Ysquith Sr. explaining his circumstances with hopes of securing a job at the family's banking house.
A helpless lovebird, Monty then runs to Sibella Hallward (Emily Jones) to explain his newfound good fortune, expecting her to finally consider him for marriage after previously denying him for his poverty. It is obvious Monty and Sibella have amorous chemistry, but she nevertheless chooses the humdrum security of a life with Lionel Holland, a rich socialite with political aspirations.
Sibella remarks the unlikelihood of eight other people dying to make Monty earl, but Monty takes this fact in stride, thus beginning the ambitious killing spree of his family tree. The play is based on the 1907 novel "Israel Rank: The Autobiography of a Criminal" by British writer Roy Horniman. It also served as the source for the 1949 British film "Kind Hearts and Coronets" directed by Robert Hamer.
The novel was then adapted as a musical comedy by American screenwriter and dramatist Robert L. Freedman, with music and lyrics written by American musician Steven Lutvak. Before appearing on Broadway, the musical premiered at the Hartford Stage in Connecticut in 2012.
It opened on Broadway at the Walter Kerr Theatre in 2013, running until 2016. In 2014, it won four Tony Awards, including Best Musical. It also was nominated for Best Musical Theater Album at the 2015 Grammys. Despite its adaptation having been done by two Americans, the musical retains the distinctly British humor and social themes of its source material.
This morbid farce is sugarcoated with a zany playfulness that dances its way around poignant satire of British society's infamous characteristics – stringent class structure married with the haughty delusions of a highborn perspective, which is hilariously epitomized in the play's musical number "I Don't Understand the Poor."
The brilliance of this play, and its presentation at Spokane Civic Theatre, is the performances of the entire D'Ysquith family done by one actor. Todd Kehne took up the challenge, and he delivers it with masterful and dizzying success as he flawlessly bounces from character to character.
Kehne is a riot. It's almost unbelievable how distinct he makes each characterization. Even more difficult to believe are the swift, unending costume changes that Kehne completes with what seems to be ease – but of course must be credited to the rehearsed precision of Kehne and dedicated stagehands and dressers. But it's not just Kehne – the entire cast of 11 takes on multiple roles in what becomes a whirlwind of costume and set changes.
Kehne's craft shines more with every new character, giving each member of the D'Ysquith family their own mannerisms, speaking and singing voice and sense of comedy. The sense of comedy being central, considering he's the one who has to get knocked off eight times and make sure each grisly demise is as uproarious as the last. Kehne is the performer that truly brings the Savoy opera feel to this madcap comedy.
Hall plays Monty with a perfect blend of wide-eyed impishness and endearing charm, which also is instrumental in pulling off this story's macabre humor. His portrayal of Monty is entirely convincing in this way, making sure the audience never has to question why they're having such fun as they gleefully watch the escapades of a murderer set simply on bolstering his position in society.
In terms of vocal performance, Emily Jones as Sibella and Lexie Lucassen as Pheobe D'Ysquith (in her Spokane Civic Theatre debut) steal the show. This is no easy feat as the musical numbers hark back to an operetta-style play with technically challenging patter song and melodies that demand wide vocal range and precision.
Tamara Schupman (in her debut performance for Spokane Civic Theatre as well) also does a fantastic job carrying a strong vocal presence in the ensemble in addition to her animated and bitter performance as Lady Eugenia D'Ysquith, wife to Lord Adalbert.
The chaos of the D'Ysquith family murders all play out on a beautifully detailed and enormous two-level set, designed by Jason Bolen, portraying Highhurst Castle. It serves as a constant visual reminder of the formidable societal clout of the D'Ysquith family while also providing versatility as subtle and frequent set changes transform it for other settings, serving as stage within a stage.
The music direction by Henry McNulty ensures the technical and jovial melodies of this play are performed with the same jaunty, comedic expression as its performers. McNulty sculpts the perfect atmosphere for each snickering, sinister beat to play out.
Troy Nickerson is director and choreographer. It is evident that Nickerson was mindful of all the tonal precision and comedic nuance this play demands. Not only does this play require insight into the origins of comic opera and its relationship with British life and theater, but also the comedic sensibility to deliver its operetta style to a modern audience.
Nickerson expertly meets those demands with lightness and humanism in mind, ensuring the audience can wholly understand and enjoy this musical's blend of incisive satire and undeniable love for its characters.
"A Gentleman's Guide to Love and Murder" is a refreshing and rollicking take on modern conceptions of musical theater that dark comedy lovers and theater aficionados alike will fall in love with – you won't want to miss this roller coaster of hopes, dreams and cheerfully dispassionate murder.
"A Gentleman's Guide to Love and Murder" was reviewed Jan. 24 at Spokane Civic Theatre. For tickets, visit spokanecivictheatre.com.
Article by Rachel Baker of the Spokesman Review
Photo by Marlee Andrews