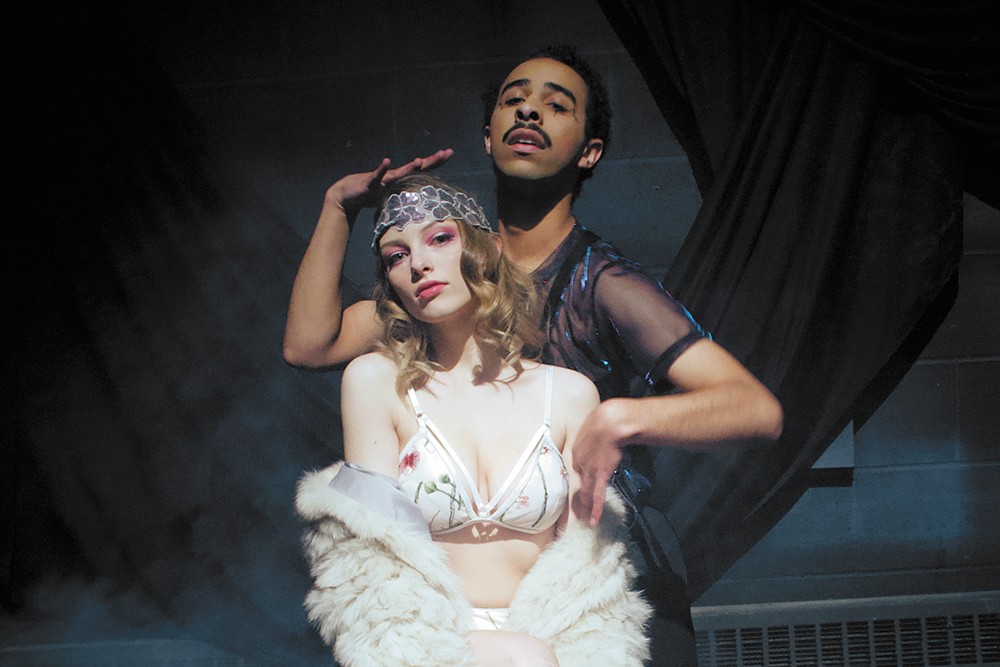 The Firth J. Chew studio in the lower level of the Spokane Civic Theatre has always been a small space with big possibilities. Over the years its interior has been rearranged for performances that faced north and east, for stages in a three-sided thrust format or in the round, and for players entering and exiting from every direction.
The different physical configurations have allowed audiences to experience familiar productions in novel ways. They've also allowed directors, actors and set designers to approach shows from unconventional angles. Quite literally.
A new production of Cabaret directed by Heather McHenry-Kroetch is continuing the studio's tradition of spatial exploration by redrawing the usual boundaries between the action and the audience.
"Denny Pham designed the set after we'd had a couple conversations about how we could open it up," she says. "It's going to be really interesting. It's never been set up like this before. The [seating] risers are all gone. It's all cocktail tables, and the audience is seated at the tables."
Without doing anything more than taking their seats, Cabaret's theatergoers will become the patrons of the musical's Kit Kat Klub, complete with its own purpose-built stage, catwalk and live band. The show, which is more broadly set in 1930s Berlin during the insidious rise of Nazism, will more or less envelop them.
"Some things will be happening right in front of you, and some things will be happening behind you, and some things will be happening up above to your right. It's very immersive. You have an opportunity to really feel the atmosphere."
That same immediacy and intimacy opened up new opportunities for the cast and creative team. With a show like Cabaret, it can sometimes be difficult to escape the shadow of the show's many Broadway revivals or the 1972 film version directed by dance legend Bob Fosse. But in shrinking the traditional buffer between performer and spectator, the set design has invited the choreographers to reimagine the characters' movements and the actors to make "different choices," says McHenry-Kroetch.
"I can't tell you how cool it is to be able to work on it and discover things about it. I think most of the extra challenges in this are because none of us have ever worked in this space the way it is right now. It changes everything. It changes sound configuration, lighting configurations and costumes. It changes hair and makeup because you'll be right next to people."
In the leading role of Sally Bowles, an ex-pat cabaret singer at the Kit Kat, is Aubree Peterson. Bowles falls in love with the American writer Cliff (Joshua Baig), but neither their relationship nor their circle of friends is immune to the growing social and political unrest.
Though she's no stranger to the local stage, Peterson says that this Cabaret is new territory for her, too.
"It's the scariest thing I've ever done in my life. When we're out on the stage, we could reach out and touch somebody," she says. That proximity creates an uncommon sense of vulnerability — for actors and audience members alike.
"It's very raw. I think it allows for people to relate to the characters more because they're so involved in the show," Peterson says. "But being that close to some of the characters can also break your heart. And with Cabaret being such a huge dance show, you expect it to be a large space — which we don't have — for a lot of dancers to do a lot of things. So it's making the choreography really tight."
There are, however, core components of Cabaret that stay the same across venues and versions. This production, based on the 1998 Broadway revival, will naturally still feature the emcee (played here by Mathias Oliver), a group of bawdy Kit Kat girls and boys, and earworms like "Two Ladies" and "Willkommen." The strains of hedonism, prejudice, fatalism, willful ignorance, fear and Gleichschaltung (the process of Nazification in Hitler's Germany) that flow through its narrative have a timelessness — and timeliness — as well.
From McHenry-Kroetch's perspective, those strains were best left to speak for themselves. Very early on she decided not to go searching for any contemporary parallels and chose to concentrate instead on Cabaret's universal themes and character-driven plot.
"I don't think there's really anything you have to add or subtract or highlight to make this seem relevant. The story is powerful even if it was just an historical statement," she says.
"It's really about, do you act out of fear? Do you become apathetic? Do you take a stand for something? Do you live your life passionately? As the cast and crew and I go through it, it all has something we can identify with." ♦
Article by E.J. Iannelli for the Inlander