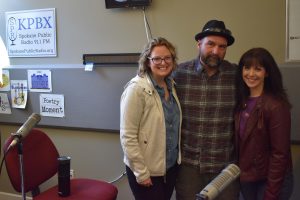 LISTEN TO THE RADIO INTERVIEW HERE
Actors Annie Altevers (as Bunny), Rick Rivera (as Artie), and Elisabet Edwards (as Bananas) visited the studio to discuss Spokane Civic Theatre's production "House of Blue Leaves," a black comedy about Artie Shaugnessy, a songwriter with visions of glory who toils by day as a zookeeper, and suffers in seedy piano bars by night.
The show runs May 3 – 26, with curtain times of 7:30 PM Thursday – Saturday, and 2 PM Sundays (no show on Bloomsday, May 4). Spokane Civic Theatre, 1020 N Howard St., Spokane.